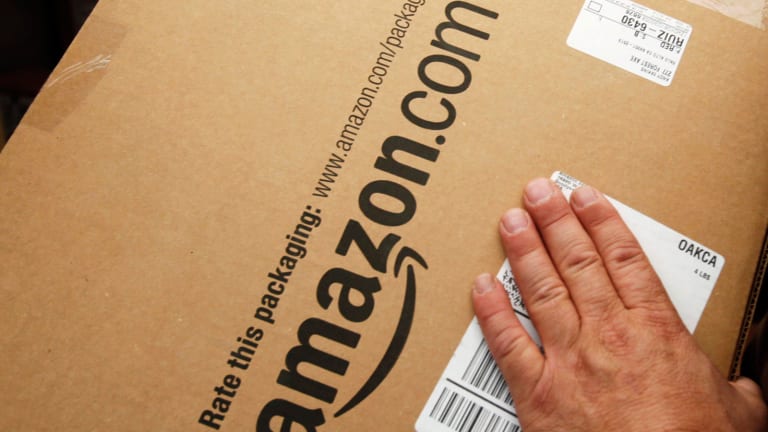 Publish date:
Here's How Amazon Could Offer Its Own Delivery Service and Crush UPS and FedEx
Amazon is making moves to own every step of the delivery process, which could be bad news for the incumbent delivery services.
Amazon is making moves to own every step of the delivery process, which could be bad news for the incumbent delivery services.
Editor's pick: Originally published Jan. 25.
Amazon (AMZN) - Get Report has always made it clear that logistics are a priority for the company, but recent developments and reports show the e-commerce giant may be taking this priority to a whole new level.
In fact, traditional carriers like UPS (UPS) - Get Report and FedEx (FDX) - Get Report may have good reason to worry.
At first it seemed like Amazon was focusing solely on the last mile, or local delivery. That's where things like drones would come into play, or even Amazon-owned trucks and vans. But then there were reports in December of Amazon leasing its own jet planes to use for cross-country delivery, which certainly wouldn't qualify for the last mile.
Subsequently, there was a report that Amazon might be buying a French shipping company called Colis Privé, in which Amazon already has a 25% stake. Again, probably not for the last mile.
Most recently, Amazon China has registered to operate as an ocean freight forwarder in the U.S., meaning that Amazon can deliver products from China to the U.S. on its own ships.
All of these bits and pieces have led Baird analyst Colin Sebastian to predict that "Amazon will not only build out its own transportation and logistics network, but also offer these as services to third parties." The strategy that Sebastian laid out mirrors the path Amazon took with Amazon Web Services, where it first built out cloud services for its own purposes, but later decided to sell those services to other companies.
Amazon declined to comment for this story.
Amazon already offers up its warehouses and delivery services to third-party sellers through a program called Fulfillment by Amazon, but these new extensions of Amazon's delivery portfolio could help them extend their services to even more third-party merchants. Sebastian estimates that the long-term opportunity for Amazon getting into the logistics business is in the $400 billion range, on par with the opportunity built into Amazon Web Services.
But for now, the emphasis remains on long-term opportunity as the near-term centers around investment.
"If they're going to own their own airplanes and delivery vans, that's going to take a fair amount of investment," said Needham analyst Kerry Rice. "Before they save any money, they're going to be spending a lot of money."
Nonetheless, assuming investors can be patient, Amazon could benefit significantly from owning every step of the logistics chain.
First of all, it means that Amazon would no longer need to depend on third-party delivery services like UPS and FedEx, which is important, especially around the holidays when the volume of packages increases.
Two years ago, Amazon ran into trouble when a number of its packages arrived on Dec. 26, the most disappointing time for a Christmas gift to arrive. The issues were mainly due to UPS not being able to handle a surge in orders amid harsh weather, but Amazon customers were still not happy.
If Amazon didn't need to rely on UPS, it could ensure greater customer satisfaction, which would likely result in higher customer loyalty and more dollars spent on Amazon.com.
"Given the scale of Amazon's own first- and third-party retail operations, we believe there are potential efficiency gains from internally operating fulfillment, logistics and delivery, as well as service benefits of controlling the full customer experience," Sebastian wrote in a research note earlier this month.
Other analysts aren't as convinced as Sebastian that an Amazon-run carrier service is impending, however.
"I don't know that they'll do 100% of the logistics themselves," said ITG analyst Steve Weinstein. "I expect them to keep finding opportunities, but I'm sure they will keep using third-party carriers as well." The traditional carriers do a good enough job, and Weinstein thinks Amazon will only step in to handle the delivery for unique opportunities, as opposed to across the board.
Needham's Rice thinks that Amazon could actually be using these investments to pressure incumbents such as UPS and FedEx to step it up by sending a message that if they don't improve their logistics, Amazon could ditch them entirely.
"[But] it may not ultimately take [Amazon] investing a great deal and building out a more mature logistics network if the incumbent carriers say, 'Listen we don't want to lose your business -- we'll invest more,'" Rice said.
Whatever Amazon's strategy here is, it is certainly early days.
Amazon Web Services is now very profitable and has a customer base of over a million companies, but it took nine years to get to this point. Amazon has yet to even officially announce its own internal delivery business. But if it were to happen, it would certainly take time. Nonetheless, UPS and FedEx would be remiss to think that they're immune to the threat Amazon poses.