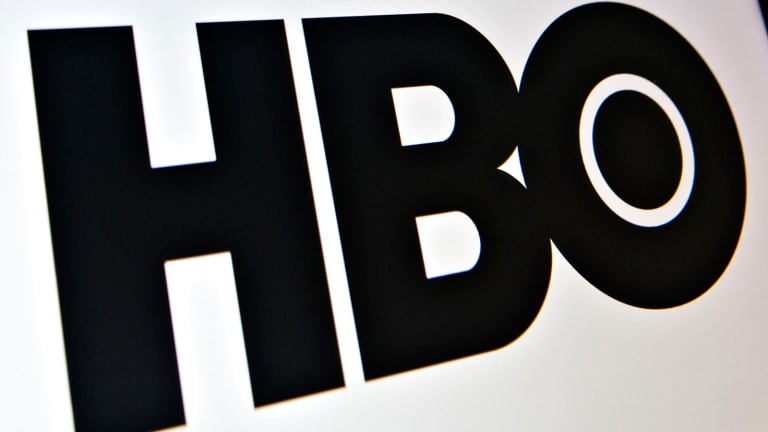 HBO Now Is a Hit on Apple's iOS but Is It Really a Big Deal?
HBO Now is beating out rival video streamers in mobile revenue, but analysts say it's too soon to know if that should impress Wall Street.
NEW YORK (TheStreet) -- Time Warner's (TWX)  HBO Now standalone streaming app is the highest-grossing property on Apple's (AAPL) - Get Free Report iOS property in its first full month, but industry consultants aren't exactly wowed.
"It's a relatively small opportunity at this point," said Jimmy Schaeffler, a senior analyst at the Carmel Group. "The service and the ecosystem is something that's a long ways away from where it should impact stock price."
The HBO Now app beat out not just music streamers Spotify and Pandora (P) , but also fellow video streamer Hulu, a report from market research firm App Annie found.
Just a year ago, Time Warner shares skyrocketed on the news that Rupert Murdoch's 21st Century Fox (FOX) - Get Free Reportwas offering its cable-TV rival a $80 billion buyout, then dropped when Fox abruptly withdrew the bid. But Time Warner investors have been reassured since October, when the maker of True Detective and Boardwalk Empireannounced HBO Now, an over-the-top service to let viewers skirt pay-TV cable and satellite providers to stream their programs over broadband instead.
Shares of Time Warner have risen 22.5% since HBO Now was announced on Oct. 15.
But for a company of Time Warner's size, earnings shouldn't move unless Time Warner can get a double-digit market share lead over its nearest competitor, said Schaeffler, a video industry consultant.
"Today's subscribers are really fickle in terms of what they take and how long they take it," he said. "In order to see growth for a big company like Time Warner, you need long growth that's sustaining."
Even if investors see HBO Go as forward-thinking, the channel's history of users coming and going can mean less revenue, said Alan Wolk, a senior analyst with TDG Research. "People would subscribe when the Sopranos came out and unsubscribe when it ended," said Wolk. "I'm curious if we're going to see that kind of behavior again."
HBO CEO Richard Plepler has denied that the service is meant to lure would-be cord-cutters away from their cable and satellite subscriptions, saying it is geared to millennials and other folks that have never had a cord to cut. Since it's just one channel, the service is billed as a tidy addition to à la carte streaming services from Netflix (NFLX) - Get Free Report to Dish Network's (DISH) - Get Free Report Sling TV that are vying to offer slimmer alternatives to traditional pay-TV bundles. Sling also offers HBO as an add-on to its core package for an additional $15 a month.

But as HBO Now adds users, said Wolk, it might simply be cannibalizing the approximate 122 million existing subscribers (this figure also includes Cinemax subscribers) rather than hooking people who have never subscribed. Also, there are risks even for viewers that are only using over-the-top (OTT) services.
To grow subscribers, both HBO and Amazon (AMZN) - Get Free Report have recently used Facebook (FB) - Get Free Report as a shop window for original content, making series premieres available for free on the social network for a limited time. The hope is that viewers will subscribe after they sample.
It's a sign not just of Facebook's success in video, but of where TV is headed, said Brean Capital's Sarah Hindlian.
"Our industry checks suggest that scale TV content hosting on Facebook is still a ways off," wrote Hindlian in a research note this week. But, she said, "Facebook sees a future benefit to its advertising business model from streaming original or network content."
"HBO's advantage is that it's a premium channel that people want to watch, but once you add up all these costs, it starts piling up," Wolk said, noting that some users calculate OTT bills just as high as their current pay-TV package.
Before HBO Now, online access to the premium channel's content was available only to existing cable and satellite subscribers, who could stream from a number of devices using HBO Go.
HBO Now debuted for $15 a month on April 12, a date timed to lure fans seeking the Season 5 premiere of Game of Thrones. The app's first three months are exclusively on Apple's iOS and Apple TV, but the service is expected to be available on Google's (GOOG) - Get Free Report Chromecast and Android TV devices this summer.