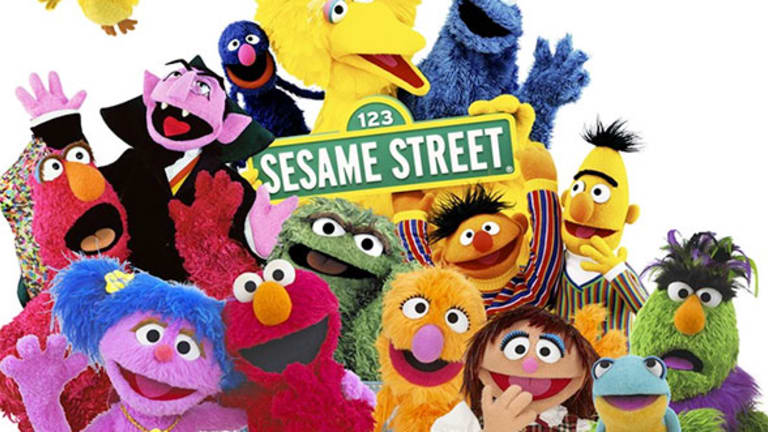 HBO Hugs Sesame Street Sending Zingers at Netflix, Nickelodeon
The Time Warner-owned network's five-year deal for Sesame Street, shows that it's ready to bring the fight for original content and cord cutters all the way to TV's youngest viewers.
LOS ANGELES (TheStreet) -- HBO is coming for your kids.
And they're bringing Bert, Ernie, Big Bird and Elmo with them.
Time Warner's  (TWX)  premium network on Thursday announced a five-year deal with the makers of Sesame Street, the Sesame Workshop, as the first-run home of the popular and pioneering children's show in a move that brings the competitive fight for original content and cord cutters all the way down to TV's youngest viewers.
In a move aimed at streaming rivals Netflix (NFLX) - Get Netflix, Inc. Report and Amzon.com (AMZN) - Get Amazon.com, Inc. Report -- both of which have made serious pushes into children's programming -- and Viacom's (VIAB) - Get Viacom Inc. Class B Report children-focused network Nickelodeon, Sesame Street will be a content boon to HBO's own on-demand standalone service HBO Now, a key driver to the network's growth as young adults leave cable television behind.
The agreement won't leave Sesame Street's longtime home on PBS, or its streaming service PBS Kids, out in the cold, but it will give HBO and exclusive nine-month window on new programming. What it also will do is double the amount of Sesame Street's programming while cutting out both Netlfix and Amazon from streaming past episodes of the show, which both services will continue to offer until their deals run out later this year.
In the high stakes game of original content, HBO just got a classic without having to go through the risky investment of developing a new brand.
But for the premium cable network that forged its current popularity on ambitious and challenging original programming that embraced R-rated language, violence and sex, why does kids programming hold such significance?
It's yet another sign that with each passing quarter more U.S. consumers are ditching cable for online streaming and in particular young, millennial adults who are settling down and starting families as they age into their 30s.
Pay-TV providers lost more than 600,000 subscribers in the second quarter this year, according to an SNL Kagan study released Thursday. That brings the total of U.S. residential and commercial pay-TV subscribers to 100.4 million. Coupled with a weak first quarter, SNL Kagan says the trend points to a much larger decline for 2015 than over the past five years.
As has been the oft-beaten refrain, it's the younger viewers and digital natives who are leaving TV the fastest. According to Nielsen, TV viewing has declined 32% among 18-24-year-olds since 2010. It's down 23% over that same period among 25-34-year-olds, and down in all major demographics. Younger viewers have also shown a strong preference for Netflix and Hulu -- a joint venture between Comcast's (CMCSA) - Get Comcast Corporation Class A Report NBCUnversal, 21st Century Fox (FOXA) - Get Fox Corporation Class A Report and Disney (DIS) - Get Walt Disney Company Report -- over broadcast and cable networks. If Netflix was measured as traditional TV network, it would become the top-rated on U.S. television sometime next year, according to Mediamorph's Shahid Khan.
These trends combined to spark a sell of media stocks last week, pummeling Disney, Time Warner, Fox, Viacom (VIAB) - Get Viacom Inc. Class B Report and any other company dependent on linear TV advertising.
The end of traditional TV is coming, and it's a matter for old-line media companies to offer robust programming in a one-stop shop, like Netflix.
For the way Netflix's runaway subscriber growth -- currently 65.6 million worldwide -- has pushed the service towards an indispensable status and sent its stock soaring, HBO's play into children's programming is another step the network is taking to make its own service a must-have.
To go with Emmy-winning programs like Game of Thrones, Veep and True Detective, HBO has already pinned down former ESPN personality Bill Simmons, whose online and digital presence helped turn "The Sports Guy" into a media force, as well as comedian John Oliver's satirical news show Last Week Tonight and new media darling Vice.
It's hard to ignore that in a time when wages have stagnated and cable bills outpace inflation, HBO Now's $15 a month price tag and Netflix's $8 monthly cost on top of basic internet charges allows for cutting the cord to become a way for families to consider saving money.
When Netflix entered the original programming game with political thriller House of Cards, it was believed that the fledgling streaming service that once only offered movies was taking a page out of HBO's own playbook. Now, it seems, HBO is returning the favor.
This article is commentary by an independent contributor. At the time of publication, the author held no position in the stocks mentioned.