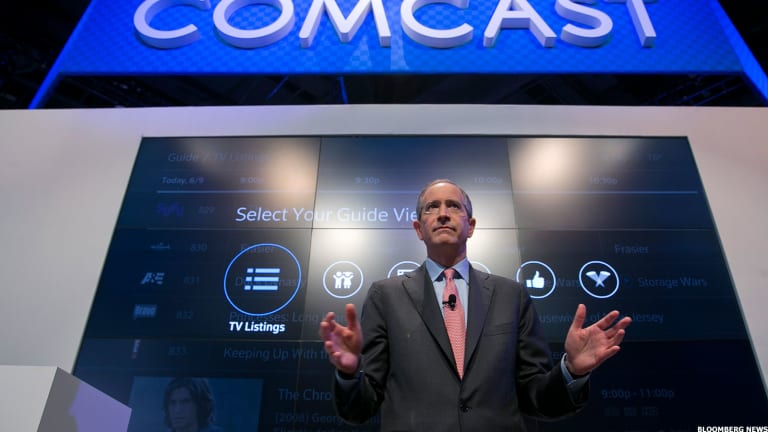 NEW YORK (TheStreet) -- Time Warner's (TWX) HBO is in a battle with Netflix (NFLX) - Get Netflix, Inc. (NFLX) Report -- and Comcast (CMCSA) - Get Comcast Corporation Class A Report is in a battle with just about every content distributor and content creator everywhere.
So the decision by the two companies to join together to offer Comcast's Internet subscribers a mobile-focused streaming television service, appropriately called Stream, could be seen as the latest determined efforts by legacy media companies to get so-called cord-cutters or cord-nevers to become customers.
While Comcast had been expected to unveil a standalone TV streaming service, the inclusion of  HBO in the $15 per month came as a bit of a surprise.
Back in April, standalone streaming service HBO Now launched, also priced at $15 per month after a free trial, to attract cord cutters.
So why would HBO enlist in Comcast's offering at the same price? Stream will be available only to subscribers of the Comcast's Xfinity Internet service, but the potential market penetration may a great advantage for HBO, said Chris Antlitz, a telecom analyst with Technology Business Research.
For HBO, the opportunity to directly market to Comcast's customers was too great to pass up. "Comcast can bring a lot of volume," Antlitz said.
HBO declined to comment on its reasons for being part of this beta test of Comcast Stream, and Comcast has not responded at all.
According to Comcast's blog, Comcast Stream will first be available in Boston in late summer before spreading to other cities. Offering HBO to Xfinity subscribers across the country opens up a huge opportunity, Antlitz said. "Some of those people might not have subscribed to HBO Now if it wasn't tightly packaged to this Comcast offering," he said.
HBO Now was available at its launch on Apple TV, as well as to Cablevision customers. Though HBO has not revealed customer numbers for its streaming service, some estimates put it at more than one million subscribers. The numbers could be even higher, Antlitz said. "They have been the most successful of the 'new' over-the-top platforms," he said.
The plans for Stream, with HBO in the mix, are signs Comcast is ready to put up a fight for its audience.
"It shows Comcast is not threatened by streaming over-the-top services that have come to market in recent months," said Amy Yong, analyst with Macquarie Capital, referring to the rising popularity of Netflix, Hulu Plus, Amazon Prime (AMZN) - Get Amazon.com, Inc. Report, and other streaming services that cable companies must contend with.
There could be even more competition from Apple TV, if it can secure more deals with content providers. "Everyone is waiting for Apple to announce something," Young said.
Making HBO part of Stream could allay investors' concerns about Comcast's ability to compete in the changing television industry, she said, by securing content the audience wants to watch such as Game of Thrones and True Detective.
It also gives a glimpse of what the long-term arc of growth may look like for Comcast, and possibly HBO alike.
"Comcast is the largest distributor in the U.S., to have them kind of partner up with you is a big deal for HBO," she said.
This article is commentary by an independent contributor. At the time of publication, the author held no positions in the stocks mentioned.