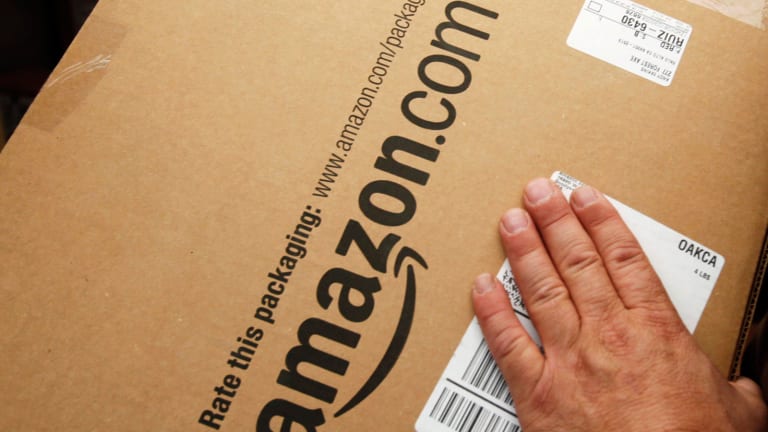 Have You Tried Amazon's 'Wickedly Prime?' -- Tech Roundup
Will customers buy Amazon's new Wickedly Prime private-label food lineup?
There may be just a few days left before Christmas but that's not stopping e-commerce juggernaut Amazon (AMZN) - Get Report from launching new brands.
The company's Wickedly Prime lineup features a number of private-label food products such as blue corn and sweet potato tortilla chips, popcorn and almonds. The lineup, according to writers at TechCrunch, are somewhat reminiscent of Trader Joe's.
That's a good start, considering how many people love TJ's. Anyway, the company isn't new to private-label products -- it's got AmazonBasics, which ranges from diapers to batteries -- but it's been less brazen in the past.
For starters, the new lineup has "Prime" right in its name. Second, on its package it now says "Distributed by Amazon Fulfillment Services," as opposed to its previously private-label food line statement, "AFS Brands LLC."
The company wanted to tests the lineup and different products, working out any issues that may arise with private-label food products. The concept seems wise; if Amazon is able to take market share, not only does it e-commerce platform gain additional traction but the company can tuck one more business into its portfolio.
Shares of Amazon closed at $760.59 Friday, down 0.8%.
Since failing to acquire Snapchat a few years ago, Facebook (FB) - Get Report and its other property WhatsApp have been hot on the company's tail, trying to keep younger users from abandoning its platforms in favor of Snapchat's.
Lately, Facebook and its Messenger and Instagram platforms have even started to blatantly copy familiar features from Snapchat -- and management has acknowledged that.
In the social media space, though, copying has become a similar play among most participants. It has to be that way in order to stay fresh and relevant.
It's why Snapchat keeps evolving, otherwise companies like Facebook and Instagram would eventually drown them out. As part of that constant evolution, Snapchat has introduced a new feature: Filter games.
While filters have become popular on Snapchat, the company is taking it one step further. In making the filters into a short game, Snapchat is hoping to more actively engage its users and increase their usage time on the app.
Snapchat will likely have a busy 2017 as it gears up for an initial public offering. It will also have to contend with Facebook and its various messaging platforms, which continue to take pages out its book in hopes of driving growth of its own.
To be fair, Facebook's Instagram continues to grow quite strong, recently eclipsing the 600 million active users mark.
Shares of Facebook closed at $117.27 Friday, down 0.1%.
The other day we broke down some of the madness surrounding Nintendo's (NTDOY) Super Mario Run. While the app may be one of the most downloaded in smartphone history (at least in such a short span of time), a lot of users were disappointed when they couldn't access most levels without paying $9.99.
However, while Mario is the first, it's not necessary the last of its kind. Reportedly, Nintendo plans to launch two to three more titles in 2017.
This could either be a home run or a dud going forward.
Mario is a popular title and is a big draw for potential customers. It will be hard to match the game's popularity. If Nintendo can, and users justify paying between $5 to $10 for the game, then the game-maker will be on to something.
Mobile games may cost less than traditional games, but the market is larger and the overhead is lower. For that reason, mobile games could be a notable success.
However, if users are unwilling to pay for such titles, then these mobile games likely won't move the needle much for Nintendo.
Shares of the over-the-counter traded Nintendo closed at $25.03 Friday, up 1.7%.
This article is commentary by an independent contributor. At the time of publication, the author held no positions in the stocks mentioned.