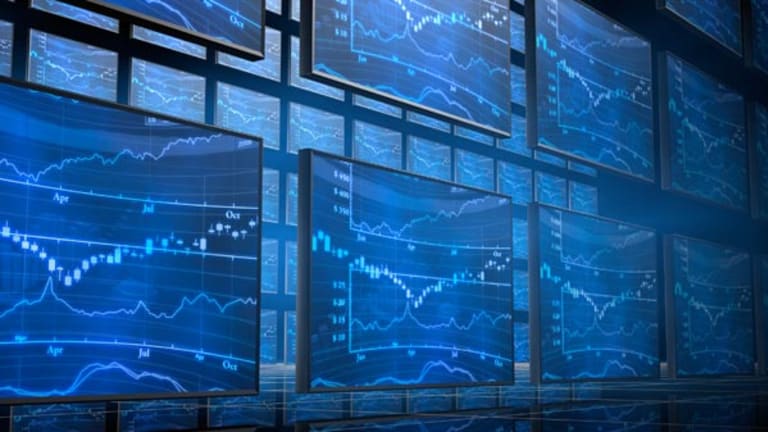 H-P: Separating the Good From the Bad
Investors may have been underwhelmed by H-P's third-quarter profit plunge, but the company's future still looks rosy.
Investors may have been underwhelmed by H-P's third-quarter profit plunge, but the company's future still looks rosy.
Updates stock information
PALO ALTO, Calif. (
) -- Despite taking a big
profit hit,
Hewlett-Packard
(HPQ) - Get Report
could still offer plenty of upside for tech investors.
The Palo Alto, Calif.-based firm's profit plunged 19% year over year, which seems to have overshadowed the fact that H-P beat Wall Street's third-quarter
.
With H-P seen as a
barometer
for tech spending, the profit plunge pushed the company's shares down slightly, to $43.95, in trading Wednesday. Even in a tough spending climate, though, there were still positives in H-P's numbers.
Hewlett-Packard Wins
H-P's services business was the highlight of the company's third quarter, with revenue leaping a massive 93%, thanks largely to the firm's
EDS
acquisition. PCs and printers, however, were more problematic, slumping 18% and 20%, respectively, although things may be looking up.
"Most of our customers are doing the planning for 2010 -- we think that 2010 will be a better year than 2009," said H-P CEO Mark Hurd. "We are encouraged by the stability that we are beginning to see in the market but not yet at a point that we are ready to call it a turn."
With rival
IBM
(IBM) - Get Report
recently posting impressive
results, there were
for H-P's quarter, although the company has provided something of a tech spending reality check.
Even in a slowly improving economy, however, analysts feel that H-P still has plenty to offer investors. Although the company's stock has risen steadily in the last five months, at least one analyst thinks it could still provide plenty of upside.
"We remain positive on shares of Hewlett-Packard given current valuation and overall strategic positioning," wrote Jayson Noland, an analyst at R.W. Baird, in a note released Wednesday. "We also expect a fundamental improvement in the company's more cyclical revenue categories in calendar 2010."
PCs and printing products are among H-P's most seasonal offerings, although neither appears to have gained much tailwind from this year's back-to-school season. Noland nonetheless maintained his "outperform" rating on H-P, and raised his price target from $42 to $51.
H-P also issued solid guidance Tuesday, forecasting fiscal 2009 revenue and earnings of $113.7 billion and $3.82 a share, respectively. This is at the mid point of the outlook range the company provided in May, and above Wall Street's estimates of $113.2 billion and $3.75 a share.
At least one analyst feels that H-P's results could spell good news for other tech stocks as customer demand finally starts to stabilize.
"HP's better-than-expected results have positive implications for many areas in tech," wrote David Bailey, an analyst at Goldman Sachs, in a note released Wednesday. "By sector, we remain positive on the
semiconductor cycle and are buyers of
Marvell
(MRVL) - Get Report
,
PMC-Sierra
(PMCS)
and
LSI
(LSI) - Get Report
off of HP's results."
Improving hardware and software demand could also benefit
Dell
(DELL) - Get Report
and
Microsoft
(MSFT) - Get Report
, according to Bailey. The analyst explained that H-P's PC and enterprise hardware business increased 4% quarter over quarter and came in $320 million above Goldman's estimate, which bodes well for the future.
"Specifically, we are bullish about the prospects of a fourth-quarter budget flush, followed by a corporate upgrade cycle for PCs, servers, and storage in 2010," he wrote.
H-P, which was one of the TheStreet.com's
for 2009, clearly still offers investors plenty to think about, even in a slowly recovering economy.