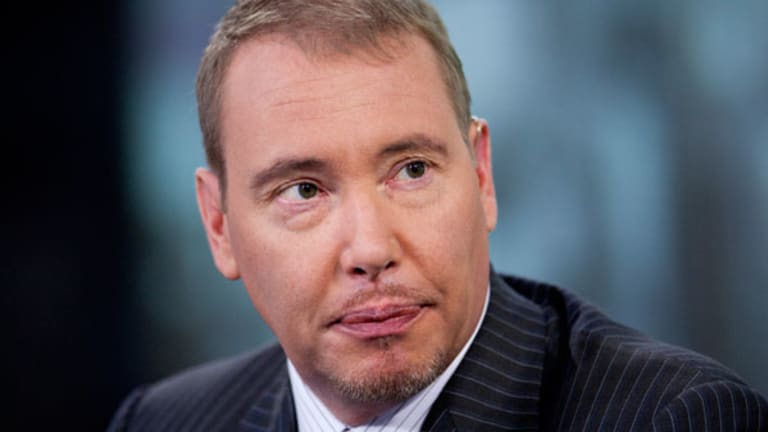 Gundlach: Gibson, Gas and Governments, Part 1
DoubleLine's Jeffrey Gundlach sits down to discuss monetary policy, governmental policies, and updates on some of his trades, including Japan.
DoubleLine's Jeffrey Gundlach sits down to discuss monetary policy, governmental policies, and updates on some of his trades, including Japan.
This interview took place May 23, 2013. All prices and yields reflect then.
NEW YORK (
) --
DoubleLine Capital's
Jeffrey Gundlach is renowned for his investing acumen, thoughts on monetary policy and slightly different take on investing money, which has captured the attention of both Wall Street and Main Street alike.
Gundlach, 53, who was recently recognized in an elevator standing next to actor Mel Gibson, said that central banks are doing whatever they can to try and stimulate growth, and that's "sorta working" for the time being. Equity markets in both the U.S. and Japan have rallied sharply, aided in no doubt by central bank policies. However, markets don't go up all the time, and the recent volatility we've seen (Japan fell sharply Thursday and Friday last week) could be a sign that the correction is coming.
I recently sat down with him to discuss his thoughts on what the central banks are doing and if it's going to work, housing and updates on some of his trades, including Japan,
Apple
(AAPL) - Get Report
and natural gas.
Make sure to read
.
Chris Ciaccia:
You've said in interviews in the past that housing has a long way to go.
Jeffrey Gundlach:
I don't know about that. What I've said is that housing is going to go higher.
Also see: Gundlach: 'We Own Apple' >>
Ciaccia:
Certain markets, San Francisco, LA, you're starting to see a little bit of a froth. Do those markets worry you and is there anything that can be done, or does that froth just have to play out?
Gundlach:
Well, the market must go higher because there's lack of supply. It's the fundamental reason. Buyers are being influenced mightily by zero-interest rate policy and quantitative easing. Those things together create a market that is much higher, therefore there is confidence in it. Without supply, there is only one way to really go. The only thing that could stop the housing market in the near-term is higher interest rates, and that's not going to happen. Housing has to go higher, so that there's more of a balance of supply and demand.
You're right though. Take Orange County for example. In Orange County, now one-third of the residents can afford a home. It's probably going to go down to 20%. It's not so much, as everyone knows, that people want to live in a house. It's money that's fleeing zero-interest rates that have gone into investment funds that are indiscriminately buying properties at the low end. That's what's propped up the low-end. At the high-end, it's people who've grown weary of zero-percent cash balances. So why not invest in something that is tangible, has some sort of psychic value, and there's confidence in it? Real estate is the new gold. Gold went up because it went up, and real estate went up because it's going up, and there's kind of a panic. Doubtless, it will lead to affordability problems, which will lead to headwinds for the housing market down the line. But first, it has to move higher.
Ciaccia:
Do you see any time frame on that?
Gundlach:
It doesn't matter. When people say where's it going to, or what's the time frame on that, it doesn't matter. Investing is about timeliness. Right now, it's going higher.
Ciaccia:
Japan. Last night, we had a little bit of a flash crash (the Japanese market fell over 7% Thursday, May 22). JGBs (Japanese government bonds) were halted down a couple of times.
Gundlach:
Except they ended up, almost at an unchanged level. Clearly, we're starting to see the beginning of the unintended consequences and the volatility has to enter the market. It seems like it's started. Japan had one of the most relentless stock market rallies in history over the last six months. It's
way
overdue for some sort of correction. It could easily fall below 13,000. Five months ago, 13,000 was an aggressive upside target. It made it to that, nearly 16,000 last night, before it basically crashed. It's going lower in the short term. You have a market that's sucked in a lot of buyers. Many of them will be underwater. People tend to get nervous about things like that. I think that all stock markets in the world look very vulnerable. I think the U.S. stock market is getting extremely interesting. It also had a major reversal yesterday, nothing like Japan. It's interesting that the S&P 500 had a massive outside reversal yesterday, and it was followed by Japan. Weirdly, you would think Japan would've opened down, but instead it opened higher.
Also see: Citi Bike Arrives, Skids Amid Controversy >>
What's happening is the central banks have the tiger by the tail. For a while, they can create unusually low volatility. The frequency of the volatility times the vary of the volatility equals a constant. That's Gundlach's law of investment risk. Therefore you've had unusually low volatility, you're about to see unusually high volatility. This is what we predicted at year end. We talked about 2013 as being the year of the snake. We expect a major change in the markets to happen at some point this year. Perhaps, it's starting to happen now.
Ciaccia:
You've mentioned before in previous interviews you see the Japanese yen going to 200. Is that still your thought?
Gundlach:
Sure. I think the Yen is going to 200
vs. the dollar. I don't think it'll get there this week. The first thing I said is it'll go above 100, below 100, and then greater than a 100 to the U.S. dollar. That happened already this year. But, when I started in this business, the yen was at 350. So, I've seen the Yen at a very different level than it is today. Their (Bank of Japan) only policy tool is debasement. That's the only policy tool that virtually any individual country has in a world of ever slowing global growth.
Somebody has to steal market share from somebody else in order to have a strong localized economy. The tool to do that is debasement. In Japan, people are buying it. The yen collapsed, the stock market exploded higher. Will it show up in the real economy is the real question? The jury is still out, but with the stock market nearly doubling, it would certainly appear to be over-extended in the near term.
Read
.
--
Written by Chris Ciaccia in New York
>Contact by
.