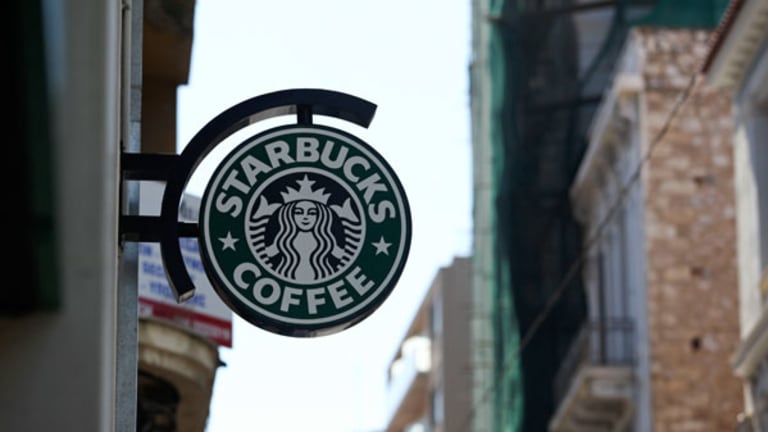 Starbucks Bargain Deal Overloads Groupon as Shares Jump
Groupon shares gain as Starbucks introduces its first daily deal on the site.
Updated to include Groupon Tweets in eigth paragraph.
NEW YORK (
) - A $5 deal for food and beverages at
Starbucks
(SBUX) - Get Free Report
propelled
Groupon
(GRPN) - Get Free Report
shares to nearly $6 on Friday even as the bargain offering overloaded the company's website.
Groupon gained 5.9% to $5.71 while Starbucks added 0.4% to $57.30.
The
jumped 0.72% on the day to 1,556.89
The surge for Groupon came as the coffee powerhouse introduced its first-ever daily deal on the Internet retail site, offering a $10 gift card at a 50% discount in a promotion that was quickly purchased by over 100,000 users, according to the company's
.
The offer's popularity overloaded Groupon's website prompting customers to go to
Twitter
to express frustration with the deal and a lack of access to the redemption code.
"The $5 for $10 @Starbucks / #Starbucks deal appears to have crashed @Groupon / #Groupon and I am sitting here clicking refresh," @kibblesmith wrote at about 2 p.m. eastern time.
Customers buying the deal will receive a $10 Starbucks eGift card that can be used toward any of the Seattle-based coffee roasters food and drink products. Buyers received a code to use at any participating store. They have until Sept. 30 to redeem the coupon.
The online confusion prompted Groupon to launch into damage control.
"Groupon's mission is to deliver the best deals on the planet for the things our customers want, and Starbucks is a brand our subscribers crave," Julie Mossler, a Groupon spokesperson wrote in an e-mail that didn't directly address a question as to whether the promotion was experiencing technical difficulties.
After Groupon tweeted out the Starbucks offer, the company received a handful of complaints from users who were frustrated in efforts to access their purchases.
"Sorry for the trouble -- we're working fast to fix the problem! We'll be back at full strength soon," responded @GrouponLA, a verified Twitter account for Groupon's Los Angeles businesses.
The overwhelming majority of tweets referencing the Starbucks Groupon were positive. "Holla!" wrote @caryplunkett.
Starbucks' arrangement with Groupon follows a similar promotion from Living Social, which recently got an investment from
Amazon
(AMZN) - Get Free Report
. That deal, according to LivingSocial, generated about 1.5 million purchases and was the site's best-selling offer.
The coffee deal represents the first between the two companies since Starbucks CEO Howard Schultz stepped down from Groupons board in April.
Friday's Groupon may help Starbucks fuel its own push into mobile transactions.
Starbucks' Secret Recipe for Growth
.
At Starbucks shareholder meeting earlier in March, CEO Schulz said the company would look to double its loyalty card in coming years.
"Starbucks builds and fosters relationships with its customers both in its stores and online, and we are pleased to provide this limited-time offer through Groupon to our customers," Linda Mills, a Starbucks spokesperson said in an e-mailed statement.
When asked if Starbucks would run future daily deal promotions, Mills said "
we're always looking for new experiences and values to our customers and potential customers," but didn't specify whether the company has a preference between Groupon or Living Social.
Mills also indicated Starbucks isn't looking to enter the daily deals market itself, after a string of activity into novel technologies such as
in mobile payments upstart
Square
.
"We will naturally continue to explore opportunities that provide value to our customers and appreciate the opportunity to work with daily deal leaders," Mills said.
-- Written by Antoine Gara in New York