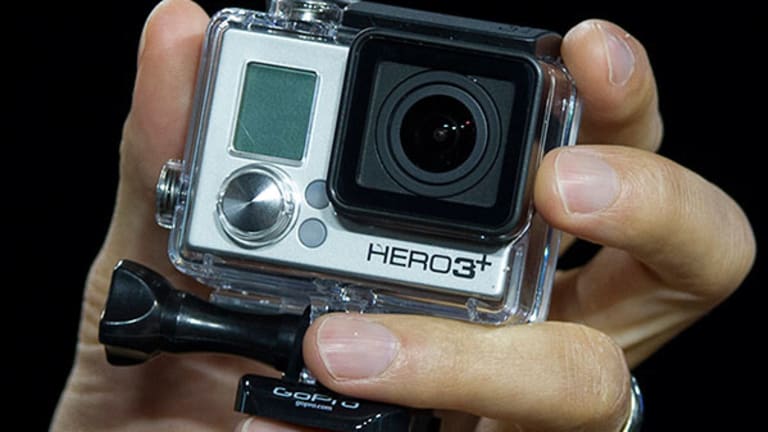 GoPro's Drone Move Makes This Stock a Potential Buy
GoPro, the maker of popular video cameras, is preparing to get into the drone market. And its entry makes drone opportunities and questions stand out.
NEW YORK (TheStreet) -- Mention the term "drone," and what immediately comes to mind are the military planes the U.S. uses to attack terrorists overseas.
But with its announcement that it will soon begin selling an airborne drone camera, GoPro (GPRO) - Get Report has raised the profile of drones to a new level beyond military usage. This could put the technology into the hands of everyday consumers, and give investors more confidence about the nascent industry.
"Drones are a fascinating new segment of technology that has huge potential," said Jeff Sica, president of Sica Wealth Management. "[But] it's still too early to know who the industry leader is going to be."
GoPro's announcement of a quadcopter drone to be available next year came from CEO Nick Woodman at the Code Conference in Rancho Palos Verdes, Calif., on Wednesday. Woodman didn't give many other specific details about the drone, other than it would be marketed toward consumers. GoPro original began selling its cameras as wearable technology for adventure sports fans.
Investor reaction to GoPro's announcement was positive enough to send the company's stock up nearly 7% Thursday, closing at $56.81 a share. It was GoPro stock's highest closing price in more than four months. On Friday, GoPro shares bounced down 2.5% again in midday trading.
Such gains suggest that consumers are hungry to get their hands on easy-to-use drone photography technology. But while the thought of being able to pilot a GoPro drone may be exciting to the average person, for companies in drone technology, or looking to get into the market, many questions remain about the opportunities in the nascent industry.
"It's difficult to gauge the market opportunity given the huge uncertainties that we have about this market that doesn't exist yet," said Werner Goertz, an analyst with Gartner. Goertz said that "it's a good thing" that GoPro is getting into drones at this time, but that the move also brings up many technological issues that should be considered.
"What wireless technologies will be used to drive the drone and over what distances?" Goertz asked. "Would the range exceed that of typical Bluetooth ranges or Wi-Fi?"
While GoPro may get the publicity for this move, drones depend on technology from companies that provide components for the devices.
Which is where a company like IXYS (IXYS) comes into play.
IXYS makes chips and controllers for many drones that are already in use. Sica called the company "positioned well for substantial growth moving forward." Sica said IXYS, while a young company which in its last fiscal quarter earned $6.6 million, or 21 cents a share, on $81.3 million in sales, "has recently completed acquisitions and has expanded its product offerings."
Sica added, "The bottom line is drone use has the potential to be used across many different industries, and IXYS looks to capitalize on all industries."
Drone uses could range from assessing disaster response to inspecting gas and electric power lines and capturing information about soil and crop growth across farmlands, according to Mary Meeker, a partner at venture capital firm Kleiner Perkins Caufield & Byers.
In her Internet Trends presentation at the Code Conference earlier this week, Meeker said that the worldwide market for consumer drones could reach 4.3 million units this year, a 167% increase from 2014, and revenue from such devices is expected to climb to $1.7 billion, from approximately $750 million a year ago.
Meeker's estimates for consumer drone sales, along with GoPro's drone announcement, came on the heels of this month's U.S. Patent and Trademark Office publication of details on Amazon's (AMZN) - Get Report proposed drones for its planned Prime Air delivery service. Amazon still has to receive approval from the U.S. Federal Aviation Administration for its planned use of commercial drones.
This article is commentary by an independent contributor. At the time of publication, the author held no positions in the stocks mentioned.