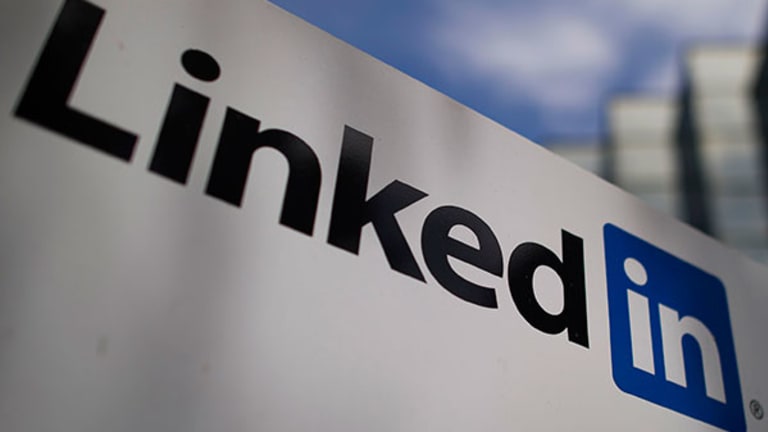 GoPro Wipes Out, LinkedIn Is Lights Out: Tech Winners & Losers
GoPro shares fell despite earnings beating consensus estimates, while Tesla and LinkedIn shares both jumped on strong results.
NEW YORK (TheStreet) –– Tesla (TSLA) - Get Report shares rose 3.7% to $233.58 following yesterday's release of second-quarter earnings that beat expectations.
Tesla earned an adjusted 11 cents per share on revenues of $858 million, up 55% year-over-year, and produced 8,763 Model S units this quarter, delivering 7,579. Last quarter, the electric car manufacturer earned 12 cents per share on revenues of $713 million and produced 7,535 model S units, of which 6,457 were delivered. Gross margins were 26.8%, ahead of the 25.4% reported last quarter. Net income was $16 million. The company ended the quarter with $2.7 billion in cash and marketable securities.
Analysts polled by Thomson Reuters expected Tesla to earn 4 cents per share on revenues of $810.6 million.
"We have had an active first half of 2014, and the rest of the year is expected to be even busier," said CEO Elon Musk and CFO Deepak Ahuja in the letter to shareholders. "The development of our large-scale battery manufacturing facility, known as the Tesla Gigafactory, is proceeding well. We have formalized our agreement with Panasonic for cell manufacturing at the Gigafactory and remain on track with the site selection process."
Last quarter, Tesla predicted that it would deliver 7,500 Model S units and produce between 8,500 and 9,000 this quarter. The company said then that it looked to deliver 35,000 units for the full year; it is now on track to surpass that benchmark. For the third quarter, Tesla expects to produce 9,000 cars.
The report also said that a new Model S and Model X assembly line will begin operations next week. Tesla noted that it was still on track to begin producing the Model X in the spring of 2015. "Provided that we execute well and there are no serious macroeconomic shocks, Tesla's annualized delivery rate should exceed 100,000 units by the end of next year," the company said.
Earlier that day, Tesla announced that it had finalized an agreement with Panasonic to collaborate on a large-scale battery manufacturing facility, known as the Tesla Gigafactory. The report said that Tesla had broken ground on a potential site in Reno, NV., and was looking into other potential sites in Arizona, California, New Mexico, and Texas, as per the company's policy of breaking ground on multiple sites.
GoPro (GPRO) - Get Report shares sank 11% to $42.71 despite second-quarter earnings beating analysts' expectations.
In its first quarterly earnings since going public, the company, which makes wearable cameras for extreme sports enthusiasts, reported earnings of 8 cents per share in its second quarter, up from a 3 cent loss a year earlier. Revenues rose 38% year-over-year to $244.6 million, a 3.8% increase from last quarter. Analysts polled by Thomson Reuters predicted earnings of 6 cents per share on revenues of $237.7 million.
Sales of the wearable cameras and accessories rose 31% year-over-year to $854 million. The number of GoPro videos published on YouTube more than doubled year-over-year, rising 160%, while views of those videos on YouTube rose 200%. 
Despite these strong results, GoPro's bottom-line loss of $19.8 million, or 24 cents a share, was higher than expected, up from a loss of $5.1 million, or 6 cents per share, in the same quarter last year. Total operating expenses nearly doubled, reaching $119.5 million from $62.8 million.
"We delivered a strong quarter of operating results driven by increased demand for our Hero 3+ Black Edition and demand for our accessory products," said CEO Nicholas Woodman in the press release. "We are seeing a tremendous volume of quality content generated by our users and a 200% year over year increase in video views on YouTube, which is fueling our virtuous cycle whereby viewership of GoPro content drives sales. Our second quarter performance demonstrates our users' continued passion for GoPro's products, content and brand."
At the end of regular trading yesterday, GoPro shares closed at $47.97, nearly double the $24 IPO price.
LinkedIn (LNKD) shares shot up 10.8% to $200.16 after reporting strong second-quarter earnings led by growth in its recruiting and premium subscriptions business.
In its second quarter, LinkedIn earned 51 cents per share on revenues of $534 million, up from 38 cents per share on revenues of $364 million a year earlier. Analysts surveyed by Thomson Reuters forecasted earnings of 39 cents per share on revenues of $511 million. Revenue in Talent Solutions, which accounts for 60% of the total, increased 49% year-over-year; revenue in Market Solutions, 20% of total revenue, rose 44%, and revenue in Premium Subscriptions, 20% of total revenue, grew 44%. 40% of the total revenue was from outside the United States.
"LinkedIn delivered strong financial results in the second quarter while maintaining investment in our member and customer offerings," said CEO Jeff Weiner. "We made significant progress against several key strategic priorities including increasing the scale of job opportunities on LinkedIn; expanding our professional publishing platform; and continuing the strategic shift towards content marketing through Sponsored Updates." The company issued third-quarter revenue guidance between $543 million and $547 million, or 44 cents per share. Full-year revenue guidance is forecast between $2.14 billion and $2.15 billion, or $1.80 per share.
In response to the earnings, Goldman Sachs analyst Heath Terry raised his price target on LinkedIn stock to $250 from $230. Terry, who holds a "buy" rating on the stock, wrote that the "longterm trajectory of existing businesses and the opportunity represented by emerging businesses like Sales Navigator, which launched commercially this Q, remain among the strongest in Internet." He also raised his 2014-16 revenue and adjusted EBITDA estimates by 3% each.
Shares of T-Mobile (TMUS) - Get Report were up slightly after a new buyout offer, rising 1.2% to $33.34.
French telecom company Iliadconfirmed yesterday that it had made a buyout offer to T-Mobile, America's fourth-largest carrier. In a press release yesterday, Iliad said that it had offered $33 per share in cash to buy 56.6% of T-Mobile, for a total of $15 billion. Iliad, a budget carrier, is the fourth-largest carrier in France, behind Orange, SFR, and Bouygues. In its fourth quarter, it had 14.3 million customers, including 8.6 million mobile subscribers and 5.7 million fixed-line users; T-Mobile has more than 50 million cellphone customers.
"The US mobile market is large and attractive," Iliad said in the press release confirming the bid. "T-Mobile US has successfully established a disruptive position, which in many ways, is similar to the one Iliad has built in France."
Sprint (S) - Get Report, America's third-largest carrier, has made its own buyout bid to T-Mobile, offering $40 per share. However, Iliad, as a French company with no U.S. presence, would face fewer antitrust hurdles than Sprint. Sprint shares rose 2.7% to $7.55 on the news this morning.
T-Mobile's majority shareholder is Deutsche Telekom AG, a German company. Deutsche Telekom owns two-thirds of T-Mobile, has been trying to offload the company for years. AT&T  (T) - Get Report, then the largest American carrier, tried to purchase it for $39 billion in 2011, but the deal was killed by antitrust regulators. T-Mobile and Sprint were finalizing their own deal as late as June 2014.
Neither T-Mobile nor Iliad could be reached for comment.
Expedia (EXPE) - Get Report shares rose 6.4% to $84.48 after reporting strong second-quarter earnings yesterday.
Expedia, an online travel booking service, earned $1.03 per share, well above the analyst consensus of 75 cents per share. Revenues were $1.49 billion, just ahead of the consensus of $1.44 billion, and a 24% increase year-over-year. The company attributed this revenue growth to strong advertising and media revenue growth, which grew 54% to $123 million. Adjusted earnings grew over 60%.
Gross bookings grew 29% from the same quarter last year: 35% domestically and 21% internationally. Hotel revenue increased 23%, while air revenue increased 22%.
"Q2 was an excellent quarter for our company," said CEO Dara Khosrowshahi during the conference call. "We drove top line trends above our expectations, and through disciplined control of our fixed costs, saw a good majority of that outperformance drop to the bottom line." He added, "I couldn't be more pleased with how the teams are executing and about the strong results that we're seeing as a result."
In response, several analysts upgraded the stock. Raymond James analyst Aaron Kessler upgraded the stock to "outperform" from "market perform" and raised his price target to $100. Deutsche Bank analyst Greg Poole reiterated his "hold" rating and raised his price target to $80 from $70. Benchmark analyst Daniel Kurnos maintained his "buy" rating and raised his price target to $94 from $85. Cantor Fitzgerald analyst Naved Khan reiterated his "buy" rating and raised his target price to $92 from $82. Credit Suisse analyst Dean Prissman maintained his "neutral" rating and increased his target price to $85 from $78. Evercore Partners analyst Ken Sena reiterated his "equal weight" rating and raised his target price to $80 from $73. FBR Capital Markets analyst Jake Fuller maintained his "outperform" rating and increased his target price to $94 from $85. Pacific Crest analyst Chad Bartley maintained his "sector perform" rating. Piper Jaffray analyst Michael Olsen reiterated his "neutral" rating and raised his target price to $78 from $72. RBC Capital Markets analyst Mark Mahaney maintained his "sector perform" rating and raised his target price to $90 from $80. Susquehanna analyst Brian Nowak reiterated his "positive" rating and increased his price target to $91 from $90
--Written by Laura Berman in New York
>Contact by Email.