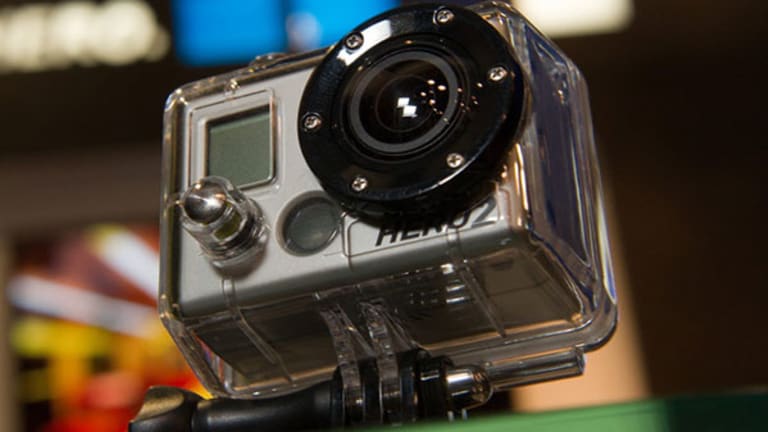 GoPro Shares Spike on Sales Forecast: What Wall Street's Saying
GoPro shares surged Wednesday following the sports camera maker's impressive bottom line and forecast for second-quarter sales to be above expectations.
NEW YORK (TheStreet) -- GoPro (GPRO) - Get GoPro, Inc. Class A Report shares surged Wednesday following the sports camera maker's impressive bottom line and forecast for second-quarter sales above expectations.
GoPro reported net income of $16.8 million, or 11 cents a share, for the first quarter, compared to $8.5 million, or 8 cents, a year earlier. Earnings adjusted for stock-based compensation, among other things, came in at 24 cents a share for the quarter, beating analysts' estimates of 18 cents. Revenue rose 54% from a year earlier to $363.1 million, which was above estimates of $341 million.
The San Mateo, Calif.-based company forecast per share earnings of 24 cents to 26 cents and revenue of $380 million to $400 million for its second quarter. Analysts surveyed by Thomson Reuters expect the company to report earnings of 17 cents a share and revenue of $341.67 million for the period.
GoPro also announced that it will acquire French virtual reality company Kolor. "GoPro's capture devices and Kolor's software will combine to deliver exciting and highly accessible solutions for capturing, creating and sharing spherical content," GoPro CEO Nicholas Woodman said in a separate release.
GoPro shares were up more than 12% to $52.71 on Wednesday on volume that was nearly double its three-month average daily volume of 6.5 million shares. Here's what analysts said.
Alex Gauna, JMP Securities (Market Outperform; $105 PT)
We raise our estimates and reiterate our Market Outperform rating and $105 price target on GoPro after it delivered an impressive F1Q15 report and F2Q15 guide. Upside non-GAAP EPS of $0.24 (JMP
$0.25, Street $0.18) was achieved on better than expected revenue of $363M (-43% q/q, +54% y/y, Street $341M) due in large part to strength in overseas market demand. The stock traded up ~10% in aftermarket response to this impressive result and better than expected guidance for accelerated sales growth to $380-$400M (midpoint +7% q/q, +59% y/y, Street $334M), and we continue to recommend aggressively buying the stock owing to the 70% y/y increase in global brand awareness GoPro is seeing and prospects for this growth in brand awareness to prove a leading indicator for further sales growth acceleration. We recommend investors take note of the mounting investments GoPro is making in people, software, media, sponsorship, virtual reality, and real-time live broadcast, as in our view it puts GoPro in a whole other league relative to the would-be competition and makes for almost open-ended potential to monetize the Hero brand. We are raising our FY15/16 non-GAAP EPS estimates to $1.75/$2.00 from $1.50/$1.75 (Street $1.41/$1.71), and reiterating our $105 price target based on an ~6x EV/CY16E sales multiple that represents an ~15% discount to the mean NTV EV/S metrics recently achieved by premium software, new media, and Internet companies, or a peer group we expect GoPro to be increasingly compared against as its social networking and new media presence continues to expand.
Andrew Uerkwitz, Oppenheimer (Underperform; $35 PT)
GoPro beat 1Q15 guidance and consensus with good execution and followed it up with even stronger guidance, implying 7% Q/Q growth for 2Q15 at guidance mid-point. GoPro also announced its acquisition of Kolor, a virtual reality software and content provider, which we believe is a must-have strategy for the future of action videos. We applaud the company's success in growing internationally in EMEA. However, we continue to believe our negative thesis holds-the long-term TAM is limited (especially vs. Street expectations) and it shows in our model as we see growth decelerating in 2015 holiday season. We maintain our Underperform rating with a $35 price target.
Joseph Wolf, Barclays (Equal Weight; $50 PT)
Bottom Line: It's hard to find much to fault in GPRO's 1Q15 earnings release. Units shipped were up 58% year-over-year and drove the revenue beat. GM was better than expected, coming in at 45.2% versus our 44.5%, as HERO4 (Black and Silver) sales continue to account for over 50% of total on a unit and dollar basis. Revenues, margin and EPS guidance for 2Q15 beat both us and consensus by a significant margin, which will drive a sharp uptick after hours that we expect could hold
Wednesday. International sales continue to grow (50% outside of Americas) and could provide a significant opportunity for the foreseeable future and support management's view of a much larger addressable market. Monetizing media is still not a focus of management, though there was an increase in content revenues (off a small base). As our revenue estimates increase and GPRO grows into a more reasonable multiple, supported by just hardware, the skeptic in us remains somewhat uncomfortable with consumer electronics nature of the story. On the other hand, the global brand and reach means this one could be different. We maintain our EW rating though we boost our PT to $50, 25x our 2016 EPS estimate of $1.99; we admittedly may have missed a chance at this one during 1Q.
Brad Erickson, Andy Hargreaves, Pacific Crest Securities (Sector Weight; NA PT)
U.S. sell-through upside, evidence of accelerating inroads in China and/or a video-editing software breakthrough could get us more constructive on the name. However, with growth likely to slow in the 2H, we remain Sector Weight on valuation with an appropriate premium multiple implying fundamental support to the low to mid- $50s. China commentary is encouraging. GoPro will have its entire product portfolio into China by the end of the quarter, which is encouraging, and management highlighted solid initial traction in the Chinese market. Still, we believe GoPro's entry will be a slow, steady one rather than having hockey-stick potential, at least for this year. We will be watching for further indications that GoPro is making inroads in this market, which could turn us more positive on the name.
We are raising our estimates on better unit sales and a lower tax rate, partly offset by lower average selling prices (ASPs) and higher opex. Our EPS estimate for next year goes up only a penny given stronger spending around software development. Given management's track record of conservative guidance, our bias on numbers remains to the upside. GPRO warrants a premium multiple, but valuation keeps us at Sector Weight. While we are not ruling out further upside driven by international distribution and upward estimate revisions, we note that Americas revenue declined 56% q/q with growth decelerating to 44% versus 77% y/y in Q4. There is nothing wrong with 44% growth, but deceleration through the second half of the year could temper optimism around future opportunities like China, which could limit the upside, in our view. Evidence of sell-through upside in the United States, game-changing software development and/or a faster China ramp could get us more positive beyond our fair-value estimate.