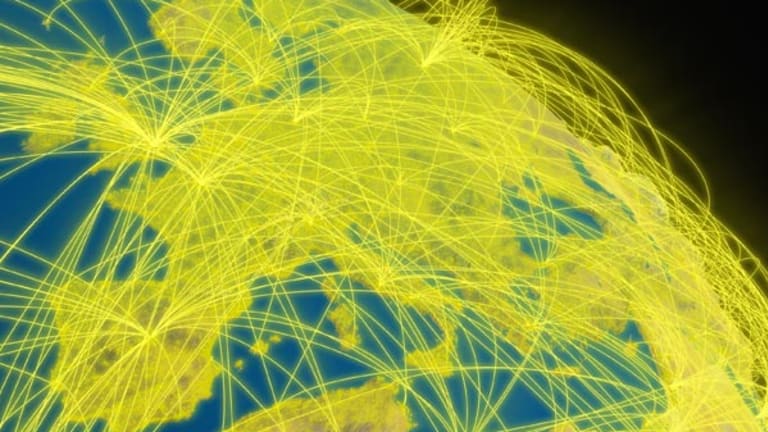 Publish date:
Google's New Frontier: The Living Room
More and more companies are targeting the living room. Here are the ones who will profit mightily.
More and more companies are targeting the living room. Here are the ones who will profit mightily.
NEW YORK (TheStreet) -- Taking a cue from Netflix (NFLX) - Get Report and Google (GOOG) - Get Report, more and more companies are targeting the living room. And the firms that are doing the best at it will profit heavily.
Earlier this year, Netflix announced in its fourth-quarter earnings report (which included a $30.9 million profit) that it now ships DVDs to 12 million customers around the U.S. It's certainly an impressive number. But it becomes an enticing figure for investors when one realizes that out of those 12 million people, 48% of them streamed at least 15 minutes of video off the company's video-streaming service. A year prior, just 28% of users were streaming videos from Netflix.
Google invades the living room with Google TV.
Netflix's growth can be attributed to the amount of devices it has brought streaming service to, including
Microsoft's
(MSFT) - Get Report
Xbox 360,
Sony's
(SNE) - Get Report
PlayStation 3, and the
Nintendo
Wii. It's also available on select Blu-ray players and a set-top box from
Roku
, among many others.
Netflix isn't alone in the streaming space.
Amazon
(AMZN) - Get Report
currently offers its Video OnDemand streaming technology on some devices, including the
TiVo
(TIVO) - Get Report
. Embattled
Blockbuster
(BBI) - Get Report
, which reported a staggering $65 million loss in its first quarter, is also getting in on the streaming market, but the company isn't performing nearly as well as Netflix in the space.
There's also the influence that cable boxes from
Time Warner Cable
(TWC)
and
Comcast
(CCW)
are having on the streaming market. By flipping to a channel and hitting a few buttons, consumers can now easily watch a movie or television show from their cable boxes. It's becoming such a boon for cable companies and there's now a slew of OnDemand channels featuring content ranging from movies to television shows to music.
Regardless of the method, streaming's growth underscores something that every prudent investor simply can't miss: Firms moving strategically into the living room will profit heavily.
The future of the high-tech living room
According to ABI Research, 127 million set-top boxes will ship in 2012. They will range from cable boxes to products like
, which provide users with more streaming options than they would otherwise find on a game console or a cable box. But ABI's figures were unveiled before Google announced last month the single product that could change the living room forever -- and the software that could make ABI's figures obsolete.
Dubbed
, the service is designed to run on a hardware partner's set-top box. Upon booting up one of those devices, users will be able to have a full-fledged Web-browsing experience right on their HDTVs. The Google TV is being marketed as an "entertainment hub" that allows users to search and find content both on the Internet and on their cable boxes.
So far, Sony has agreed to run Google's software on some of its HDTVs.
Logitech
(LOGI) - Get Report
plans to offer it in a slate of set-top boxes, the first of which will be called the Revue. It's scheduled to ship this fall.
Intel
(INTC) - Get Report
is even getting in on the craze by offering its Atom processor for the devices that will run Google TV. It is arguably the most anticipated entertainment release of the year.
That said, judging consumer preference in the tech industry is always difficult. At times, there seems to be no rationale for customers liking one product and hating another. But the living room is a different space. Growth over the past few years has shown that consumers want more than just a cable box, a DVD player, and a television in their homes. They now require an HDTV, game consoles, and set-top boxes to supplement what they're already getting from their cable company. And right now, several firms are ready and willing to offer that.
It seems that the living room could be home to a fine investment strategy. Not only does Netflix look more appealing each day, but Google's efforts in the space could help it bolster its own suite of offerings. Plus, Intel's involvement in Google's projects could help the company's ailing mobile-processor division. Even cable companies are more attractive investment targets, thanks to the growth of streaming and their unique position in that space.
--Written by Don Reisinger in New York
See Also:
>>ARM Chips Riding Google's Android Wave
>>Microsoft Is No Longer Too Big to Fail
Don Reisinger has been writing columns and blogs about the technology and video game industries for years. His work appears in some of the tech industry?s biggest publications, as well as in the
Los Angeles Times
, where he blogs about social networking. Follow Reisinger on Twitter @donreisinger.