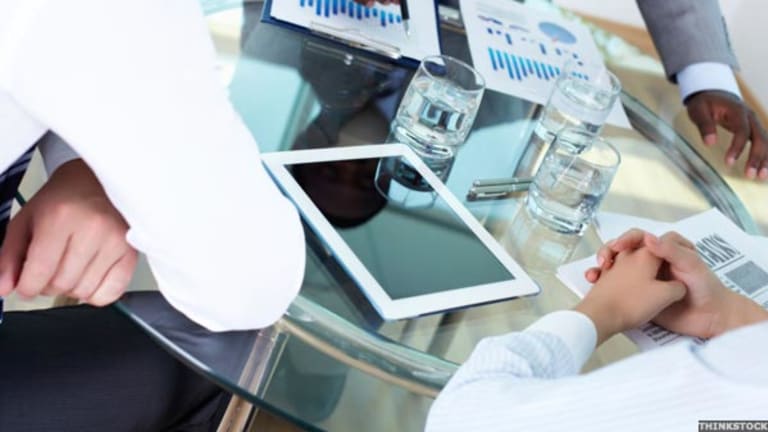 Google's Mobile Pay: Don't Bank On it
One phone, one carrier, it's a start for Google's mobile payment strategy, but the challenges are stupendous.
NEW YORK, (
) --
Google
(GOOG) - Get Free Report
plans to take mobile payments from a beguiling theory to a revolutionary practice Thursday, apparently using one phone at
Sprint
(S) - Get Free Report
.
The Android shop is expected to unveil its long-awaited wireless payment system at an event in New York Thursday, according to several reports.
While Google has
of the smartphone software market in a very short time, success in mobile payments is a completely different path.
Google jumps into a field
with credit card companies, financial services firms, online payment giants and telcos all eager to control the unfolding wireless wallet.
Google, which has had limited success with its own online payment system -- Google Checkout -- plans to use near field communications or NFC technology in the
Samsung
Nexus S phone, carried by Sprint, to usher in what it hopes is the mobile phone credit card.
The move threatens to make Google an enemy to its mobile partners like Sprint,
AT&T
(T) - Get Free Report
and
Verizon
(VZ) - Get Free Report
, which have mobile payment strategies of their own in the works. It's also the telcos that have final say on the features built into the phones they sell.
Google also jumps into a field where
Amazon
(AMZN) - Get Free Report
and
eBay's
(EBAY) - Get Free Report
PayPal
and presumably
Apple
(AAPL) - Get Free Report
have mobile payment systems in the works.
Google's mobile pay plan will certainly help pump more interest in outfits like wireless credit-card scanner
Verifone
(PAY)
and closely held
Vivotech
, a NFC system developer in talks to acquire the U.S. assets of
Hypercom
(HYC)
, a card-swipe hardware maker.
Google would clearly like its mobile payment system to feed a broader location-based strategy that includes local search, coupons and advertising. But like its ill-fated attempt to sell its own mobile phones or rent movies, the push may help stir the pot, but it's far from a guaranteed success.
As one analyst said: "Google throws a lot on the wall, not much of it sticks."
-- Written by Scott Moritz in New York.To contact this writer, click here: Scott Moritz, or email: scott.moritz@thestreet.com.Follow Scott on Twitter at MoritzDispatch