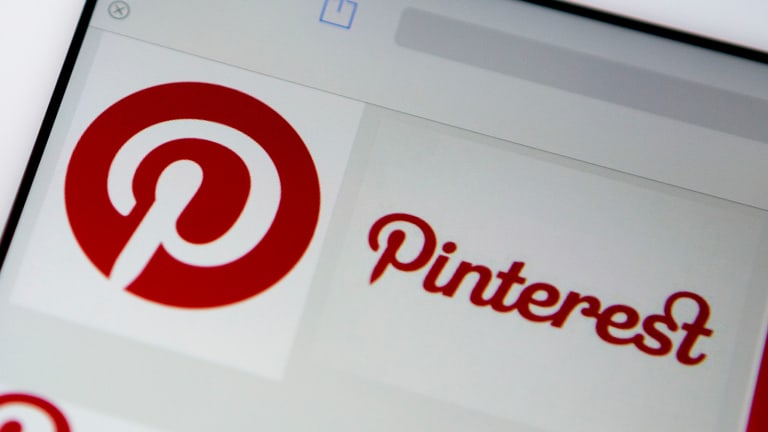 Google's Domination in Advertising is Being Challenged by Pinterest, Twitter, and Facebook
As the social networks unveil buy buttons, traditional players like Google and Amazon ought to take a second look at their strategy.
NEW YORK (TheStreet) -- Lines are definitely blurring in the technology world. Social networks are venturing into e-commerce, e-commerce companies are playing with social features, and all of the above are fighting for consumers' wallets.
The most recent move is coming from Pinterest, who today unveiled a buy button that will direct users straight from a recipe for pecan pie to an online cart with all of the necessary ingredients. Pinterest CEO Ben Silbermann unveiled the new plans at an event at its headquarters in San Francisco today.
But Pinterest is certainly not the first. Both Twitter (TWTR) - Get Twitter, Inc. Report and Facebook (FB) - Get Meta Platforms Inc. Class A Report have already launched buy buttons that let their users transact directly on the social networks.
The first question that arises from these redesigns is how the shift will impact traditional retailers and marketplaces like Amazon (AMZN) - Get Amazon.com, Inc. Report and eBay (EBAY) - Get eBay Inc. Report. At MIT's Emtech Digital conference on Monday, Pinterest's head of partnerships, Tim Kendall spoke about partnering with retailers and Amazon on the actual transactions, but will Pinterest remain a partner or morph into a competitor?
"More choices and more competition are usually bad, but Amazon and eBay are far ahead in the marketplace wars," said Scot Wingo, executive chairman of Channeladvisor, which helps merchants sell on marketplaces like Amazon and eBay.
"Retailers seem to love Pinterest and get a lot of referral traffic from Pinterest already," said Nikki Baird, Managing Partner at Retail Systems Research. "If they can shorten the process from 'Wow, that's really cute!' to 'Buy it' - then everyone wins, the consumer, Pinterest for playing a role in making that a shorter process, and the retailer who ultimately gets the sale."
Seventy-five percent of Pinterest users said they either buy something online or offline or visit a brand, retailer, or media website after browsing Pinterest, according to a Pinterest-commissioned Millward Brown study. Thirty percent actually bought something after browsing.
Only time will tell whether Pinterest, Twitter, and Facebook will turn into Amazon and eBay rivals or friends. However, one tech giant already stands to lose here--Google (GOOG) - Get Alphabet Inc. Class C Report.
"Product-oriented search/adwords is under pressure from mobile and Amazon and now these mobile-heavy players--Twitter, Facebook, Pinterest--could get in front of Google and take that 'discovery of products' piece that Google has owned in the desktop/search world and cut Google out of the picture," Wingo said. "So the most likely loser here is Google."
Traditionally, Google (GOOGL) - Get Alphabet Inc. Class A Report has dominated in search and advertising. It is the first place where consumers go when they're looking for anything and everything, so it becomes the middleman for e-commerce players like Amazon. However, with consumers spending more time on social media and on mobile, this could turn into a huge challenge for Google.
The average visitor to Facebook's mobile site or app spends roughly 49 minutes there a day, according to research firm comScore. This presents a valuable opportunity to a retailer who can add a buy button to an ad in Facebook's app.
For Pinterest the value is even more obvious.
It's 70 million active monthly users are already pinning things like recipes, home projects, and clothes to boards. More than 80% of the pins are purchasable products, according to Wingo. This can easily be translated to a valuable way for retailers to reach consumers.
"They're not just sending you a browser or window shopper, they're sending you a transaction, so that lead is worth more to the retailer than just general consumers coming to look at the site," said Gartner analyst Gene Alvarez.
That could take away from the advertising money typically funneled into Google.
This isn't to say that Google's ad business is anywhere near defunct -- it generated $12.6 billion in advertising-based revenue after costs in the first quarter of 2015, up 14% year over year. But it does mean that the company is meeting some new competition that should add some pressure to the company.
Google is already working on
, which could help it fend off the social networks, but the search company should probably approach these plans with increased urgency. "That really needs to work and seems to be the best defense," Wingo said.