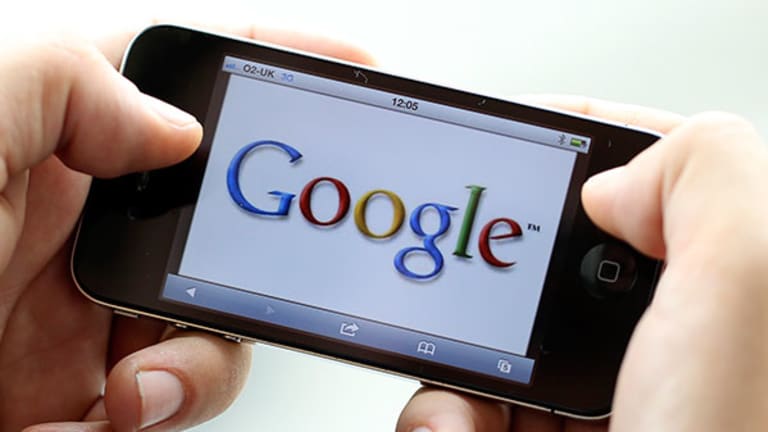 Google's Dominance in Search Being Challenged by Mobile Apps
Google's dominance is being challenged by apps on smartphones and tablets that take people where they want to go.
Updated from Feb. 11 to include information in the twenty sixth paragraph.
SAN DIEGO (TheStreet) -- Apps have changed not only what we do with our phones but how we hunt for information. That makes the business of mobile search more complicated than ever -- especially for search giantGoogle (GOOGL) - Get Alphabet Inc. Class A Report .
Though long synonymous with search on desktop and mobile, Google's dominance is being challenged by apps on smartphones and tablets that take people where they want to go. As a result, Google's mobile search revenue is being eaten away, which may force the company to develop more of its own apps to remain competitive.
People don't think of apps as search, but the majority of apps are "vertical search engines," Altimeter Group analyst Rebecca Lieb said. That's because so much of what we do on smartphones, such as look for a nearby restaurant or search for your next home, is specific to a place or intention.
Vertical search is just a fancy way of describing a search engine tailored around a specific topic or category. On smartphones, vertical search engines and applications are, by and large, one and the same.
"It might be called Yelp (YELP) - Get Yelp Inc Report, but it's a vertical search engine for local bars and restaurants," Lieb said. "Tinder(part of IAC/InterActiveCorp  (IACI) ) and other dating apps are vertical search engines for people who are nearby. It's amazing how many vertical search engines are disguised as apps and not called search engines."
Not only Yelp but Travelocity,Amazon (AMZN) - Get Amazon.com, Inc. Report , TripAdvisor (TRIP) - Get TripAdvisor, Inc. Report and Expedia (EXPE) - Get Expedia Group, Inc. Report all qualify as mobile search engines. If you follow the money, search and apps are conflated in a way that makes Google's hold on the business less secure.
This year, category-specific apps will collectively consume close to 27% of total mobile search ad spending in the U.S., up from around 25% in 2014, according to projections from research firm eMarketer. By 2016, these quasi-search engines will grow their mobile search ad spending share to nearly 30% at the expense of Google, whose share is expected to slip to 64%, down from close to 69% in 2013.
Throw in the fact that ad spending on mobile is set to surpass desktop for the first time this year and it's clear the battleground for search dollars is on smartphone and tablets. According to eMarketer, the estimate for mobile search ad spending in the U.S. will total nearly $13 billion in 2015, while spending on desktop will fall to $12.3 billion.
In the fourth quarter, Google made 89% of revenue, or $16.15 billion, from advertising.
The company, to the chagrin of analysts and investors, doesn't separate mobile revenue from desktop revenue, which means we have little insight into its health on mobile and must take the word of executives who assert that mobile was a point of strength during the quarter. Yet the average amount earned each time someone clicks on an ad, known as cost per click (CPC), was down 3% from last year and mobile is absolutely to blame. 
"Smartphone search CPCs have been trending lower than desktop CPCs, and tablet CPCs have been hovering around the desktop rate, or just under," eMarketer senior mobile analyst Cathy Boyle said. "In Google's case, as smartphone clicks have become a larger share of total clicks, the lower smartphone CPCs are pulling down the total CPC average." 
If mobile clicks continue to grow in volume and CPCs remain below what is paid on desktop, Google may need to figure out a way to increase the number of ads on the mobile search engine result page, where it has limited real-estate, to grow its search revenue going forward, she added.
The trouble is that search marketers don't have a very compelling reason to spend more on mobile search engine ads because consumers spend a bulk of their time inside apps. 
When it comes to smartphone usage, adults in the U.S. spend 88% of their time with mobile apps, compared to 12% with the mobile browser, according to comScore's (SCOR) - Get comScore, Inc. Report June 2014 mobile app report. The browser, such as Apple's (AAPL) - Get Apple Inc. (AAPL) Report Safari, gets a bit more love on tablets, but apps still get 82% of all time spent on tablets.
A November 2013 survey, conducted by Nielsen and cited in eMarketer's mobile search trends report, found that a quarter of smartphone owners in the U.S. started searching for product information in a branded app instead of a search engine.
Google's contract to be the default search engine on Apple's Safari is up sometime this year, throwing another monkey wrench in Google's plans.
As a result of changing behavior, advertisers are moving quite a bit of search spending to apps, Boyle said. Though they aren't abandoning traditional search engines, digital marketing agency executives have told Boyle that they're investing in apps where vertical searches typically occur, with specific examples including TripAdvisor, Yelp and Expedia. 
"Apps are going to have a renaissance in 2015," said Doug Platts, one of those digital marketing agency executives, meaning that apps are going to become more of a factor in brands' mobile search strategies. Platts is the vice president of search strategy at iCrossing, a digital marketing agency with a client list that includes Coca-Cola (KO) - Get Coca-Cola Company Report , MasterCard (MA) - Get Mastercard Inc. (MA) Report and Lego.
Google, however, has one advantage. It plays such a significant part in companies' overall advertising strategies that it has an "automatic in" with advertisers, Lieb said. "Google always has an edge with data, both consumer data as well as business data, because of its user base."
That, Lieb suggests, is what separates Google from the apps.
"Everything comes back to data," Platts said in agreement. It is far more challenging to link data to specific users in an app-based environment. "There's not a straightforward solution to connecting the different user touch points across devices, across mediums, across channels," he said.
Whereas Google, with the help of Chrome and Android, can connect the dots better than most. The company essentially controls the operating system on Android phones, where users are encouraged to log into their Google accounts for so that the user data will now extend to Google Now updates, Gmail, contacts, Chrome browsing history, Maps, YouTube and more. 
On the fourth-quarter earnings call, CFO Patrick Pichette tried to downplay the potential for lost business from losing the Safari deal, as well as worries about apps. "[T]he second piece is the way to win this in the long term, right, it's very simple," Pichette said. "You just make wonderful products. And when you make wonderful products that are magical people will find them."
Google also has its fair share of mobile apps that double as search engines, with YouTube being no exception. In fact, the video service, which has more than a billion users, is sometimes referred to as the second-largest search engine in the world based on the volume of queries it processes each month.
On the earnings call, Interim Chief Business Officer Omid Kordestani noted that over one billion people visit YouTube every month, with mobile revenue up more than 100% year to year; however, it was not quantified.
For Google, then, the solution to keeping its dominance may be as simple as producing more apps. "What this means for Google," Lieb said, "is that they look at the categories that are most lucrative for advertising, starting with categories like local, and turn them into separate apps."
Google also has a new variety of search ad that appeals to a different kind of advertiser: the app developer. The mobile app install ad, as it's known, appeals to developers who want to promote their applications to mobile searchers with a prominent click-to-install button. The ad format has proven successful for Facebook (FB) - Get Facebook, Inc. Class A Report , which now makes 69% of its advertising revenue from mobile.
Even so, Google's share of U.S. mobile search revenue is slowly shrinking. Should the company lose its place as the default search engine for Apple's Safari browser, as is a real possibility, the mobile search market is in for quite the shakeup.
--Written by Jennifer Van Grove in San Diego, Calif.
>Contact by Email.