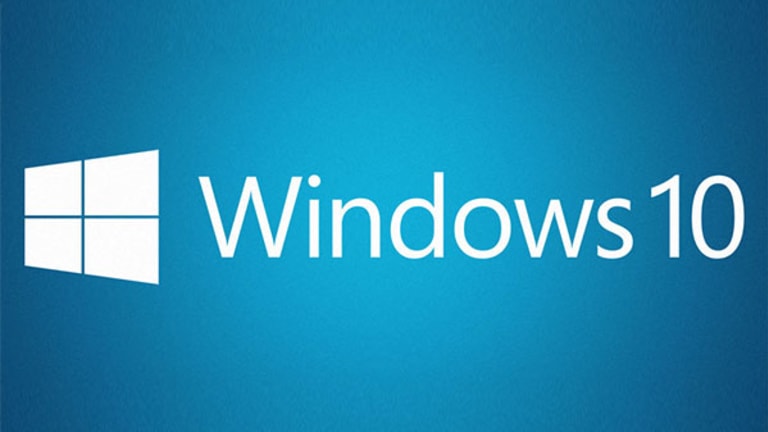 Google's Chromebooks Are Threatening Microsoft's Cash Cow
Google's rapid domination of the education market with its Chromebooks may set the stage for Chrome-using kids to become Chrome-using adults, which would be bad news for Microsoft Windows.
NEW YORK (TheStreet) -- Google's (GOOGL) quick capture of the education space could be setting the company up for success in the future as children exposed to Chrome may be more likely to opt for it instead of Microsoft's (MSFT) Windows as they get older, putting a crimp in Microsoft's cash cow.
Research firm IDC reports that Chromebooks, which are almost entirely sold in the U.S., have essentially pushed Microsoft out of the education market, going from a zero market share in late 2012, when the devices were introduced, to an expected 70% by the end of the second quarter of 2015. In 2014, just over 7 million Chromebooks shipped into the education markets, reported Gartner, and IDC expects this figure to increase in 2015.
"I can tell you now that we can consider families with children as potential users in particular in the U.S. because children become more familiar with Chromebooks through their use in education," said Isabelle Durand, principal analyst at Gartner.
Google is also expanding into the consumer market by launching of a hybrid tablet/laptop that will run Android in the tablet and Chrome, which Durand called a step in the right direction.
"The education market is something Microsoft has to worry about, and we know Microsoft is extremely concerned about it and working hard to counter Google," said Rajani Singh, an IDC senior research analyst.
So far, the corporate market has mostly ignored Chromebooks, leaving Microsoft to dominate, but Singh believes this situation could change, as Chromebooks are particularly well suited for the financial, banking and health care fields. 
The impact of Chromebooks taking over the education market is being felt financially by Microsoft.
In its annual fiscal report, Microsoft said revenue related to its Windows PC operating system fell $673 million to $16.86 billion. In 2013, the company posted a slight annual increase, generating $17.53 billion from OS sales, up $209 million.
In a April 30 research note, Morgan Stanley analyst Keith Weiss, who rates Microsoft equal-weight, described the company's Windows situation as "difficult," saying Microsoft is indicating a low growth rate for its commercial Windows base, about 1% annually, while its declining consumer (non-Pro) business has experienced a 16% two-year compound annual drop.
"After multiple attempts at restarting the Windows consumer engine and limited success in the increasingly important mobile form factor, investors will likely need to see more evidence before determining the threat of Windows OEM declines to be truly benign," Weiss wrote.
In the face of these severe headwinds, Microsoft is fighting back.
Durand said the company is competing against Chromebooks with Windows Bing notebooks and low-priced Windows 8.1 notebooks like the HP (HPQ)  Stream and the Asus X205, which offer the full benefit of Windows at a similar price to Chromebooks.
"Consumers responded positively to the Bing notebook," she said, adding that her company does not break out shipments of Bing-equipped computers.
The education market is only one area where Microsoft needs to be concerned. While consumer and business acceptance of Chromebooks has been minimal, Singh sees an opportunity for Chromebooks in these markets. She noted that only about 25% of the Chromebooks sold are going to consumers, but many of those are being bought by parents for their children.
Although there Google charges no licensing fee to use Chrome, the company does generate revenue in the education market by charging for its web-based management software, which is critical for the computers use. Google's primary source of income is advertising, so more Chromebooks on the market means more eyeballs on the ads delivered by the operating system.
Among the drivers of parental acceptance of Chromebooks, Durand noted, are their low price and the ease of managing settings to restrict how a child uses the device to prevent them from downloading harmful software. However, she said she does not believe Chromebooks will displace inexpensive Windows laptops, but the company is going to give something new a try.
This article is commentary by an independent contributor. At the time of publication, the author held no positions in the stocks mentioned.