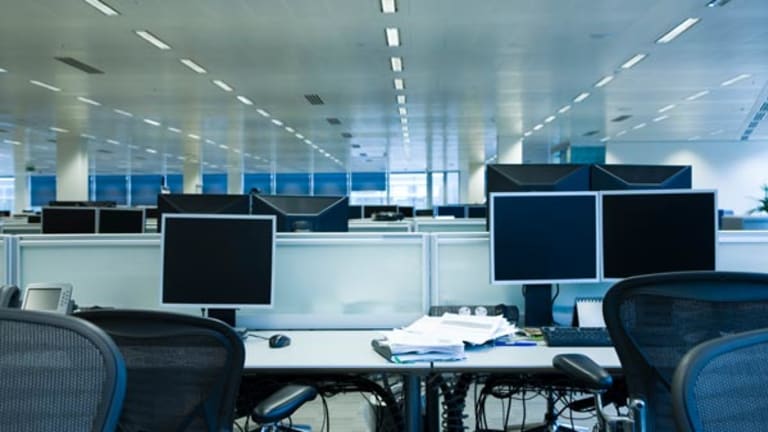 Google's Car Trouble: Weekly Tech Recap
Google and earnings news helped move the market this week. Here's a recap of <I>TheStreet's</I> top tech stories.
Google and earnings news helped move the market this week. Here's a recap of <I>TheStreet's</I> top tech stories.
NEW YORK (TheStreet) -- Google (GOOG) - Get Report ran into a little car trouble this week, when U.K. government officials said the search giant, via its Google Street View cars, violated the country's data protection laws by inadvertently collecting personal data from unsecured wireless networks there.
Google's Street View cars circle the globe, collecting data used to fill out Google Maps and Google Earth. Following the British government's ruling, Google's U.K. division must now sign an undertaking to ensure that data protection breaches do not occur again and will also face an audit. The regulator also warned that Google could face "enforcement action" if it fails to comply.
U.K. information commissioner Christopher Graham, however, rejected calls to fine Google.
In other Google legal news, the search giant notified Gmail users Tuesday night that it had
settled its class-action lawsuit
over alleged privacy violations from its Buzz social networking service. The suit was settled for $8.5 million, Google said, and will go towards supporting organizations promoting education about privacy on the web.
Google closed up 81 cents to $625.08 Friday.
Dell
(DELL) - Get Report
joined the list of corporations adding non-
Research In Motion
(RIMM)
smartphone operating systems for approved corporate use. Thursday evening Dell told
The Wall Street Journal
that it would scrap its 25,000 employee BlackBerrys and replace them with the upcoming Dell Venue Pro. The new smartphones will run
Microsoft's
(MSFT) - Get Report
Windows Phone 7 operating software.
This strengthened
partnership between Dell and Microsoft
hits as both companies scramble to catch up with rivals
Apple
(AAPL) - Get Report
, Google and RIM in the mobile device market.
A new report from Canalys showed that
Google Android-based smartphones accounted for almost 44% of U.S. smartphone sales in the third quarter,
while Apple's iPhone replaced RIM as the top individual vendor.
Dell closed down 6 cents, or 0.41%, at $14.46 Friday.
Oracle's
(ORCL) - Get Report
eagerly-anticipated courtroom battle with
SAP
(SAP) - Get Report
kicked off this week, and the database giant continued its efforts to
haul HP (HPQ) - Get Report CEO and former SAP chief Leo Apotheker into the dispute.
Oracle is seeking substantial damages for software theft from SAP, which has already admitted wrongdoing. Larry Ellison, however, has repeatedly accused Apotheker of overseeing the theft during his time as SAP CEO. HP has countered by accusing Oracle of harassment.
With Oracle becoming increasingly belligerent towards Apotheker and HP, experts are now wondering whether the longstanding relationship between the two firms will be
In M&A news, Oracle spent
$1 billion to acquire e-commerce specialist Art Technology Group (ARTG)
on Tuesday, a move that strengthens its software arsenal against
IBM.
(IBM) - Get Report
Oracle shares closed down 22 cents, or 0.75%, at $29.25 Friday.
In the security space, shares of software giant
Symantec
(SYMC) - Get Report
rose sharply in Friday as breakup chatter swirled around the company.
The software maker's stock was up more than 4% shortly after market open as investors reacted to a
story that activist shareholders may pressure the firm to split up. Citing an unnamed source, the
Post
reports that activists have been speaking to possible suitors and other large shareholders. Symantec declined to comment on the rumor.
Symantec shares closed up 64 cents, or 3.83%, at $17.20 Friday.
Earnings season continued to rumble on this week, with glassmaker
Corning
(GLW) - Get Report
missing analysts' targets on Monday as demand for display glass weakened in the third quarter
.
Video game stocks were hot, with both
Electronic Arts
and
Activision Blizzard
beating their most recent quarterly earnings estimates.
, bolstered by its
FIFA 11
soccer title, posted a profit of 10 cents a share, excluding items, up from 6 cents a share during the year-ago quarter and above analysts' estimates of a 10 cents a share loss. It also reported sales of $884 million, against estimates of $815 million.
reported 12 cents EPS on revenue of $857 million, beating estimates of 9 cents on sales of of $747 milllion.
Qualcomm
(QCOM) - Get Report
served up an old-fashioned
beat and raise of Wall Street expectations
Wednesday, although the chipmaker's stock closed down a penny, or 0.02%, on Friday.
Next week's big earnings story is
Cisco
(CSCO) - Get Report
, which reports its first-quarter results after market close on Wednesday. Wall Street is expecting a strong quarter from the networking giant, although investors, and the broader tech market, will be listening to hear whether Cisco CEO John Chambers strikes another cautious note on tech spending.
Analysts surveyed by Thomson Reuters are looking for Cisco to report revenue of $10.73 billion and earnings of 40 cents a share.
TheStreet
will be live-blogging Cisco's results and conference call. We'll go live at 3:45 ET.
--Written by James Rogers in New York.
>To follow the writer on Twitter, go to
http://twitter.com/jamesjrogers
.
>To submit a news tip, send an email to: