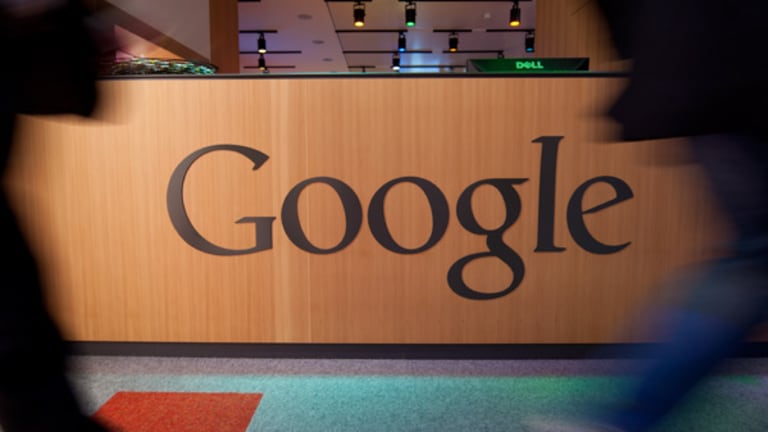 Google's Bigger Opportunity: Chrome OS, Not Android
Why bother expanding Chrome OS to tablets and smartphones? To capitalize on simplicity, security and cost.
NEW YORK (TheStreet) -- In terms of computing market share, Google (GOOG) - Get Alphabet Inc. Class C Report is on a roll. Consider theadvancements in smartphones, tablets and laptops:
1.
Android came from nowhere in early 2009 to total domination insmartphone market share today, in almost every country around theworld. That's like U.S. military strength from 1941 to 1945.
2.
After some early stumbles, Android, in conjunction with itshardware partners such as
Samsung
and
Asus
most prominently, havefinally started cracking the code on the tablet market with Nexus andother tablets. The market share is still moderate, but it appears tobe gaining against the iPad every day.
3.
Samsung,
Acer
and most recently
Lenovo
(LNVGY)
are now stamping out GooglePCs based on Chrome OS. While market share is modest overall, thereis a breakthrough in the education market, and with the enterprise andconsumer markets in sight.
So where does Google go from here? Will it simply continue to growlinearly in these three silos described above?
We have to examine the potential for Google's two operating systems,Android and Chrome OS. Let's start with the first importantdistinction, touch vs. keyboard.
If you are doing "typing" work, such as typing this article, workingon a spreadsheet, creating a presentation or working with multiplebrowser windows side by side with each other -- or with large and/ormultiple displays/monitors -- touch is not the right way to go. Youneed a keyboard and either a trackpad (laptop) or a mouse (desktop).
A finger simply isn't as precise at grabbing text, editing, pointingand selecting. In addition, your arms will go bonkers constantlyreaching forward to a screen. The bigger the display/monitor, and themore of them you are using side by side, the worse the touchscreenscenario becomes.
On the other hand, a touchscreen is the dominant way to use asmartphone. More about the BlackBerry keyboard scenario later.
In between the smartphone and PC scenarios reside the tablets. Sometablets -- say, those smaller than nine or so inches -- willrealistically be used in finger mode almost all the time. Largertablets, such as the large/original iPad and some Windows 8 devices,can also be used in "convertible" mode, with a keyboard that attachesor folds.
What can we gather from this? Let's start with Android.
Android is suitable for almost every kind of smartphone, with orwithout keyboard, because the screen will most likely betouch-enabled. Android is also suitable for all sorts of tablets,because touch is optimal when it is used in non-keyboard tablet mode.
But what about Android for the PC desktop, where touch is not reallynecessary? There seems to be no incremental benefit from bringingtouch to the PC desktop. As a result, we are not likely to see"traditional" laptops (i.e., those with "normal" fixed laptop formfactors) using Android. That's the province of Chrome OS, such as thelaptop on which I am now typing this article.
This leaves us with one radical possibility, and that is Chrome OS ontablets and smartphones. Let's dissect this argument further:
First, tablets: We have already established that tablets need to haveat least one touch mode. This could be Android -- or it could be anew version of Chrome OS that is also touch-optimized. However, ifyou want to create the "ultimate" convertible tablet/laptop with, say,a screen at least approximately 11 inches, then you also have a secondoption: A "traditional" laptop mode using a keyboard/trackpad, notrequiring touch.
So here is what Google could do, in conjunction with its hardwarepartners such as Samsung in particular. Let's say you have an 11- or12-inch tablet that can work in two modes:
(1)
Mode 1 is Android, which uses the touchscreen but can alsoaccommodate a keyboard.
(2)
Mode 2 is Chrome OS, which doesn't need to use a touchscreenbecause it's optimized for small display targets ideal fortrackpad/mouse.
One alternative here is that Mode 1 above could also be a new,touch-optimized version of Chrome OS. Either way, the good news hereis that they could co-exist on the same CPU/GPU. For example, theExynos from Samsung, the Snapdragon from
Qualcomm
(QCOM) - Get QUALCOMM Incorporated Report
or the Tegra 4 from
Nvidia
(NVDA) - Get NVIDIA Corporation Report
could make available dual-boot between Android and Chrome OS.
What about the smartphone?
For a non-keyboard smartphone, Chrome OS would have to besignificantly re-written to become touch-optimized. This is entirelypossible. If so, it could either be a pure Chrome OS smartphone orone that could dual-boot into Android, so that people could switchback and forward as they pleased or just stick to one, if that's what theyprefer.
For a keyboard smartphone, this could be Google's ultimateBlackBerry-killer. Remember, until a couple of years ago, BlackBerrywas not touchscreen, and that's what most people arestill happy using around the world for their BlackBerrys. It couldbe made uniquely cheaply, even more so without that touchscreen.
Speaking of cheaply, this leads us to a core question in thisargument: Why bother expanding Chrome OS to tablets and smartphones tobegin with?
The answer is found inside the realm of simplicity,security and cost. If you think Android is cheap to make today,that's true, but it could be much cheaper still, and this is whatcounts for billions of people around the world.
Chrome OS could have lower hardware requirements to run well,especially on such a smaller screen. There is less need for localstorage. Instead of 16 or 32 gigs on board, 2 or 4 gigs might be morethan plenty.
It's well-known that security is superior on Chrome OS, with no localapp installs. Some other people still are uncomfortable installing,updating and monitoring applications -- including troubleshootingthose that behave badly, take up too many resources, or pose potentialsecurity risks.
Apart from the interface issues, what would Chrome OS need to changeto become optimized for tablets, let alone smartphones? The one thingI see is local storage for media.
If you are carrying a Chromebooktoday, you most likely have your podcasts, music and TV/movie shows onyour smartphone or tablet, such as an iPhone or iPad.
You need local storage to keep you happy listening/watching podcastsat the gym or when you are on the plane or on the subway, just tomention three of the critical-use cases. This would be completely newfor Chrome OS, but it remains still today an ongoing challenge forAndroid as well, in comparison to iTunes and how it works with iOSdevices.
I don't know if -- let alone when -- Google would be in a position tolaunch these Chrome OS-inclusive tablets and/or smartphones. What isclear is that Android has hit its product definition in terms ofalready being offered in the two basic form factors for which it isoptimized: smartphones and tablets.
Chrome OS is only on PCs rightnow, but could in principle end up being larger than Android if Googleexpanded it to smartphones and tablets as I describe above.
Chrome OS smartphones and tablets would be cheaper to make, moresecure and simpler to use than Android. This may not be appreciated-- or even desired -- by the tech elite who love exclusivity andcomplexity and will surely denounce this article as one resultingfrom mental illness. They are, however, traits that are important tothe other seven billion people on Earth.
This is not an indictment or complaint against Android, which is doingjust fine and continuing to take market share. It's just adescription of how Google can ensure there's a growth leg beyondAndroid's eventual peaking in growth and market share. It will takeyears for this to unfold -- just as it took years for the iPhone tolaunch in 2007 and become big in 2010.
It's easy for Google's top management to get blinded by Android'scurrent success. It happened to
Microsoft
(MSFT) - Get Microsoft Corporation (MSFT) Report
in the last decade or so.It happened to
Research In Motion's
( RIMM) BlackBerry. It happened to
Nokia
(NOK) - Get Nokia Oyj Sponsored ADR Report
.
If Larry Page wantsto ensure that it doesn't happen to Google, he should ensure that theChrome OS team is afforded the same resources and freedom to enter newmarkets, as he has done for the Android team.
At the time of publication the author had positions in GOOG, AAPL, NVDA, QCOM AND MSFT.
This article was written by an independent contributor, separate from TheStreet's regular news coverage.
This contributor reads:
On Twitter, this contributor follows: