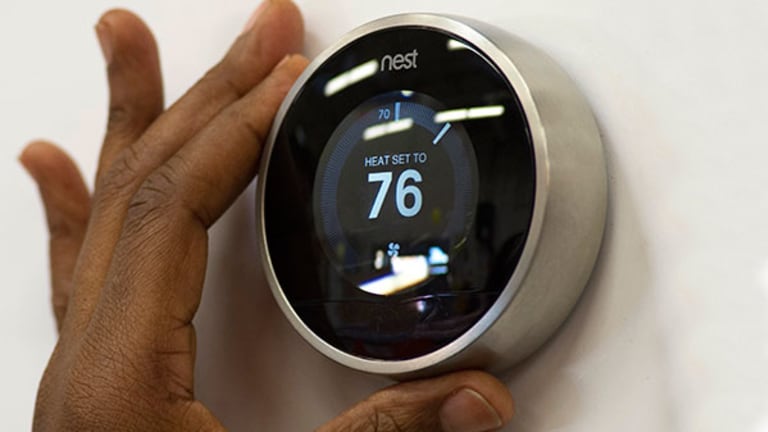 Google: Why We Bought Nest
When Google announced it was buying Nest for $3.2 billion a couple of weeks ago, it caught a lot of people off guard. Following Thursday night's earnings call, we now know why Google bought the company.
NEW YORK (TheStreet) -- When Google (GOOG) announced it was buyingNest for $3.2 billion a couple of weeks ago, it caught a lot of people off guard. Most had figured given Nest co-founder's Tony Fadell and Matt Rodger's time at Apple (AAPL) that it would be Apple, if anyone, who bought Nest. But now we know why Google bought the company.
On Thursday night's earnings call discussing third-quarter results, Google's Chief Business Officer Nikesh Arora and Chief Financial Officer Patrick Pichette discussed the Nest acquisition, noting that it was about helping building the company out and letting them scale.
"In the case of Nest, look Nest and Google share a real common vision," Pichette said on the call. "Nest, both of us believe that technology should be doing the hard work so that people can get on with their lives and do great things. So our goal is really in the case of Nest is to help them scale. And bringing the resources of Google to increase their investments, reach broader audiences and then scale internationally. So, for us it's a terrific opportunity and then bring people like -- being able to attract people like Tony and Matt to the team is actually wonderful. So, that's really the context of Nest."
Fadell and Rogers both worked at Apple in the early 2000s, with Fadell being given the nickname "Godfather of the iPod" for his role in creating the product that got Apple back on the map.
Perhaps even more interesting were comments from Arora, who spoke on the call because CEO Larry Page has removed himself from calls due to problems with his voice. "In addition to that, right, as you know from the Nest acquisition and Glass and Wearables, we continue to innovate and we continue to be committed to the hardware in areas that are kind of enterprising, promising, new frontiers and that's where actually we're focusing on," Arora said. "So I think all in all, quite a great story."
Pretty interesting that Arora would mention Glass and wearables in two separate comments. Might he be talking about the reported smartwatch based off Google Now?
-- Written by Chris Ciaccia in New York
>Contact by Email.