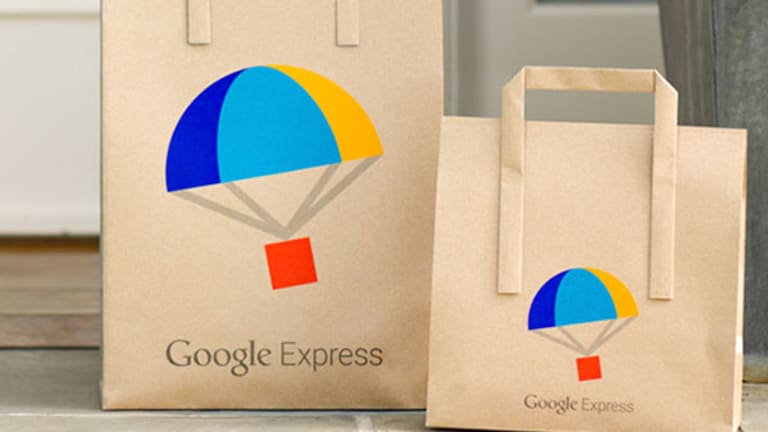 Google Wants To Be Your Grocer as It Expands Express Delivery Service
The online shopping/home delivery service used to be free. Not anymore.
The online shopping/home delivery service used to be free. Not anymore.
NEW YORK (TheStreet) -- Google's (GOOG) - Get Report year-old home delivery service, now called Google Express, is now available for customers in Boston, Chicago and Washington, D.C., as it expands into more markets and looks to compete with Amazon (AMZN) - Get Report and other same-day delivery services.
Watch the video below for a closer look at Google's expanded shopping express service:
The service, which used to be free, now costs $10 a month or $95 a year, following a three-month, no cost trial period. At $95 a year, it undercuts Amazon Prime, though it doesn't come with movies and TV shows, as well as other offerings Amazon has packed into Prime. Non-subscribers can still take advantage for $4.99 each delivery. Google Express will offer free same-day or overnight deliveries for orders of more than $15.
The move by Google is big, noted Topeka Capital Markets analyst Victor Anthony, but it shouldn't impact Amazon's business too much. "We view this as a direct competitive threat to offerings from Amazon and eBay (EBAY) - Get Report (eBay Now)," Anthony said in an emailed statement. "Amazon, in particular, is hearing from customers that 2-day shipping is all they really need. Unless that preference changes, unlikely that Google's offering will dent Amazon's sales growth."
Google shares were rising sharply Tuesday, gaining 2.1% to $543.93.
Google is set to announce third-quarter earnings on Thursday, October 16 after the markets close. Analysts polled by Thompson Reuters expect the company to announce revenues of $16.58 billion and earnings of $6.53 per share.
The expanded online service could also have an effect on other delivery services such as UPS (UPS) - Get Report , FedEx (FDX) - Get Report and the US Postal Service. Longdley Zephirin, an analyst with the Zephirin Group doesn't think it's going to have a major impact immediately. "Google is not a logistic company and this news is neutral to the industry," Zephirin said in an email. "We don't see this impacting any of the logistic services companies in the near or long-term."
Google Express has signed-up well-known local merchants in each area. In New York, Google Express has teamed up with vendors including PetSmart (PETM) , Target (TGT) - Get Report , Fairway, Costco (COST) - Get Report , Staples (SPLS) , Paragon, Walgreens (WAG) , Vitamin Shoppe (VSI) - Get Report , Toys'R'Us as well as book and tablet-selling rival Barnes & Noble (BKS) - Get Report . 1-800-Flowers (FLWS) - Get Report and Nine West participate in other Express markets.
Google Express has big competition in the home delivery marketplace. Amazon Fresh ($299 per year) offers early morning fresh food deliveries (free for orders over $35) in Northern and Southern California and the Seattle Area. Walmart's (WMT) - Get Report Walmart Grocery allows for free home deliveries in limited markets as well as free pick-up at local stores. Kroger (KR) - Get Report also offers home delivery and pick-up from some of its retail locations. In the New York City area, both FreshDirect and Stop & Shop's (AHONY) Peapod services offer similar same day delivery. Stop & Shop is also a retail partner in Google's Boston area expansion.
Google's newly-expanded service is now offering a few extras including free sharing of household memberships and a chance to secure "first dibs" for deliveries during peak, prime-time hours for one cent per retailer.
p>
Must Read:
Here Are 20 Stocks That Could Buck the Odds and Do Well in October
-- Written by Gary Krakow in New York.
To submit a news tip, send an email to tips@thestreet.com.
Gary Krakow is TheStreet's Senior Technology Correspondent.