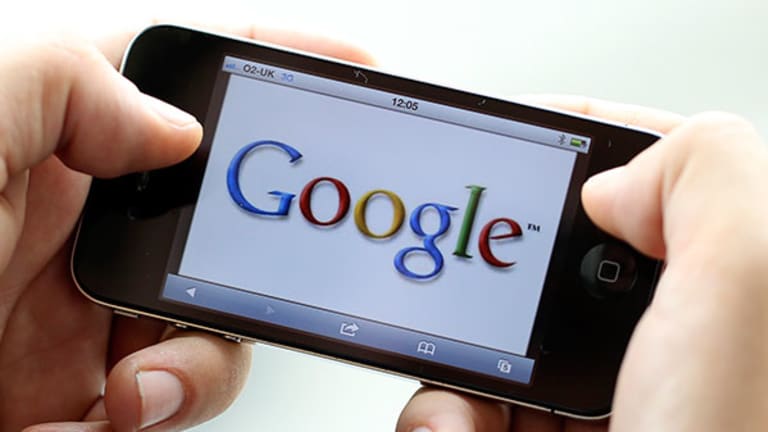 Google Wants in as E-Commerce Continues to Build
Google is reportedly going to add a "buy" button to its mobile search results.
NEW YORK (TheStreet) -- Google (GOOGL) - Get Alphabet Inc. Class A Report has long played the role of traffic director, answering consumers' queries and leading them to where they wish to arrive. Now, however, the Mountain View, Calif.-based company may be trying on a new hat.
In the next few weeks, Google will begin testing a new buy button on mobile search, according to The Wall Street Journal. The addition would promote Google from traffic director to an active participant in online transactions, joining in with the ranks of Amazon (AMZN) - Get Amazon.com, Inc. Report and eBay (EBAY) - Get eBay Inc. Report instead of simply sending off the sales to these other marketplaces.
While Amazon does not use Google's Product Listing Ads (PLAs), eBay is the second biggest PLA advertiser, according to a 2014 Jefferies estimate, and it may account for about 6% of all PLAs. Google would stand to gain significantly if it owns more of the transaction, as opposed to just PLA.
JimCramer's charitable trustAction Alerts PLUS owns Google. Read his analysishere.
According to the Journal, the buy button will only accompany sponsored search results only and will often be featured underneath a header that reads, "Shop on Google." When a consumer clicks on the buy button he or she will be directed to a Google page to complete the purchase and fill in details like size and color.
Google could not be immediately reached for comment for this story. Google's large developer conference I/O is scheduled for May 28-29, so it is possible we will learn more then.
The products will still be sold by third-party retailers, but as the facilitator Google will be able to take part in the profit. Macy's (M) - Get Macy's Inc Report is one such retailer participating in the buy button feature, according to the Journal.
Macy's could not be immediately reached.
"We have long argued that Google would benefit from adding e-commerce marketplace features and functionality to search results," Baird analyst Colin Sebastian wrote in a note Monday morning. "We previously suggested that an acquisition of eBay and/or PayPal would be one way to gain immediate scale; however, adding "Buy" buttons to Google product listing ads (PLAs) suggests the company is building, not buying."
Google certainly has a commerce foundation on which to build considering its delivery service program Shopping Express as well as transactions within Google Play and Maps. Google recently added the ability to order food straight from restaurant search results with a "place an order" button.
That isn't to say that Google doesn't have any challenges ahead. It has struggled with payments for some time, both with its digital wallet and with Checkout, an online payment option that was terminated in 2013. Another challenge will be maintaining its reputation as an unbiased search platform while selling at the same time.
Despite these obstacles, Google is wisely realizing that it simply cannot sit idly by as the rest of the tech world jumps in on e-commerce. Facebook (FB) - Get Meta Platforms Inc. Class A Report and Twitter (TWTR) - Get Twitter, Inc. Report have been adding commerce functionality to their platform already, and if Google doesn't get in now it stands to lose out on huge revenue possibilities.
The U.S. e-commerce market alone is expected to reach $494 billion by 2018, up from $297 billion in 2014, according to the U.S. Department of Commerce.
And on top of the revenue opportunity, Google can also gain valuable data from taking control of transactions and improve its ad targeting.
"We believe that adding "Buy" buttons on product ads is one way for Google to "close the loop" more effectively with merchants and advertisers, stretching from the top of the purchase funnel (i.e., driving traffic to websites and product listings) all the way through processing transactions," Sebastian said.