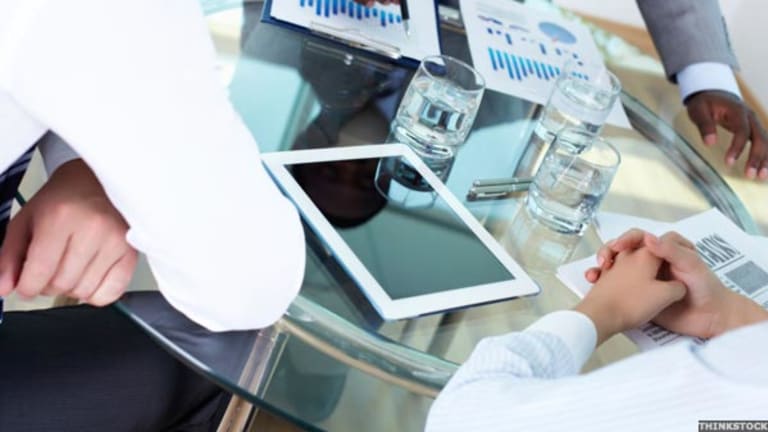 Google Wallet : A Work in Progress
Google Wallet needs to fill a number of security, scale and technological requirements before it is ready for a mass audience.
The following commentary comes from an independent investor or market observer as part of TheStreet's guest contributor program, which is separate from the company's news coverage.
NEW YORK (
) -- With a rather low-key launch of Google Wallet a couple of days ago,
Google
(GOOG) - Get Free Report
hopes to cash in on the next big technology trend of mobile payments.
However, the NFC (near field communication)-based service needs to fulfill a multitude of scale, security and technological requirements before it's adopted by a mass audience. In the mobile payment sector, Google is expected to compete against
eBay
's
(EBAY) - Get Free Report
Paypal and even possibly
Apple
(AAPL) - Get Free Report
.
We currently have a
price estimate near $600 for Google's stock
that is roughly 10% above the current market price.
Security Remains a Concern
Google Wallet allows users to simply enter a 4-digit PIN number and tap their phone (enabled with a near field communication chip) in front of a payment reader to make their store payments.
However, like other payment mechanisms, prospective users will surely be wary of using a technology which can potentially expose their personal financial information. Security analysts have already pointed out that the payment method of using a 4-digit PIN can be exposed to hacking attacks, and Google still needs a way to re-assure users that the Wallet is not vulnerable to cyber crimes.
Hardware Scarcity
As of now, Google has access to around 300,000 payment readers which allow payments for Citi and
MasterCard
(MA) - Get Free Report
credit card users. While Google plans to team up with more financial partners such as
Visa
(VA)
and
American Express
(AXP) - Get Free Report
, the core problem lies in the phone hardware.
Currently, Google Wallet is available only on the Sprint Nexus S 4G handset, and the Google Nexus phone itself does not have a major standing in the global smartphone market that is dominated by
Apple
's
(AAPL) - Get Free Report
iPhone, HTC and Samsung.
It's still speculative whether Google will start including NFC-based technology in its own hardware (namely Motorola) or whether it can convince its Android partners to do the same. Nevertheless, Google Wallet places a hardware-based challenge to Google, something in which it does not have a lot of experience.
Growing Competition
Other mobile payment platforms have not been too far either in developing their own easy payment technologies. PayPal is planning on a service which enables users to simply scan a product bar-code with a mobile, and then simply allow payment to be authorized with a mobile number and PIN, all of this without the demand for an NFC chip.
What's probably even more worrisome is that the highly-anticipated iPhone 5 is likely to include an NFC chip. If this happens, it gives Apple a massive scale advantage over Google, given the astounding popularity of the iPhone.
See our complete analysis for Google's stock
Like our charts? Embed them in your own posts using the
.
This commentary comes from an independent investor or market observer as part of TheStreet guest contributor program. The views expressed are those of the author and do not necessarily represent the views of TheStreet or its management.