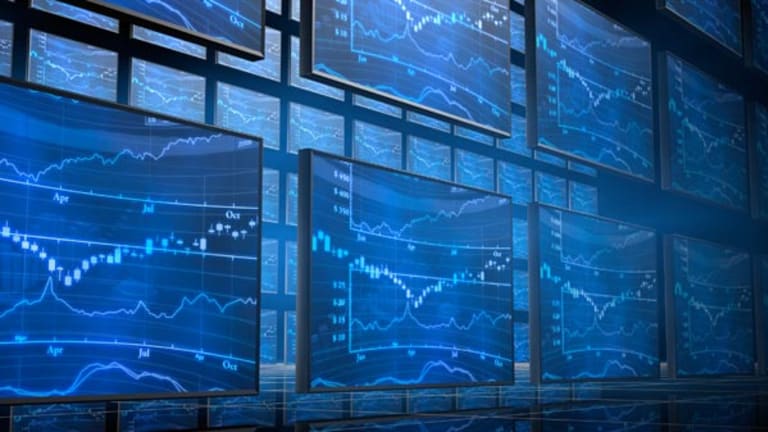 Google Turns the Page
Google's CEO reshuffle heralds a new, much-needed era of innovation at the Googleplex.
NEW YORK (
) --
Google's
(GOOG) - Get Report
CEO reshuffle, completed Monday, could herald a new era of innovation at the Googleplex, as geeky co-founder Larry Page
from
.
"I think it's a little too early to tell, but there might be a lot more focus on innovation with a technology products guy at the helm," said Yun Kim, an analyst at Gleacher & Company. "I think that things will be focused on product introductions."
Hired in 2001 to provide a mature foil to Page and his youthful co-founder Sergey Brin, Schmidt oversaw an eventful decade during his tenure as CEO. The former
Novell
chief guided the Internet giant through its 2004 IPO, was at the forefront of its censorship battles in China and managed the firm's push into mobile with its Android operating system.
Google's stock rose more than 440% during the Schmidt era. More recently, however, the search giant's stock has barely moved -- shares are up just 3% over the past 12 months.
Page, the big-vision guy known to push initiatives like attempting to
digitize all the world's books
, must win back Google's trailblazer status.
"I think that over the last year or so, they have lost a step in how people perceive them to be an innovator," said Charles King, president and principal analyst of Pund-IT Research. "For example, they have been behind the curve in social networking."
While nimbler
Facebook
and
Twitter
have racked up more than 500 million and 175 million users respectively, Google is playing serious catch-up. The Silicon Valley heavyweight has struggled to generate significant consumer interest via its
, a service that lets users share photos, videos and updates.
King expects to see Google sharpen its focus around new and emerging technologies, specifically in mobile devices and analytical tools. "There's a ton of places where Google could be a formidable player," he said. "I would expect that with Page's return as CEO, Google will be looking further afield for the next big thing."
On the mobility side, King expects to see Google use its Android OS and search engine to provide a host of location-based advertising, reviews and recommendations directly to users' smartphones and tablets. In this way, consumers could quickly trawl through Google's vast troves of data while searching for a specific restaurant on, say, the streets of their locale.
The analyst also sees a huge market opportunity for Google in providing cloud-based analytic services to small businesses, which would offer highly-focused search results based around industries, products and services.
Opening up new revenue streams will be key; Google currently generates around 90% of its revenue from its core search business. One new front Google seems to be hitting hard is mobile payments. The company is reportedly working with
MasterCard
(MA) - Get Report
,
Citigroup
(C) - Get Report
and
VeriFone
(PAY)
to
enable consumers to pay for purchases
via their Android devices. For Google, the move would help advertisers more effectively target consumers and allow merchants to push coupons and loyalty schemes to customers.
Products aside, there are also questions regarding Page's management style. The 38-year old entrepreneur last ran Google (in conjunction with Brin) in 2001 when the company had just 400 employees. Since then, Google has become one of the world's most recognizable brands, employing more than 24,000 people and generating revenue of $8.44 billion during its most recent quarter.
Whereas Schmidt was equally at ease in front of the cameras or
, tech watchers have typecasted Page as a less polished performer, noting that he's largely untested in the full glare of the investor and media spotlight.
"Clearly, Page is not Schmidt, so there may be some stylistic changes going forward," explained Jack Gold, principal analyst at J.Gold Associates, in an email. "But Page (and Brin) already had a major say in what went on behind the scenes anyway, so much of the stylistic changes will be on the surface."
"Larry is already running things in the Googleplex," said Jordan Rohan, an analyst at Stifel Nicolaus, warning that Wall Street should not jump to any conclusions about the new CEO. "The next three to six quarters should be used to evaluate the strategic direction that Larry Page does -- you have to give
an incoming CEO between nine and eighteen months to prove their mettle."
As an example, many people underestimated Bob Iger when he was appointed CEO at
Disney
(DIS) - Get Report
in 2005. Over time, the former
ABC
executive proved his chops, overseeing the extremely lucrative acquisition of
Pixar
-- which has produced numerous blockbusters like the
Toy Story
trilogy -- and breaking ground on the
company's first theme park in China.
During its recent first quarter, Disney grew its earnings per share by 55% compared to the same period last year.
It won't be an easy road for Page. With a vast global workforce to manage, Page faces headaches recruiting and retaining bright engineers as faster-moving Valley start-ups emerge, offering competitive technologies, unique innovation and incentives.
"I think that's a challenge for many companies," said Kim of Gleacher & Company. "
But I think that Google will be competitive to keep people."
Page will also need to delegate extensively, according to Pund-IT's King. "I would think that, at least in the short term, he's going to depend on the skills of the CIO and the CIO's office to handle the day-to-day running," he said. "I would see his role, at least initially, as that of a 'big-picture guy.'"
And big-picture changes aren't likely to happen at Google overnight. "I don't think we will see any dramatic changes short to mid term," said Jack Gold. "Longer term, I think Page may bring a fresh approach to innovation that Google needs now to fight off some new competitors infringing on its space such as Facebook,
Microsoft's
(MSFT) - Get Report
Bing and
Apple
(AAPL) - Get Report
.
Until then, investors can only hope that Schmidt's recent
, "Day-to-day adult supervision is no longer needed," holds true within the Googleplex.
--Written by James Rogers in New York.
>To follow the writer on Twitter, go to
http://twitter.com/jamesjrogers
.
>To submit a news tip, send an email to:
.