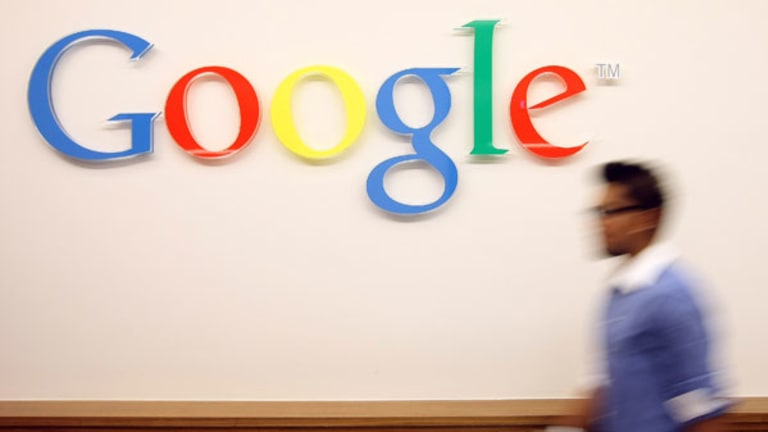 Publish date:
Google's Tax Sheltered Earnings Miss
Falling taxes are boosting Google's profits.
Falling taxes are boosting Google's profits.
Updated from 2:56 p.m. ET to include closing share prices and additional data throughout
.
NEW YORK (
) - As
Google
(GOOG) - Get Report
, the tech giant's tax rate continues to fall.
After a so-called 'fiscal cliff' budget standoff led to rising tax rates for millions of Americans, the deal actually lowered Google's tax rate. Google said in an earnings call Friday, its falling tax rate benefited from the Congress's fiscal cliff deal, which was negotiated on January 2.
Lawmakers extended a research and development tax credit helping firms such as Google, but scrapped a payroll tax cut and increased federal tax rates for individuals earnings over $400,000 and households earning over $450,000.
An unexpected 50%-plus drop in income tax to just 8% of overall profits helped to drive Google's earnings, in a quarter that
otherwise would have missed many Wall Street
forecasts.
The Mountain View, Calif-based company also said its income tax rates continued to decline because of a shift in its earnings mix between domestic and international subsidiaries.
Google rose over 4% on the earnings report, closing at a share price of $799.87 in Friday trading.
The seemingly unexpected tax benefit appears to account for a vast majority of Google's quarterly earnings growth, versus the first quarter of 2012.
"Many of you may have noticed our effective tax rate that was very low, at 8% in Q1," Patrick Pichette, Google's Chief Financial Officer, said on an investor call Friday.
"Please note that this quarter the rate reflects a recognition for the full-year benefit of our 2012 federal R&D tax credit, which Congress extended but, only retroactively in January of this year, so there was a catch-up for the full of 2012 in Q1. Additionally, there has been the usual mix shift of earnings between domestic and international subsidiaries that continue to impact our tax rate."
Pichette could have cleared the air on Google's taxes by disclosing how the extension of a R&D tax credit would impact earnings when he presented at
Morgan Stanley's
media conference in late February. Companies often use such presentations to provide guidance on one-off earnings items.
To be seen in coming quarterly filings is the extent to which Google is benefiting from R&D tax credits that are applicable to scores of tech giants and
S&P 500
leaders, or from the impact of rising earnings attributable to lower tax international subsidiaries.
In preliminary financial statements, Google booked a $358 million income tax receivable and lowered deferred income tax assets by $127 million to just over $1 billion.
Bloomberg
has
on how Google finds tax benefits from its international subsidiaries, for instance one in Ireland, that appear to shelter the company from U.S. taxes. In a move known as a "Double Irish," a company shifts income from a higher-tax country to those that have lower-tax rates.
For now, Google's falling income tax rate appears to be a driver of the company's overall earnings growth. In the first quarter, Google reported income tax expense of just $287 million on $3.35 billion in net income, reflecting an 8% tax rate.
A year-ago, the company reported income tax expense of $655 million on profits of $2.9 billion for a tax rate of about 22%. Overall Google's income tax expense fell about 56% and its rate fell over 60%.
If it weren't for an income tax rate that was roughly half of forecasts,
Google
(GOOG) - Get Report
would have missed earnings by 33 cents a share, according to Shaw Wu of
Sterne Agee
.
The analyst said Google's
earnings were not as good as they looked as a result of the company's unexpected drop in taxes.
"Our concerns are the quality of earnings and gross margin in its core business continue to deteriorate," Wu, wrote in a note to clients Friday. "Moreover, we are somewhat surprised the company cut expenses
quarter-over-quarter versus investing more for growth."
Google's earnings per share (EPS) would have been $10.36 or $1.22 lower, missing consensus estimates, if not for a much lower than expected tax rate, according to Wu.
Google's net income grew about 15% year-over-year, aided by the tax benefit, while cash flow from operations fell slightly to about $3.5 billion.
Falling expense is an ironic twist to Google's tax sheltered earnings beat, given the impact of credits to put capital towards research and development.
In a
, Google reported research and development expense rose 27% to $1.8 billion. That R&D spending, however, also included $380 million in stock based compensation, a rise from year-ago levels, according to the
.
An
notes the company's tax benefit from rising stock-based compensation was $149 million.
According to
, the company's vaunted cash stockpile rose about $2 billion to $50 billion.
For more on Google's earnings,
about the company's beat and its falling gross margins.
Overall, Google reported earnings on Thursday of $11.58 a share on $13.97 billion in revenue. Analysts polled by
Thomson Reuters
were expecting $10.66 per share on $14.09 billion in revenue.
-- Written by Antoine Gara in New York