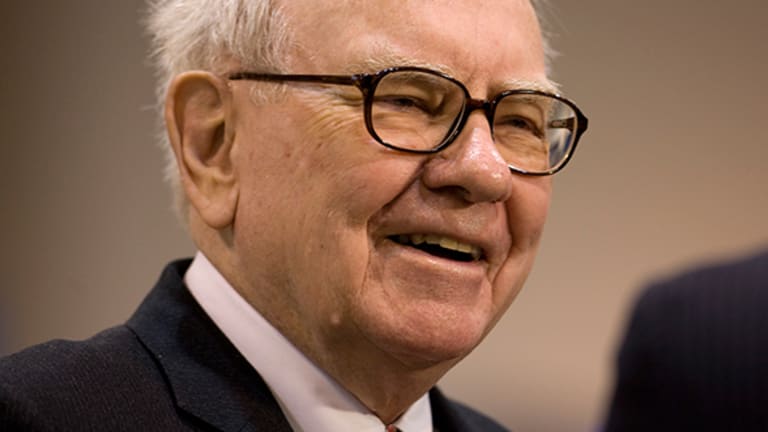 Google Takes Page From Warren Buffett's Playbook With Alphabet
In a dramatic move, Google says it will restructure under the name Alphabet and set itself up like a Berkshire Hathaway conglomerate.
Updated from 11:37 p.m. on Aug 10 with additional information sparsed throughout the story.

NEW YORK (TheStreet) -- Familiar with the Oracle of Omaha? How about the Maven of Mountain View?
In a move that underscores the continuing maturation of a technology giant whose co-founders once needed "adult supervision," Google (GOOG) - Get Alphabet Inc. Class C Report (GOOGL) - Get Alphabet Inc. Class A Report CEO Larry Page announced a new company on Monday called Alphabet that will serve as a holding company for Google and its diverse businesses.
Taking a page from the playbook of Warren Buffett's Berkshire Hathaway (BRK.A) - Get BRK.A Report (BRK.B) - Get Berkshire Hathaway Inc. Class B (BARK.B) Report conglomerate, Alphabet will consist of two sides: Google and its search, maps, Chrome, YouTube, Android and advertising units; and the rest of what currently makes up Google, so-called "moonshot" businesses like Google Fiber and the Nest home-automation offering.
"I like this Google move because it reminds me of when Amazon (AMZN) - Get Amazon.com, Inc. Report broke out Web Services," TheStreet's Jim Cramer said. "You saw that profitability is up to them and their destiny is in their control." 
Exclusive Look Inside:
You see Jim Cramer on TV. Now, see where he invests his money and why GOOG is a core holding of his multi-million dollar portfolio.
Want to be alerted before Jim Cramer buys or sells GOOG?Learn more now.
Google's shares, up about 26% so far this year, were jumping another 6.3% in premarket trading.
The announcement came just five months after Google hired Ruth Porat away from Morgan Stanley as its new chief financial officer. The widely respected Porat held the same position at the New York investment bank.
Porat will remain chief financial officer of both Alphabet and Google. The slimmed down Google will fall under the supervision of Sundar Pichai, who has been senior vice president of Android.
"For (Google co-founder) Sergey (Brin) and me this is a very exciting new chapter in the life of Google -- the birth of Alphabet," wrote Page in a blog post on the company's website.
"We are not intending for this to be a big consumer brand with related products," Page wrote. "The whole point is that Alphabet companies should have independence and develop their own brands."

Page said Alphabet will replace Google as the publicly traded entity and all shares of Google will automatically convert into the same number of shares of Alphabet, with all of the same rights. Google will become a wholly-owned subsidiary of Alphabet. The two classes of shares will continue to trade on the Nasdaq under the GOOGL and GOOG tickers. The new company will begin reporting financial results when it delivers its report for the fourth quarter.
With the move, Google, based in Mountain View, Calif., is putting action to recent words from Page, who said he wanted the 17-year-old tech giant to emulate Buffett's successful Berkshire Hathaway, which owns companies ranging from GEICO Insurance to Dairy Queen to BNSF Railroad.
"This is a smart move and one that should have been made two years ago," said Tim Bajarin, president of Creative Strategies, a tech research firm in San Jose, Calif. "This allows them to create an overseeing company that can have disparate businesses that do not all have to be strategic except that they contribute to the financial growth of Alphabet."
Google's move comes at a time when several leading technology companies have launched restructurings of various styles, each in an effort to improve business operations and gain favor with investors.
Probably the most high profile reorganization of late is the one begun by Chief Executive Satya Nadella at Microsoft (MSFT) - Get Microsoft Corporation (MSFT) Report In July 2014, Nadella announced a new streamlining of operations at Microsoft in order to "drive greater accountability, become more agile and move faster."
Nadella said the moves were also aimed at integrating Microsoft's then-recent purchase of Nokia's mobile phone handset business. As part of its restructuring, Microsoft said it would cut 18,000 jobs. It announced another 7,800 jobs cuts in July and said it would take a charge of $7.6 billion related to the Nokia acquisition.
EBay (EBAY) - Get eBay Inc. Report answered the call of many investors, including billionaire Carl Icahn, when it spun off its PayPal (PYPL) - Get PayPal Holdings Inc Report electronic payments business on July 18. EBay said the move will allow it to focus on its core marketplaces business where it competes with the likes of Amazon.com (AMZN) - Get Amazon.com, Inc. Report.
The next major tech restructuring on the horizon is on tap for October, when HP (HPQ) - Get HP Inc. (HPQ) Report is scheduled to split into two publicly traded companies: HP, which will sell PCs and printers, and Hewlett-Packard Enterprise, which will include HP's enterprise technology, software and services businesses and be run by current HP CEO Meg Whitman.

Corporate reorganizations are fraught with at least some peril, such as Microsoft's writedown of most of its Nokia acquisition. Jan Dawson, chief analyst as Jackdaw Research, said Google's plans come amid concerns about some of its financial operations.
"I'm still skeptical that Google can really emulate that [Berkshire Hathaway] model," Dawson said. "Berkshire Hathaway's businesses are essentially all profitable today, whereas the whole point of Google's restructuring is that the core Google business is, but the rest really isn't. That's a very different model and means that although Alphabet might give the CEOs of the various subsidiaries lots of operating independence, they can't be anywhere near financially independent."
Gene Munster, an analyst with Piper Jaffray, said in a research note that Alphabet should demonstrate which parts of the company are driving earnings. That's something that investors have been asking of Google for years.
"The new structure will demonstrate the true profitability of Google's core search and advertising business, including YouTube," Munster said. "It will provide better focus across all of the company's business lines, including Google's core advertising business."
Buffett hands off the "heavy lifting" of his Nebraska-based conglomerate's operations to the heads of its various subsidiaries. He and vice chairman Charlie Munger "delegate almost to the point of abdication," Buffett said in an investor's guide on the company's website.
"Though Berkshire has about 340,000 employees, only 25 of these are at headquarters" in Omaha, he said. "Charlie and I mainly attend to capital allocation and the care and feeding of our key managers. Most of these managers are happiest when they are left alone to run their businesses, and that is customarily just how we leave them."
Despite its market value of more than $350 billion, Buffett, 84, says Berkshire Hathaway is not so much a single giant company as a collection of large companies. When the system is working correctly, the managers make the operating decisions and turn over the excess cash to corporate headquarters, he said.
"By sending it to us, they don't get diverted by the various enticements that would come their way were they responsible for deploying the cash their businesses throw off."
TheStreet's James Langford contributed to this report. 
This article is commentary by an independent contributor. At the time of publication, the author held no positions in the stocks mentioned.