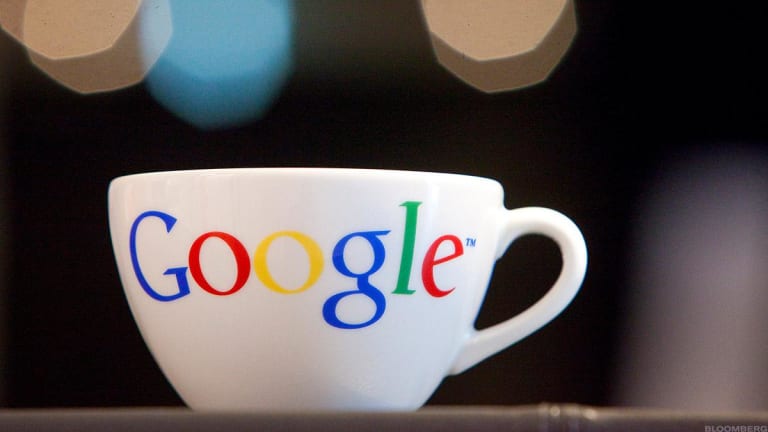 Google Slumps on a Revenue Miss: 8 Key Takeaways
While moderating expense growth gave a lift to Alphabet's earnings, ad changes weighed on its top line.
While moderating expense growth gave a lift to Alphabet's earnings, ad changes weighed on its top line.
After making new all-time highs shortly before its earnings arrived, Alphabet/Google (GOOGL) - Get Report is trading lower thanks to a revenue miss that followed ad product changes that the company argues will benefit users and advertisers over the long run.
Excluding traffic acquisition costs (TAC, ad revenue-sharing payments made to partners), Alphabet reported Q1 revenue of $29.48 billion (up 19% annually), below a FactSet consensus analyst estimate of $30.04 billion. EPS was $9.50 on a GAAP basis and $11.90 when excluding the impact of a previously-disclosed, $1.7 billion, EU fine. The consensus estimate, which appears to include some estimates that didn't account for the fine, stood at $10.60.
Alphabet's Class A shares (GOOGL) and Class C shares (GOOG) were both down over 7% in after-hours trading on Monday and were down a similar amount in pre-market trading on Tuesday; they're still up about 15% on the year. Here are some notable takeaways from the Google parent's Q1 report and earnings call.
1. Ad Product Changes and Slowed YouTube Growth Are Weighing on Revenue
While discussing revenue growth trends, CFO Ruth Porat suggested recent ad product changes -- Google frequently makes changes to how and when search and YouTube ads appear -- are affecting top-line growth. She didn't elaborate on what those changes involved, but did say that such moves are made with the long-term interests of users and advertisers in mind, and that Google isn't interested in managing quarterly numbers.
When asked about Google's ad growth slowdown, news of which arrived less than a week after Facebook  (FB) - Get Report reported better-than-expected Q1 ad sales, CEO Sundar Pichai insisted there aren't any demand issues at play. "[We] work through [our] product development pipeline in a very disciplined way focused on the user experience," he added.
Porat also indicated that a major decline in the growth rate recorded for paid ad clicks on Google's own sites and apps stemmed from the passing of the 1-year anniversary of YouTube ad changes that had boosted paid click growth while pressuring Google's cost per click (average ad price). Paid clicks on Google properties rose 39% annually in Q1, and cost per click fell 19%; by comparison, paid clicks rose 66% and cost per click fell 29% in Q4.
2. Pixel Sales Fell, But Other Non-Advertising Businesses Performed Well
The Google Other reporting segment, which cover non-advertising businesses such as hardware sales, Google Play transactions, G Suite subscriptions and the Google Cloud Platform (GCP), saw Q1 revenue of $5.45 billion, up 25% annually but below a $5.67 billion consensus.
On the call, Porat disclosed Pixel phone sales fell amid heavy industry-wide promotional activity caused by "recent pressures in the premium smartphone market." Other businesses within the Google Other segment fared better: Porat said GCP remained one of Alphabet's fastest-growing businesses, Google Play saw strong growth led by the Asia-Pac region and that Google is "pleased with the ongoing momentum" for its Home speaker lineup, with the Google Home Hub and Home Mini acting as standouts.
3. Moderating Cost and Expense Growth Boosted Alphabet's Bottom Line
Excluding the EU fine, Alphabet's GAAP costs and expenses rose 19% annually to $28.03 billion; that's a much slower growth rate than Q4's 26%.
Contributing to this slowdown: TAC only rose 9% annually to $6.86 billion (less than expected). Though growing mobile search ad revenue-sharing payments to Apple  (AAPL) - Get Report and other partners have been boosting TAC, Google's revenue mix shift toward ad sales on its own properties relative to third-party sites and apps has been moderating the impact. A lower TAC rate on ad sales for non-Google properties also helped, as did YouTube ad sales involving no TAC expenses.
The Pixel sales decline also helped keep Google's total costs in check, as did the fact that sales and marketing spend rose just 8% to $3.91 billion. Porat did caution, however, that sales and marketing spend has held down in Q1 by the timing of spending activity, and would pick up in Q2.
She also indicated (not surprisingly) that Google will keep investing heavily in R&D. R&D spend rose 20% in Q1 to $6.03 billion.
Alphabet, Facebook and Apple are holdings in Jim Cramer's Action Alerts PLUS member club. Want to be alerted before Jim Cramer buys or sells GOOGL, FB or AAPL? Learn more now.
4. Capital Spending Fell
Alphabet spent $4.64 billion on capex in Q1, down from $7.08 billion in Q4 and (though it's worth noting this number is boosted by a large real estate purchase) $7.3 billion a year earlier. The disclosure comes at a time when many data center chip and component suppliers have reported seeing a cloud capex slowdown ahead of an expected second-half pickup.
Porat reiterated that Alphabet expects its capex to rise in 2019, albeit at a "meaningfully lower rate than in 2018," when it grew 91% to $25.1 billion. Capex eventually impact the depreciation expenses recorded on Alphabet's income statement.
5. Google Appears Interested in Further Expanding its Hardware Lineup
"The [hardware] team has also done a lot of work to scale our operations and we'll continue to optimize our distribution, branding and points of business," said Pichai on the call, while adding that Google is still "early in [its] hardware journey." He also argued that the high Net Promoter Scores Google is seeing for its hardware point to strong customer satisfaction.
6. A Strong Dollar Remains a Headwind
Including TAC, Alphabet's revenue rose 17% in dollars and 19% in constant currency (CC). EMEA revenue rose 13% in dollars and 16% in CC; Asia-Pac revenue rose 27% in dollars and 31% in CC; and "Other Americas" revenue rose 10% in dollars and 21% in CC.
Porat cautioned that (as is the case for other tech giants) forex will remain a headwind for Alphabet in Q2. Altogether, the company gets 55% of its revenue from outside of the U.S.
7. The 'Other Bets' Segment Continues Posting Large Losses
Other Bets, which covers businesses such as Google Fiber, Waymo, the Verily life sciences unit and Alphabet's investment arms, posted a Q1 operating loss of $868 million (up from $571 million a year ago) on revenue of $170 million (up 13%). With Waymo still in the early stages of developing its driverless ride-sharing business, most of Other Bets' revenue currently comes from Google Fiber and Verily.
8. Stock Buybacks Continued
Three months after disclosing it has added $12.5 billion to its stock buyback authorization, Alphabet says it spent $3.03 billion on common stock repurchases in Q1. That's up slightly from a Q4 sum of $2.65 billion, but still a moderate figure for a company with an $800 billion-plus market cap.
With Alphabet producing massive amounts of free cash flow and possessing over $109 billion in net cash on its balance sheet, the company would have little trouble buying back stock more aggressively if it wished.
TheStreet's Eric Jhonsa previously covered Alphabet's earnings report and call through a live blog.
Learn the History of the Companies in Your Portfolio | Behind the Label