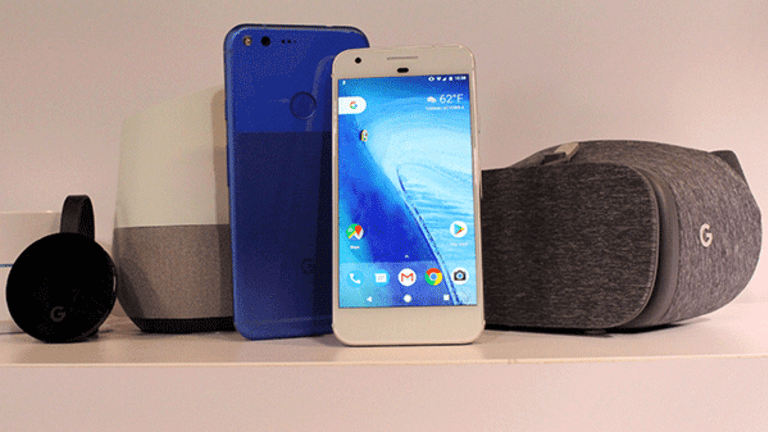 Publish date:
Google's Pixel Phone: Worth a Look?
A T-Mobile incentive may pay half the cost of a new Pixel.
A T-Mobile incentive may pay half the cost of a new Pixel.
Editors' pick: Originally published Oct. 28.
Six years after the release of the first Google Nexus phone, the search giant finally has its own branded phone and it also, for perhaps the first time, has a phone that is winning big, positive buzz. As Walt Mossberg said in his review: "Google's first phone is first rate."
Users too generally offered upbeat comments to TheStreet, but mixed in were a few - surprising  - negatives.
Know, too, that at least one cellular carrier - T-Mobile - is offering a tasty price break on the expensive Pixel.
As for how this is Google's first phone, always before a manufacturer - sometimes HTC but also occasionally Samsung, Motorola, and LG - had its name on the products Google has sold under its Nexus badge. With Pixel - widely said to be in fact built by HTC - Google proclaims the phone to be "made by Google." Google also played an active role in design of the phone, and certainly in its software which is centered around Assistant, a voice activated Siri clone. Said Mossberg: "Assistant blew away every competitor I've tried. It shredded Siri."
Experts interviewed by TheStreet continued the favorable commentary. Chris Orris, a PR executive in San Francisco, echoed Mossberg's rave: "[I] just bought a Pixel myself. It's super snappy and wonderful, and the voice assistant is very helpful. From one day of use, I was using 'O.K. Google' to download all my apps, set timers for cooking, etc. They push that Assistant and it seems to be as good as they claim. "
Mike Thakur, founder of the Work Lodge shared office space in Houston, said he had "lived with the phone a couple days" and insisted that the "camera quality is truly awesome." He added: "Battery life is exceptional. With low to medium usage you could squeeze a couple of days out of a single charge."
There is definitely bad news about Pixel starting with its price. The 32GB version is $650. The 128GB model is $750.The phablet edition, Pixel XL, is $769 for the 32GB version, +$100 for the 128GB. Interest free, 24-month financing is available from Google. That stacks up with $649 for a 32GB iPhone 7 and $749 for 128GB. A 256GB model sells for $849. The iPhone 7 Plus is + $120.
Nicholas Kinports, executive vice president of strategy at NOTICE, a social content agency, pointed to other shortcomings, in particular: "The lack of water resistance (IP53 rating versus IP67 for Apple iPhone) or the tendency for the screen to scratch."
Several reviewers also commented on the screen's apparent susceptibility to scratches.
Add the plusses, subtract the minuses and Google nonetheless has positioned Pixel as one of the best Androids out there. In the U.K. Mirror newspaper, reviewer Jeff Parsons stressed how Pixel already had a place at the top of the Android heap: "The iPhone 7 rival is one of the best Android smartphones of 2016."
Good enough to buy? Jason Bauman, a onetime writer for Android Central who still follows the space, said: "If you are in the market for a new phone I think that for most users the only devices they should consider are the Pixel or the iPhone."
Is it as good as iPhone? Work Lodge's Thakur noted that iPhone holds its resale value well, probably much better than Pixel will. "It's obvious the Pixel will tank in value like most Android phones. This is a real issue for the average consumer dropping $800+ on a phone that will be replaced every year or two."
But Pixel still will win buyers who just prefer the Android universe which raises a key question: Where can you use it? Pixel is available only from Verizon, or so the ads proclaim. But not really. It also is available via Google's own Project Fi network (which mashes up service from T-Mobile and Sprint). And it is sold at the Google Store unlocked, which means it is easy to use it with most cellular carriers.
T-Mobile in particular has offered a sweet deal to Pixel owners: "The Pixel phone is tested and proven to be fantastic on our lightning fast network, and we want to help you get the best of both worlds," said John Legere, CEO of T-Mobile. There's fine print but enroll a Pixel at T-Mo, sign up for T-Mo's One plan ($70 monthly) and the carrier will credit you $13.55 per month for 24 months, $325 total.
That brings the net price of the basic Pixel down to $325 and, if the phone is financed through Google, the T-Mo credits come at the same pace as the monthly bill - which just may make this a deal worth a second look.
This article is commentary by an independent contributor. At the time of publication, the author held 0 positions in the stocks mentioned.