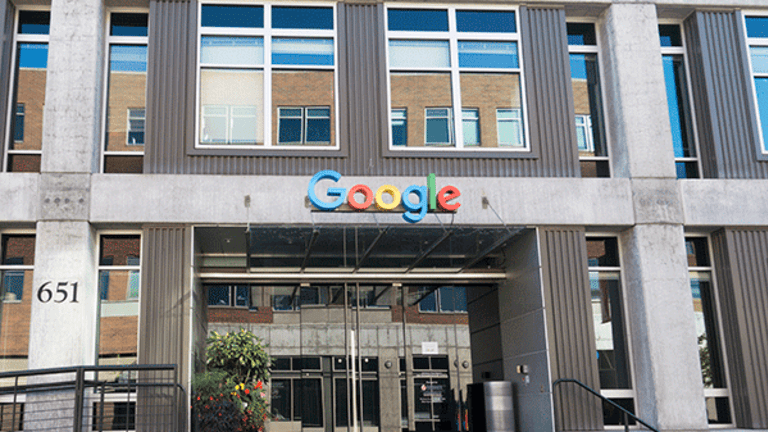 Publish date:
Google's Making Whiteboards? -- Tech Roundup
Google's new piece of hardware, Jamboard, is introduced. Uber launches its first self-driving semi truck.
Google's new piece of hardware, Jamboard, is introduced. Uber launches its first self-driving semi truck.
Yep, it's true. Alphabet (GOOGL) - Get Report is now in the whiteboard business. How can this be that the tech-savvy supplier of a wide range of helpful software and services is getting into the whiteboard business?
Well, the company already announced its entrance into the hardware world when it announced its Pixel smartphone device -- incidentally, sales of the device could be off to a better than expected start, we believe, thanks to the flammable battery situation plaguing Samsung (SSNLF) .
In any regard, the company isn't stopping at phones. Instead it's also launching Jamboard, "a 55-inch 4K touchscreen hub for workplace collaborations," according to TechCrunch.
It's actually pretty neat. You can easily write on the board and simply erase with your fingers. The device has 16 degrees of sensitivity and is capable of playing video and sound - great for conferencing. 
Better yet, once a presentation is done, it can be easily saved and shared with others. Just another way that Google is making a push into the business applications world. The device is expected to cost less than $6,000 and will be available next year.
Shares of Alphabet closed at $828.55 Tuesday, down 0.9%.
You may remember a few months back, Uber decided to make a bigger push into the self-driving auto world. However, while it's experimenting with its own self-driving ambition for passengers, it's also doing the same thing for cargo.
The company paid $680 million earlier this year for Otto, which specializes in making after-market parts for self-driving semi trucks.
Well, the duo has now made its first delivery, a 120-mile drive through Colorado to deliver over 50,000 cans of beer.
There was an operator present, but the driver made no interventions during the trip. In fact, at one point, the driver even got up and watched the action from the sleeping quarters of the truck.
I will continue to say it over and over again: self-driving technology will be on the road before we know it.
Was this next big tech market really a fad that too many people overlooked? One that too many people thought would be the next big thing? That's what it seems like, at least on the surface, as smartwatch sales plunged 52% in the third quarter of 2016. Sheesh, what a drop!
Having the Apple (AAPL) - Get Report Watch in its arsenal didn't even help the industry, as shipments for the device plummeted 72%. Perhaps though, this is because consumers are anticipating a new smartwatch from the tech giant and are saving up to buy the new device.
Despite the falloff in shipments, Apple still dominates 70% of the smartwatch market.
Some folks, however, still remain optimistic that smartwatch sales could pick back up. Despite early-adopters driving sales for the first few years, some industry watchers maintain that after cellular integration is added to the devices, sales could rise.
It wasn't all bad though. Samsung saw sales climb 9% and Garmin (GRMN) - Get Report saw sales rocket 324%.
Shares of Apple closed at $118.25 Tuesday, up 0.5%.
This article is commentary by an independent contributor. At the time of publication, the author held no positions in the stocks mentioned.