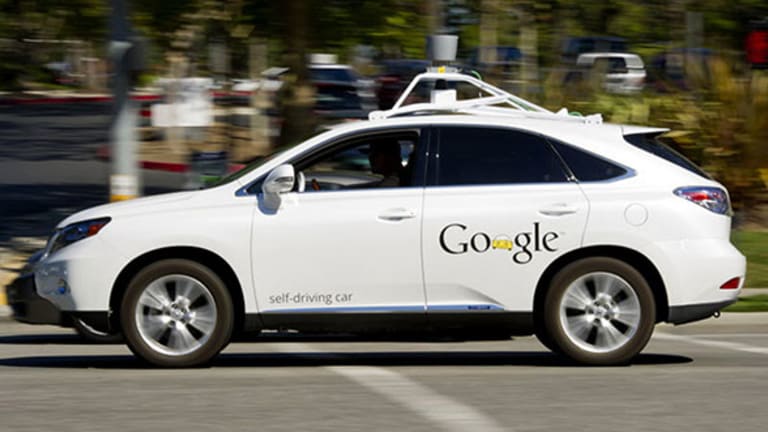 Publish date:
Google's Self-Driving Car Finally Hits Another Vehicle — Tech Roundup
Google's self-driving car hits a bus, Snapchat gets cyber attacked and Microsoft is taking orders for its mixed-reality headset, HoloLens.
Google's self-driving car hits a bus, Snapchat gets cyber attacked and Microsoft is taking orders for its mixed-reality headset, HoloLens.
Self-driving car technology from Alphabet's (GOOGL) - Get Report  Google's is hardly a secret anymore, nor is the concept of autonomous vehicles. Everyone from General Motors (GM) - Get Report to Tesla (TSLA) - Get Report is working on the technology. 
Although the Google cars have been in accidents before -- 17, actually -- they have all been due to errors caused by other drivers. 
This time, however, the Google car was at fault. Typically, Google releases its driving report on the first of the month. But because of this incident -- or should we say, accident -- it released some details on the situation a day early. 
Thankfully nobody was injured, but the Google vehicle did sustain body damage to its left front fender and left front wheel. 
At the time, the car was going just 2 miles per hour. After waiting to turn right at a stop light, the vehicle moved left to avoid a pile of sandbags in the way. Upon doing so, the vehicle was hit on its front left side by a bus from behind, which was traveling 15 miles per hour. 
Of course, there was a driver in the Google autonomous vehicle, and while they did see the bus approaching, he believed the driver of the bus would slow or stop to allow the Google car to merge. 
This draws questions as to how close we really are to autonomous driving. It's easier for autonomous vehicles to handle highway driving compared to city driving because there are typically fewer obstacles and analytics such as lights, pedestrians, bicyclists, etc. 
It also brings into the question regulatory issues and whether rules are ready to be set for self-driving vehicles. Some in the industry have linked regulations as a bigger hurdle than the technology. 
Alphabet is a holding in Jim Cramer's charitable trust, Action Alerts PLUS. Shares closed at $717.22 on Monday, down 1.1%.
The virtual reality movement is so much closer to our living rooms than most of us realize. In December, Facebook's (FB) - Get Report Oculus VR announced its plans for pre-orders of its new hardware. Now, it's being joined by another company: Microsoft (MSFT) - Get Report . 
The tech titan known for its Windows business will start taking pre-orders from developers to buy HoloLens, the company's mixed-reality hardware platform. 
Although Oculus will ship its hardware to actual consumers -- as opposed to just developers, which it has already done in the past -- Microsoft is taking an early and important step in this quickly emerging market by opening the door to developers. 
It won't be cheap, though. The HoloLens unit will cost a tidy $3,000, with the first orders being shipping on March 30. In order to be on the list, developers have to send in an application -- have no fear, slackers, for you can still submit your application. 

Shares of Microsoft closed at $50.88 on Monday, down close to 1%. 
Snapchat, known for its disappearing messages and secrecy, has had some not-so-secret events happen to it, its users and now its employees.
In 2014, the company accidentally leaked roughly 200,000 user photos, but this time an intentional hack was the cause of the problem. In an apology to its employees, Snapchat said, 
"Last Friday, Snapchat's payroll department was targeted by an isolated email phishing scam in which a scammer impersonated our Chief Executive Officer and asked for employee payroll information. Unfortunately, the phishing email wasn't recognized for what it was -- a scam -- and payroll information about some current and former employees was disclosed externally. To be perfectly clear though: None of our internal systems were breached, and no user information was accessed."
The incident, which has since been reported to the FBI, occurred last month and impacts select current and former employees. 
It goes to show that it's no longer just personal attacks making the news but corporate. The hits on companies Home Depot (HD) - Get Report , Target (TGT) - Get Report and Sony (SNE) - Get Report are just a few examples. If anything, this bodes well for the cyber security sector -- on Monday, TheStreet's Jim Cramer, co-manager of the Action Alerts PLUS portfolio, made his case that Palo Alto Networks (PANW) - Get Report is the best in the group. 
Tesla can officially say it's an automaker now that it had some 100 workers walk off the job site of its Gigafactory being built in Nevada. 
Okay, so Tesla already was officially an automaker and the workers are actually from a contractor. But still, work had been ahead of schedule to complete the 10-million-square-foot, $5 billion factory, according to Bloomberg.
But now that may be in jeopardy, although Tesla didn't say how this latest incident is impacting upon the project. So why the walkout? The automaker said the workers do not have issues with how Tesla has treated them, but the local Carpenters Union's protest is the cause of the disruption. 
Apparently, the problem is with the contractor bringing in so many workers from Arizona and New Mexico. As a result, the local unions are protesting the use of workers from other states.
Tesla stock closed Monday at $191.93, up nearly 1%.
This article is commentary by an independent contributor. At the time of publication, the author held no positions in the stocks mentioned.