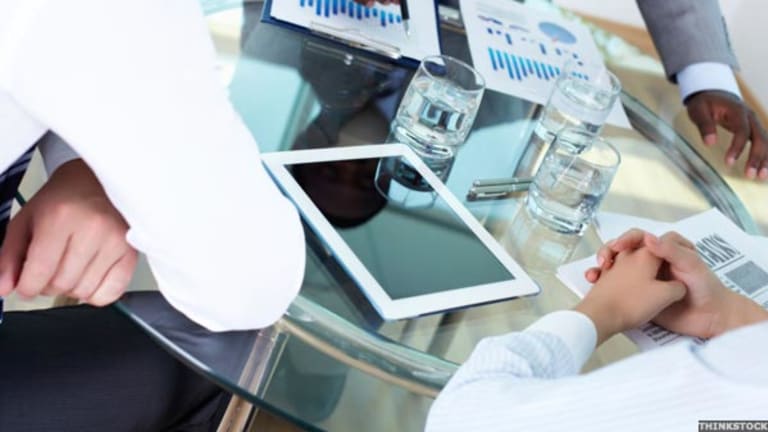 Google I/O Recap: What Wall Street Thinks
Google demonstrates that it intends to be more like Apple, bringing together a more cohesive experience across Android and Chrome.
SAN FRANCISCO (TheStreet) -- Google (GOOG) - Get Free Report demonstrated that it intends to be more like Apple (AAPL) - Get Free Report, bringing together a more cohesive experience across Android and Chrome in an effort to not only boost engagement but keep people in the company's ecosystem, helping to drive search and advertising revenue.
Google's developer conference, Google /IO, showed off the company's latest initiatives, including a new version of Android (Android L). Google is seeking to bring its more than 1 billion active users per month to use the company's latest operating system in an effort to provide less fragmentation, a welcome sign for developers.
How Google May Yet Again Go After Apple
Here's What We Think We Know About the Next iPhone
Code-named Android L, the new operating system will have 64-bit compatibility, and will feature a new user interface named Material Design that will allow developers to make color, typography and grid changes across their apps. In addition, the company also announced L's ART performance, which will allow the operating system to support chipsets that use ARM Holdings' (ARMH) intellectual property, Intel's (INTC) - Get Free Report -x86 chipsets, as well as chips from MIPS.
L, which is scheduled to ship later this year, will also have more security than past Android releases, and will allow developers to see how their apps affect battery life through something Google calls Project Volta.
Google didn't limit Android discussion to just smartphones, touching on the company's operating system for wearable technology, Android Wear. In addition to talking about the operating system itself, Google showed off several smartwatches that use the company's operating system, LG's G Watch, Samsung Gear Live, and the Moto360.
Google also gave an update on Android Auto, the company's operating system for cars. The company announced that it has added more than 40 partners to Open Alliance, a partnership between Google, car manufacturers and other companies to enable cars to become connected devices using the driver's smartphone.
Following much speculation, Google announced Android TV, which will let users watch live TV or stream content from apps such as Netflix (NFLX) - Get Free Report, Hulu, and others. True to the company's key missive, Google built a search experience into Android TV. Much like Amazon's (AMZN) - Get Free Report Fire TV, Android TV has a gaming experience, allowing people to purchase games on Google Play, then play them on the big screen.
The company also provided an update to its $35 Chromecast streaming media device, allowing users to be on different Wi-Fi networks to cast content to the television.
Mountain View, Calif.-based Google also unveiled new initiatives catered toward enterprise users such as Android for Work, which allows users to edit Microsoft Office documents in Google Docs. Google Drive now offers unlimited storage for enterprise customers at $10 per user per month.
Taking another page from Apple, Google previewed Google Fit, which is an open API (application programming interface) that will work with various fitness apps and devices.
Wall Street analysts were largely positive on the announcements, with some noting that Google seems more keenly aware of cutting down on Android fragmentation. Here's what a few of them had to say.
UBS analyst Eric Sheridan (Buy, $665 PT)
"During the keynote session of Google's annual I/O developer conference, the company  introduced a roadmap for Android/Chrome with a focus on the themes of contextually  aware, voice-enabled, seamless, & mobile-first. In our view, the two dominant themes  were: a) less fragmented Android ecosystem to maintain Google's global momentum in  mobile OS adoption; & b) extension of the Android/Chrome ecosystem into the  categories of wearables, health care, in-home TV viewing, autos & a broader adoption  of Chrome & Google Apps in the key verticals of education & enterprise. We continue  to believe that Google provides long-term investors with the greatest level of exposure  to the themes of Internet access growth and the global adoption of mobile computing."
JMP Securities analyst Ronald Josey (Market Outperform, $695 PT)
"Google I/O confirms our view that it is one of the most innovative companies globally and that the focus on connecting everything through Android likely extends its leadership position on and off the web. We believe Google is embedding the following four key principals for Android-based devices: 1) be contextually aware; 2) enable voice recognition; 3) seamlessly interact across devices; and 4) operate under a mobile first paradigm. After demonstrating Android Wear, Android Auto, Android TV, and Nest products, among others, we believe Google is creating a 'must have' ecosystem across most aspects of our lives, built through Android."
-- Written by Chris Ciaccia in San Francisco