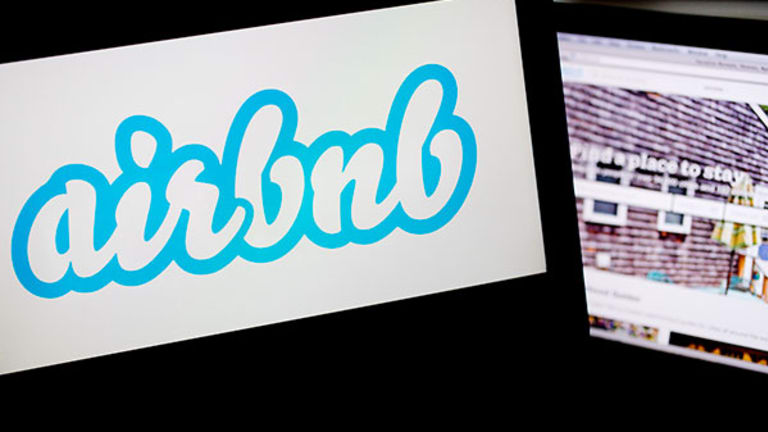 Publish date:
Google Invests in Airbnb; Tesla's Busy Week — Tech Roundup
Google adds to its position in Airbnb, now roughly $4 billion. Tesla sues the state of Michigan, among other things this week.
Google adds to its position in Airbnb, now roughly $4 billion. Tesla sues the state of Michigan, among other things this week.
There's no reason for Alphabet (GOOGL) - Get Report (GOOG) - Get Report to miss out on the private investing train, right?
That's why its Google Capital division added to its stake in Airbnb -- the company that is doing to the hotel industry what Uber did the taxi business to some extent. The online vacation rental company has shown strong growth and just now raised another $555 million at a $30 billion valuation, making it one of the largest privately held companies.
Google is believed to have about $4 billion invested in the company, giving it a rather sizable stake in Airbnb, if true. Owning more than 13% of a company this large gives Google early-mover advantage, particularly if Airbnb continues to gain in popularity and eventually goes public.
Given Alphabet's large size, sporting a market cap around $560 billion, it has little choice but to look elsewhere for growth. When it can't be generated on its own, the company is forced to look elsewhere.
Shares of Alphabet closed at $814.96 Friday, down 0.1%.
Alphabet is a holding in Jim Cramer'sAction Alerts PLUS Charitable Trust Portfolio. Want to be alerted before Cramer buys or sells GOOGL? Learn more now.
Where do we start with Tesla (TSLA) - Get Report ? Last week the state of Michigan denied Tesla's request to sell automobiles directly to consumers. The move doesn't come as much of surprise, given how many other states have made similar denials and given that the state houses the Big 3.
However, Tesla wasn't going to take no for answer. At least without putting up a fight. The company is now suing the state, specifically calling out Ruth Johnson, secretary of state and chief motor vehicle administrator, Attorney General Bill Schuette and Governor Rick Snyder as defendants in the suit.
"Tesla Motors, Inc. ("Tesla") brings this lawsuit to vindicate its rights under the United States Constitution to sell and service its critically-acclaimed, all-electric vehicles at Tesla-owned facilities in the State of Michigan."
As if the lawsuit weren't enough, the company also announced -- via CEO tweet -- that Tesla plans to unveil a new solar roof, that ties into the company's Powerwall product and charging station for its electric vehicles.
Of course, Tesla is in the midst of trying to merge with SolarCity (SCTY) -- the company that actually announced the solar roof -- so one assumption could be that Tesla CEO and SolarCity Chairman Elon Musk is trying to cox investors into approving the deal by showing them the potential of the two companies merged together.
The event will take place on October 28th, according to the tweet. Well, that's what Musk is "aiming" for anyway.
And just one more note on Tesla, the company sent out a "full suite of software updates overnight," according to SiliconBeat. 
Version 8.0 shows a new user interface and notably, a revamped Autopilot feature. The Autopilot feature has been a bit of a hot debate, with critics arguing that the automaker rushed the feature to the market, resulting in several accidents as a result.
Tesla argues that it's not a self-driving program, but rather, a driver-assist program and that despite a few accidents, it is overwhelmingly safer compared to a full-time human driver.
Because Tesla can update the vehicle's software over the air, users do not have to bring their cars in a dealership or showroom to get it. They can simply have their vehicle updated at home.
The new media player and upgraded user interface have made for easier use and a better design as well.
Shares of Tesla closed at $207.45 Friday, up 0.5%.
This article is commentary by an independent contributor. At the time of publication, the author held no positions in the stocks mentioned.