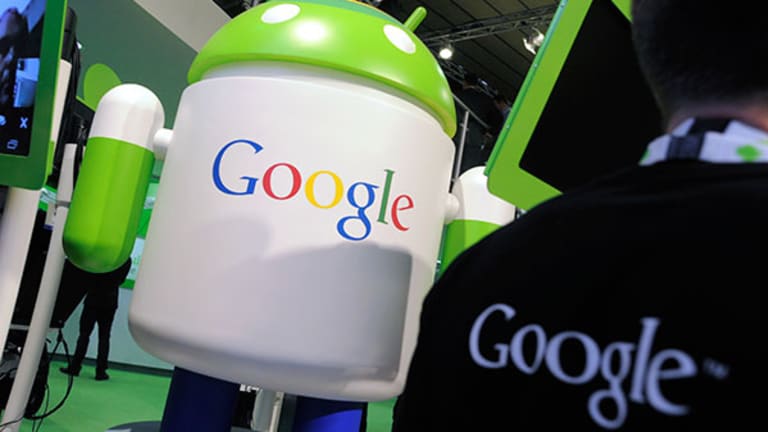 Alphabet's (GOOGL) - Get Alphabet Inc. Class A Report Google announced two big advertising updates at the Game Developers Conference in San Francisco on Wednesday that will help Android game developers lure people into downloading their game: playable ads and auto-flipping video ads.
These updates don't just help developers get more downloads; they're also helping Google in its efforts to go after Facebook (FB) - Get Facebook, Inc. Class A Reportwhich is still the biggest player in the mobile app install ad market, TheStreet's technology columnist Eric Jhonsa said.
Alphabet and Facebook are holdings in Jim Cramer's Action Alerts Plus Charitable Trust Portfolio . Want to be alerted before Cramer buys or sells GOOGL or FB? Learn more now.
"Playables" refers to a new ad format that will allow users to play a succinct version of a game as part of an interactive ad. Playables offer users the same experience that the real game offers, just for a shorter time period since it's only a preview. When a playable pops up, a user will have the option to click out of the ad or to engage with it. Google's playables will be used across more than one million apps on the Google Display Network in the coming months. 
Playables have already been used by other players in the market, including SGN, PuzzleSocial and Big Fish Games, all of which are clients of CrossInstall, which makes custom playable ads for them. 
CrossInstall CEO Jeff Marshall said that on average, 30% of the users that click on a playable ad will then install and run the advertised app, vs. the industry standard of 1% for traditional ads. This metric will be lower for shorter ad experiences and higher for more engaging playables. The average engagement time for playable ads ranges from 15 seconds on the lower end to upwards of one minute on the higher end, he noted. 
While CrossInstall has already been in the playables business for about one-and-a-half years, Marshall said he doesn't think Google is behind because it's been experimenting with other types of ad formats, such as one method that streams apps directly inside Google search without users having to download it. 
While Facebook Canvas, a platform for businesses to tell stories and show products on mobile devices, is a good example of an innovative ad experience, Facebook still doesn't have ads tailored for games like Google is doing with playables, Marshall noted. "With our clients, we've seen a lot of ad budget moving into playables, and I think this will impact Google's share of the ad market," he said. "I think it will be successful," he added. 
The auto-flipping ads are another welcomed feature that will automatically create a vertical trailer for each horizontal trailer that a developer creates. Previously, users that were holding their phones vertically would sometimes have to sit through a horizontal ad. Now, the trailers will be automatically formatted to whichever way the user is playing their game.
Early tests on auto-flipping ads show that the update improves click-through rates (CTRs) by 20% compared to horizontal ads that were watched vertically, techcrunch.comreported.
In the overall digital ad market, Google is still the leader -- but Facebook is making gains on it. Market research company eMarketer estimates that Google's net U.S. mobile ad revenue share has dropped to 31.7% in 2016 from 36.9% in 2014. Meanwhile Facebook's share of the market has increased to 19.2% in 2016 from 18.5% in 2014. Furthermore, eMarketer expects Google's market share to remain flat at 31.7% in 2017, while it expects Facebook's market share to increase to 20.3%. 
In addition, Google announced other improvements that will help make Android a better platform for games. The first is a better algorithm that determines which games to promote on Google Play. The new algorithm will now look at play time, frequency and user ratings over the number of downloads so that high-quality games get pushed to the front more often.
"This is one of our ways to reward quality, which for games means promoting titles with stickiness (strong engagement and retention metrics) as well as a more traditional measure like a high star rating," Google Play director of product management Paul Bankhead wrote in a post.