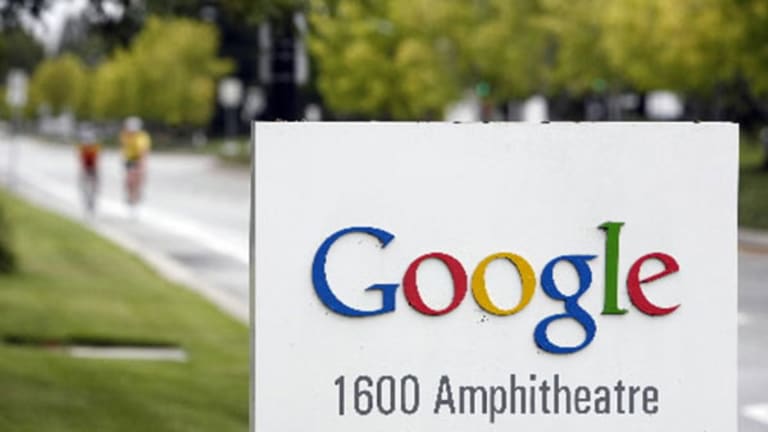 SAN DIEGO, CALIF. (TheStreet) -- We've all heard the same story: Google (GOOG) - Get Alphabet Inc. Class C Report (GOOGL) - Get Alphabet Inc. Class A Report is struggling to keep up with consumers' shift to mobile devices. Mobile, logic stands to reason, is the impetus for slowing growth in the core search business. 
Company executives set out to kill that line of thinking once and for all on Thursday, when they addressed Wall Street during the first-quarter earnings conference call. "Many commentators are incorrectly assuming that the growth trends in [paid] clicks [on Google properties] and [cost-per-clicks] are primarily due to difficulties monetizing search on mobile," outgoing CFO Patrick Pichette said, "but that's, in fact, not the case."
Google's first-quarter report came in soft, in part because of foreign exchange rates. The company earned $6.57 per share on revenue of $17.26 billion, with the U.S. dollar adversely impacting revenue by $795 million. Wall Street was looking for earnings of $6.60 per share on revenue of $17.5 billion. Google's first-quarter revenue after traffic acquisition costs of $3.35 billion was $13.9 billion, less than the $14.03 billion analysts were anticipating. 
In aggregate, paid clicks, one of the metrics thought to be impacted by mobile, grew 13% over last year, but growth decelerated from 14% in the previous quarter. Paid click growth for Google sites, which excludes network sites, was 25% in the first quarter -- down from 28% in the previous quarter. In aggregate, cost-per-clicks (CPC), or ad prices, were down 7% from the year-ago quarter and 5% from the previous quarter. CPCs on Google sites were down 13% from the previous year, and down 3% from the previous quarter. 
Normally, these would be the stats tied to a weakness in mobile, making it seem as if Google needs to get better at serving consumers on smartphones. It's these customers who are thought to be increasingly turning to apps -- instead of Google -- for queries. Pichette's remarks were meant to instruct otherwise.
Pichette countered the popular mobile-is-the-problem narrative with information not usually provided by the company. YouTube's TrueView ad unit, which only charges advertisers for ads that are watched, are actually the culprit for slowing growth. The ads, he said, take longer to spin off money to Google than the ads that appear on Google.com. As a result, as YouTube's viewership grows, so too does the lower monetized TrueView ad views. What this means is that these lower monetized video ad views will increasingly represent a larger slice of Google's core advertising business.
"Excluding the impact of YouTube TrueView ads, growth in site clicks would be lower but still positive, and our CPCs would be healthy and growing year over year," he said.
Google, he said, has two positive stories to tell this quarter: strength in mobile search as well as significant growth in YouTube viewership and TrueView ad views.
Chief Business Officer Omid Kordestani also emphasized mobile as a point of strength, saying that Google stands to benefit from the proliferation of mobile devices.
"For example, more than eight in 10 smartphone users use their phone to research a product decision they're about to make in store," Kordestani said. "These moments include small things like looking for a movie review, and really big decisions like researching a new home purchase or figuring out what car you want to buy next. So people expect to get exactly what they want, when they want it."
Kordestani also rattled off Google's portfolio of mobile apps, with an emphasis on the Google Chrome browser app that has a monthly audience of 400 million people. Google, he added, also has indexed more than 30 billion links within apps.
So mobile pay not be the problem -- but YouTube is. The digital video property is rumored to have broken even last year on $4 billion in revenue, and management did not try to dissuade that its strategy is to spend to grow YouTube's footprint.
"If you just want to make YouTube profitable tomorrow morning, it's very easy. You put on the breaks on growth, and then it just turns into a profitable business," Pichette said.