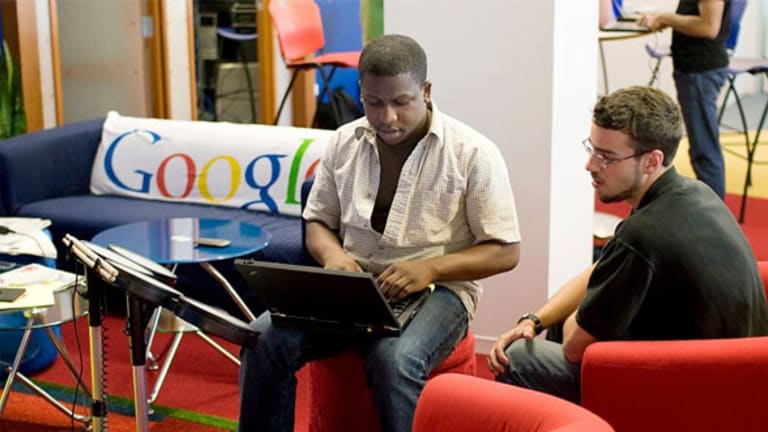 Google Employees' Favorite Perks -- Here's 8 of the Best
Google might not be the easiest company to work for, but the perks more than make up for the long hours.
Editor's pick: Originally published Jan. 12.
Working for Alphabet's Google (GOOG) (GOOGL) is one thing, but the perks that come with the job just sweeten the deal that much more.
Silicon Valley is known for its employee benefits, and Google repeatedly standouts again and again. From sleep pods to 30 specialty cafés packed with free food, the brainchild of co-founders Larry Page and Sergey Brin, continues to outdo itself when it comes to creating an amazing employee experience.
Jim Cramer of Action Alerts PLUS, which owns Alphabet in its portfolio, said, "Alphabet remains poised to succeed in 2016, both from a company and stock perspective."
Exclusive Look Inside:
You see Jim Cramer on TV. Now, see where he invests his money and why GOOGL is a core holding of his multi-million dollar portfolio.
Want to be alerted before Jim Cramer buys or sells GOOGL? Learn more now.
In order to do that, Google's perks go beyond things like free pencils and pens. Here's a look at what some current and former Google employees say are the best benefits that come with working for the Mountain View, Calif.-based company:
Sleep pods
Working for a demanding company such as Google isn't easy, but when employees are worn out, Google has a simple solution - sleep pods. Google popularized the helmet-like recliners that allow employees to grab a few minutes of shuteye before hitting their desks again.

The talks
One facet of the Google employee perk packet that's often overlooked in favor of free food are the incredible guests the company hosts regularly. From President Obama to Conan O'Brien, Google is constantly bringing in guest speakers to challenge and engage its employees.
Chris Tar, an engineering manager with the company, said in a Quoradiscussion whether the speaker is a politician, author or scientist, everyone has "something valuable to say."

The people
Dmitry Belenko, a former Googler, said in a Quora discussion, "It's nice to not have any bozos around." Googlers are constantly complimenting the company on hiring workers that not only care about what the company is doing but also about the company itself. Plus, Google's high standards for hiring help the company's talent stand out even more.
But just because Google knows it has top tier talent doesn't mean the Mountain View-company is immune to saying thank you, and what better way to thank employees than by thanking their parents. Each year, Google hosts a "Bring Your Parents to Work" day for Googlers to show off their hard work to the people who helped them get there.

Paternity and maternity leave
Google is clearly pro-children. From affordable on-campus day-care options to extended paternity and maternity leaves, Google makes sure employees feel secure if they have a newborn at home. New dads receive up to six weeks of paid leave, while new moms receive up to 18 weeks.
Aaron Lichtig, head of industry for the company, said in a Quoradiscussion what's even better than the time off is the company's special bonus called "baby bonding bucks," which help new parents with expenses such as diapers, takeout and formula during their leave.

Free never ending snacks and gourmet food
If it's true the secret to anyone's heart is his or her stomach, then the bosses at Google take that seriously. With 30 specialty cafés on its Mountain Valley campus, Google offers employees a varied and gourmet assortment of options to choose from each day.
And not only is Google feeding its employees well, but the search giant also uses meals as an opportunity for employees to mingle and create new ideas.
Just look at these options from Google's various dining options. Yum!

Bring your dog to work
Google's Mountain View headquarters are notoriously laid back, so relaxed in fact that employees are allowed and encouraged to take their dogs to work.
Former Google employee Matthew Carpenter-Arevale said in a Quoradiscussion bringing his dog to work about three times a week helped to boost his team's energy. "The benefits of allowing dogs in the office far outweigh the costs, and the increase in job satisfaction for those with dogs or who like dogs far outweighs the mild annoyance of those miserable individuals who somehow make it through life unaffected by wagging tails and contagious enthusiasm," he said.
Plus, who doesn't love a good dog?

Dogfooding
In the tech community, dogfooding is a simple enough concept. It means employees get to test out new products before their release. For Googlers, this meant early access to Chrome, Chromebooks and Android updates.
Michael Wyszomierski, a partner operations manager for Google, said in a Quoradiscussion he loves early access to Google's latest designs, calling it a "sneak peek at the future." "And if I give good feedback or get even more involved, I can shape it as well," he said.

Death benefits
Easily one of Google's best perks is the company's incredible death benefits. When a Googler dies all their stock options in the company immediately vest, plus his or her surviving spouse receives half the Googler's salary for the following 10 years. Not only that but there is also a $1,000 per month benefit for the deceased Googler's children.
Paul Cowan, a site reliability engineer for Google, said in a Quora discussion that this benefit moved his wife to tears.
This article is commentary by an independent contributor. At the time of publication, the author held no positions in the stocks mentioned.