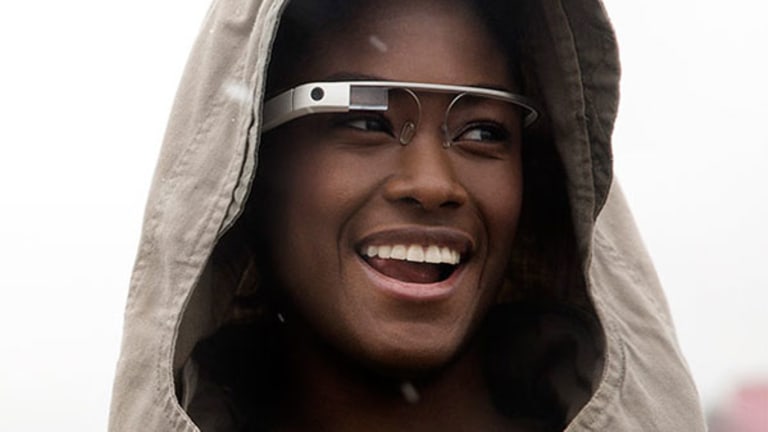 Google Earnings Preview: What Wall Street's Thinking (Update 1)
Google reports fourth-quarter earnings after the close. Here's what Wall Street analysts are thinking.
Updated from 9:50 a.m. to include thoughts from Goldman Sachs.
NEW YORK (TheStreet) -- On the back of Google (GOOG) - Get Alphabet Inc. Class C ReportsellingMotorolaMobility to Lenovo for $2.91 billion, the search giant reports fourth-quarter earnings after the close.
Though it's clear that making mobile phones didn't work out for Google -- Motorola Mobility had an operating loss of $248 million in the third-quarter of 2013 -- part of the reason for selling the unit is that Google's other units are on fire. 
As the world increasingly goes mobile, Google is perhaps the leading beneficiary, especially as it relates to search. Its Android operating system is on nearly 80% of smartphones, according to research firm IDC. Apple's (AAPL) - Get Apple Inc. Report iOS, Microsoft's (MSFT) - Get Microsoft Corporation Report Windows Phone and BlackBerry'sundefined BlackBerry 10 operating system account for the rest, with iOS owning 15.3% of the smartphone market.
Last quarter, Mountain View, Calif.-based Google earned $10.74 per share on $11.93 billion in revenue, excluding traffic acquisition costs (TAC). Though search is a very profitable business, analysts will be looking at the company's advertising business to see whether cost-per-click (CPC), a key advertising metric, is trending lower. Last quarter, CPC fell 8% year-over-year, and 4% sequentially.
However, paid clicks -- which include clicks related to ads served on Google sites and the sites of our Network members, increased approximately 26% year-over-year and 8% sequentially. Google shares were rising 3.6% to $1,146.55 in early Thursday trading.

Analysts will also be looking at the company's Product List Ads (PLAs) business to see how advertisers and merchants are reacting towards it. PLAs compete with Amazon (AMZN) - Get Amazon.com, Inc. Report, as the two Internet behemoth giants go head-to-head to vie for consumer dollars, with Google Shopping, and both companies seemingly getting into every business.
Google recently announced its intention purchase Nest, the maker of smart fire alarms and thermostats and a move into the Internet of Things for $3.2 billion, so analysts will also be looking forward to hear whether the company has any update on the purchase and future plans.
In a survey from Thomson Reuters, analysts expect the Internet search giant to earn $12.21 per share on $16.753 billion in sales.
Here's what several analysts are expecting going into the report:
Bank of America Merril Lynch analyst Justin Post (Buy, $1,250 PT)
"Key items for the call include Google Website growth trends, paid click and CPC trends, Google Play growth (in other revenues), Enhanced Campaign commentary (early advertiser feedback), Product Listing Ads (PLAs) update, TAC trends, YouTube activity, and Google Chromecast and Chromebook commentary. If results suggest strong Enhanced Campaigns and Google Play traction, we think there is room for modest multiple expansion on mobile/Android appreciation."

Jefferies analyst Brian Pitz (Buy, $1,300 PT)
"Our street-high 4Q ests reflect our belief GOOG had a solid holiday with the core Search business firing on all cylinders. We will be looking for strength from the Google Sites and Licensing & Other rev lines. We are looking for paid clicks to accelerate to +28% Y/Y, driven by an increasing number of mobile and PLA clicks. Likewise, we are looking for a corresponding CPC decline of (-10%) Y/Y. We model $14.1B in net rev ex-TAC vs. $13.5B cons, $7.0B in EBITDA vs. $6.0B cons, and $13.67 non-GAAP EPS vs. $12.25 cons."
JPMorgan analyst Doug Anmuth (Overweight, $1,305 PT)
"We expect Google to post solid 4Q revenues driven by positive trends in paid search ad budgets from Enhanced Campaigns and PLAs, with continued growth in mobile and display revenues. Our SEM checks indicate continued growth in paid search spend in 4Q with modest acceleration from 3Q levels. Mobile remains the primary driver of traffic and click
growth, but continues to drag on overall CPCs (as expected) given the mix-shift toward smartphones. Google PLAs are also up strong Y/Y as more retailers adopt the format and increased competition appears to be driving PLA CPCs higher. Overall, we believe SEM commentary was generally in line with favorable sentiment around search ad spend in the quarter, as spending rebounded from a slow start in early November. It is still early for Google's Enhanced Campaigns and Estimated Conversions to have a more material impact on revenue, but we remain encouraged on their ability to ultimately drive higher ROI and increased spending across multiple devices. Google remains one of our favorite large-cap ideas in 2014 as mobile should become a bigger tailwind in upcoming quarters, and YouTube should benefit from Nielsen OCR tags."
Piper Jaffray analyst Gene Munster (Overweight, $1,263 PT)
"We expect Google could post slight upside to Q4 revenue driven by strong retail spending in the holiday quarter in the core ad business and Motorola's introduction of the Moto
X. The Street is currently looking for $16.8 billion in total gross revenue. Additionally, we expect the trend of CPCs down y/y to continue through Q4 as paid click volume drives
growth. One important point looking into Q4 and beyond is that the Street may need to rethink 2015 margin expectations as a symptom of Google's success in developing businesses outside of the core search and ad business. We maintain our Overweight rating and $1,263 price target."
JMP Securities analyst Ronald Josey (Market Outperform, $1,250 PT)
"Overall, we expect Google to report strong 4Q results as we believe Enhanced Campaigns, Product Listings Ads (PLAs), and YouTube all performed well and took share in the seasonally strongest quarter of the year for Google. Specifically, we will be watching for: 1) O&O revenue growth, Paid Clicks, and CPC Growth-we're at +22% Y/Y for Paid Clicks and
-6% for CPCs; 2) Display growth given recent upfront commitments & YouTube; 3) An update on Enhanced Campaigns; 4) Product Listing Ads Adoption; and 5) Google's
hardware strategy as it expands beyond the living room. For 4Q13, we project total net revenue of $13.57B (+19.6% Y/Y), EBITDA of $6.22B (+19.1%, 45.9% margin), and PF
EPS of $12.74. Our $1,250 price target is based on 20x our 2015E PF EPS of $63.51, which we believe is justified given the multiple growth opportunities at Google."
Goldman Sachs analyst Heather Bellini (Neutral, $1,125 PT)
"After reporting upside to Google net advertising revenue in 3Q13 for the first time in 8 quarters, we once again expect a solid quarter. Generally, our contacts reported ad spend with Google in the December quarter saw its typical strong seasonality and was on plan if not slightly better. Our checks around Product Listing Ads (PLAs) stated that CPCs have improved
versus the prior year, with contacts saying PLAs accounted for up to 40% of retailers' budgets. Our contacts say that mobile continues to grow at a rapid pace and on average represented 35% of paid clicks versus 30% in 3Q13. On the enhanced campaign front, the majority of our contacts reported they added about 300bps to overall ad spend growth. We are modeling paid click growth of 25% yoy and for CPC's to decline 7% yoy. Overall, we expect Google standalone revenues to come in line with our forecast, representing a slight beat versus consensus."

--Written by Chris Ciaccia in New York
>Contact by Email.