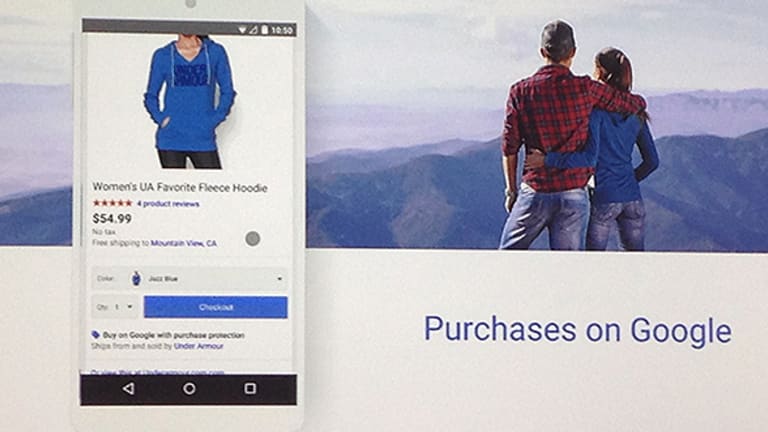 Publish date:
Google Desperately Wants to Show Investors Mobile Is a Benefit
The world's biggest Internet search engine is looking to reassure investors it knows how to make money on mobile and YouTube after a less than stellar first quarter.
The world's biggest Internet search engine is looking to reassure investors it knows how to make money on mobile and YouTube after a less than stellar first quarter.
NEW YORK (TheStreet) -- With Google (GOOG) - Get Alphabet Inc. Class C Report (GOOGL) - Get Alphabet Inc. Class A Report poised to report earnings for its second quarter on Thursday, investors are watching to see if the company can recover from the slowing growth of search after a lower-than-expected first quarter.
On the first quarter earnings call, outgoing CFO Patrick Pichette tried to kill rumors that the company was failing to keep up with users increasingly shifting to mobile devices.
"Many commentators are incorrectly assuming that the growth trends in [paid] clicks [on Google properties] and [cost-per-clicks] are primarily due to difficulties monetizing search on mobile," said Pichette, "but that's, in fact, not the case."
Paid clicks grew 13% over last year, but growth slowed from 14% in the previous quarter. Pichette said that was because a larger percent of paid clicks come from YouTube's TrueView ad views, which charge a lower rates than ad clicks on Google.com.
In the first quarter, Google earned an adjusted $6.57 per share on $17.3 billion revenue (excluding traffic acquisition costs or TAC) in the first quarter, up 12% year over year, but stayed below Wall Street expectations of $6.60 per share on $17.5 billion in gross revenue, according to analysts polled by Thomson Reuters.
The vast majority of that money came from advertising, which accounted for $15.5 billion in revenue excluding TAC in the quarter. Google accounted for more than 68% of global Internet advertising revenue in 2014, according to Bloomberg.
But Google's domination of search is increasingly threatened by Yahoo! (YHOO) and Microsoft's (MSFT) - Get Microsoft Corporation (MSFT) Report Bing.
AOL, now owned by Verizon (VZ) - Get Verizon Communications Inc. Report, accounted for 1% of all Google search ad clicks in the second quarter, according to digital marketing agency Merkle's RKG research, but Bing Ads will replace Google as Aol's default search engine in January 2016.
Yahoo! free to exit its search agreement with Microsoft until October, some analysts have noted the potential for a Yahoo!-Google partnership. Yahoo! has recently been testing Google ads on its search results. SEOBooks.com was the first to report the testing.
Previously, Google was bumped from being the default search provider on the Firefox Internet browser, costing it 2% of the overall U.S. search market.
In a research note, Barclays' Paul Vogel cited "investor frustration" at Google's relative lack of financial disclosure in comparison to other Internet companies such as Amazon (AMZN) - Get Amazon.com, Inc. Report. But the likelihood that mobile cost-per-click and margins will decline are "both somewhat mitigated" following the first quarter, the note said, such that "any positive momentum in fundamentals will be viewed positively" by the markets.
Nomura Securities analyst Anthony DiClemente said in a research note that Google could bolster market confidence by separating growth trends in desktop search, mobile search and YouTube. DiClemente nonetheless expected advertising revenue to grow across platforms.
"Higher [cost-per-click] may provide a modest headwind to paid click growth as some advertisers shift to other platforms. However, in our view, growth in core search CPCs across platforms continues to support revenue growth," DiClemente wrote in the note.
Morgan Stanley's Brian Nowak was more cautious in a research note, observing increased competition from Facebook, expensive investments in new products and fewer clicks on desktop that are not sufficiently offset by mobile clicks.
"Over 90% of the company's net advertising revenue comes from Search - while we believe Search will continue to take share of global ad budgets and Google will retain its dominant share, growth in US and UK markets (~50% of Google search revenue) has slowed," the note said.
The latest consensus estimate from analysts surveyed by Thomson Reuters forecasts earnings of $6.70 per share on revenue of $17.75 billion excluding TAC for the period.
Besides revenue related to advertising and search, analysts will also be keeping their eye on trends in online video and potential to shave costs at Google, with new CFO Ruth Porat at the helm.
Nomura's DiClemente noted that despite Facebook's (FB) - Get Facebook, Inc. Class A Report substantial push into video, Nomura is "reassured" by the growth of Disney's (DIS) - Get Walt Disney Company Report Makers Studios YouTube network and the potential for streaming sports on YouTube.
But to keep up with Facebook's plan to grow expenses between 55% and 65% year over year, Piper Jaffray analyst Gene Munster suggested cost-cutting at Google might be limited to slowing hires and other "low hanging fruit."
In the longer term, Munster predicted mobile cost-per-click would beat desktop within the next two years and noted opportunities in segments including self-driving cars, robotics "connected home" technology.