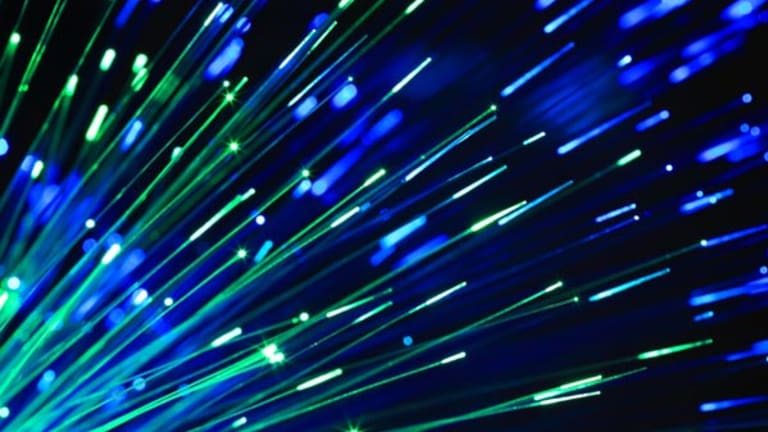 Google, Cisco and Apple: Scaling China's Wall
China's heavy hand is not impeding the tech sector's hunt for growth.
China's heavy hand is not impeding the tech sector's hunt for growth.
NEW YORK (
) -- Beyond China's authoritarian brand of capitalism -- the great wall of worry for investors -- tech shops like
Cisco
(CSCO) - Get Report
,
Apple
(AAPL) - Get Report
,
Google
(GOOG) - Get Report
and
Microsoft
(MSFT) - Get Report
see a wealth of opportunity.
With no promise of a tech-spending recovery and with domestic sales still in a slump, U.S. technology firms are finding the potential for growth in China hard to ignore. Commerce, it seems, takes precedence over the free flow of information.
"There's no question that commerce outranks conscience in corporate board rooms," says Technology Business Research analyst John Byrne. "China is too big an opportunity for most public companies to pass up."
That's why it was so shocking last month when Google, after the company's network in China was hacked and the Gmail accounts of two human rights advocates came under surveillance, told China it would
stop filtering its search results
or pull out of the country.
International politics and business objectives usually chug along on their separate tracks. It's awkward and sometimes frightful when the two paths collide, as is the case with Google and China.
On the political front, China retaliated and made it clear who was in charge. Its initial response was to remind Google that it was welcome to do business in the country as long as it does so according to the law.
Taking the political handoff from Google, U.S. Secretary of State Hillary Rodham Clinton encouraged negotiation and change. "They have their perspective. We have our perspective. But obviously, we want to encourage and support increasing openness in China,"
Clinton said in a speech on Internet freedom
at the Newseum in Washington, D.C., on Jan.21.
In the end, no one seemed surprised when just a couple weeks later, Google tempered its position, saying it
remained quite committed to China
, though it still wanted to try and negotiate changes with the government there.
If anything, Google's outcry has strengthened the tech sector's overall verbal commitment to China and perhaps raised the hope that the pursuit of capitalism can help usher in a more democratic approach to Internet in China.
One by one, in the weeks following Google's China protest, tech giants lined up to re-amplify their positions on China.
Microsoft chief Steve Ballmer, feeling no particular bond with Google, wrote on his blog Wednesday that
Microsoft knows how to be a good citizen in China
. "We have done business in China for more than 20 years and we intend to stay engaged, which means our business must respect the laws of China," Ballmer wrote.
Motorola co-CEO Sanjay Jha said Thursday that the company has modified its Google Android phones so users can select their own search provider. The move is expected to clear the way for Motorola's introduction of a
new Android-powered smartphone in China
.
"We have taken steps to make sure that our business will continue unaffected, the best way that we possibly can," Jha told analysts on an earnings conference call Thursday.
Even Apple, which has started selling the iPhone to
China Unicom
(CHU) - Get Report
, vowed to keep a "tremendous focus on" China and its neighbors.
"If you look at greater China last quarter -- which is China, Hong Kong and Taiwan -- our revenues tripled year-over-year in that geography, which is, I think, phenomenal by any measure," COO Tim Cook said on an earnings conference call Jan. 25.
But there is a risk, when working under China's rules, that you'll be taken down the wrong road, say analysts.
"Everyone -- even Google -- is willing to kowtow to Chinese demands in order to gain access to the market," says TBR's Byrne. "But there is a line."
Cisco had its own Google moment in 2003, when it discovered that China tech shop
Huawei
was selling networking gear using stolen source code. In a lawsuit, Cisco charged that
"Huawei's operating system contains a number of text strings, file names, and bugs that are identical to those found in Cisco's IOS source code
. "
The "bugs and all" findings seemed to be a smoking gun for Cisco. And it didn't help that Huawei had strong ties to Chinese defense contractors and an undisclosed ownership structure.
Cisco's chief attorney at the time, Mark Chandler, said Cisco brought the suit after Huawei opened negotiations but refused to change its practices.
But after 18 months, Cisco dropped the lawsuit and claimed victory. Looking back, the Huawei transgression never slowed Cisco down in China. If anything, it set an example of how to cry foul but still forge ahead in China.
The attack on Google's network, presumably not without the knowledge of some Chinese officials, was a flagrant violation that couldn't be dismissed. A line was crossed, a loud objection was registered and talks may have opened.
"In large part, you have seen incremental steps toward more freedom in China, but there will be a lot of fits and starts," says Darren Chervitz, of Jacob Asset Management.
"But it's tough to believe Google would leave one of the largest Internet markets and probably the biggest growth opportunities for the next decade or more," says Chervitz.
-- Reported by Scott Moritz in New York
Related Stories
>>Google's China Crisis