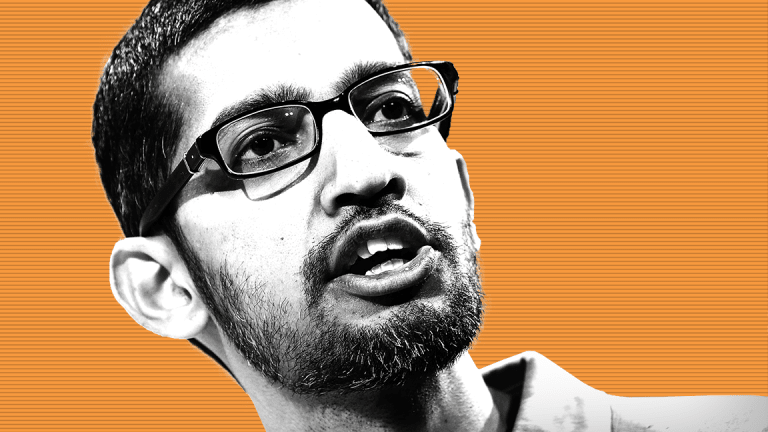 Google CEO Sundar Pichai Testifies to Congress on Tuesday; Here's What to Expect
Google CEO Sundar Pichai takes center stage on Capitol Hill on Tuesday, where the powerful exec will face questions about potential bias in its search results. But the questioning may well go further.
Google CEO Sundar Pichai takes center stage on Capitol Hill on Tuesday, where the powerful exec will face questions about potential bias in its search results. But the questioning may well go further.
It's Google's turn in the hot seat. 
Like many tech executives before him, Google CEO Sundar Pichai is set to testify before a House panel on Tuesday on issues stemming from Alphabet's (GOOGL) - Get Report transparency with consumers, or lack thereof. But the questioning could easily go beyond that. 
Pichai was originally scheduled to testify on Dec. 5, but the hearing was rescheduled around memorial services of former President George H.W. Bush. Now, the Google chief is due on Capitol Hill on Tuesday for questioning before the House Judiciary Committee intended to address "potential bias and the need for greater transparency regarding the filtering practices of tech giant Google," according to committee chairman Bob Goodlatte (R-Va.). His testimony is scheduled to begin at 10 a.m. ET.
In a prepared statement released before his testimony, Pichai wrote that Google is committed to safeguarding the data of its users. "Protecting the privacy and security of our users has long been an essential part of our mission. We have invested an enormous amount of work over the years to bring choice, transparency, and controls to our users," Pichai wrote, adding that Google supports federal privacy legislation and "proposed a legislative framework for privacy" earlier this year.
Pichai also highlighted the work Google does to make sure it provides accurate information. "We've put a number of checks and balances in place to ensure [our products] continue to live up to our standards," Pichai said, adding that "I lead this company without political bias and work to ensure that our products continue to operate that way."
As Facebook (FB) - Get Report has faced continuous pressure and scrutiny over its data practices -- which included testimony by CEO Mark Zuckerberg in April and from COO Sheryl Sandberg in September -- Alphabet has so far managed to avoid the outrage that has afflicted Facebook and deflated its stock.
Tuesday's appearance by Pichai could change that, however.
"While Google has largely avoided the scandals that have plagued Facebook over this last year, its very dominance and its business model are starting to raise serious, bipartisan concerns," said Andrew Burt, chief privacy officer at the data management firm Immuta.
Alphabet's search algorithm was thrust into the political spotlight in August, when Donald Trump sent a tweet claiming -- however unsubstantiated -- that Google's search results are "rigged" against conservative viewpoints. But broader concerns around the dominance of Alphabet's products, coupled with its reliance on algorithms that are little understood outside of the company, may come from both sides of the aisle.
"I'd expect officials across the spectrum to raise the issues of algorithmic transparency, of political biases within the company and of issues related to the need for new national privacy legislation in the U.S." Burt said.
In his prepared remarks, Pichai said that Google is "a company that provides platforms for diverse perspectives and opinions -- and we have no shortage of them among our own employees."
Given Alphabet's ubiquity and deep reach into consumers' lives -- from email to search results, operating systems to phones -- Pichai could face a sprawling set of questions ranging from data privacy to its controversial search engine project in China. In September for example, Pichai met privately with a group of Republican lawmakers to discuss perceived bias in search results and the prospective Chinese search engine, codenamed "Dragonfly."
With a new House majority taking power in January, fresh antitrust scrutiny of Alphabet, along with other tech giants, could gain traction along with potential bipartisan efforts to shape a national privacy law. Pichai's appearance on Capitol Hill will inevitably play a role in how lawmakers, and the public, perceive Alphabet and its products.
"The company can be, and clearly aspires to be, a tremendous source for good," Burt added. "At the same time, its sheer dominance raises monopolistic issues and its business model is largely based upon extracting data from consumers who don't fully understand the value of that data."
Alphabet shares are flat for the year. 
--Jacob Sonenshine contributed to this report. 
Alphabet and Facebook are holdings in Jim Cramer's Action Alerts PLUS Charitable Trust Portfolio. Want to be alerted before Cramer and the AAP team buy or sell these stocks? Learn more now.