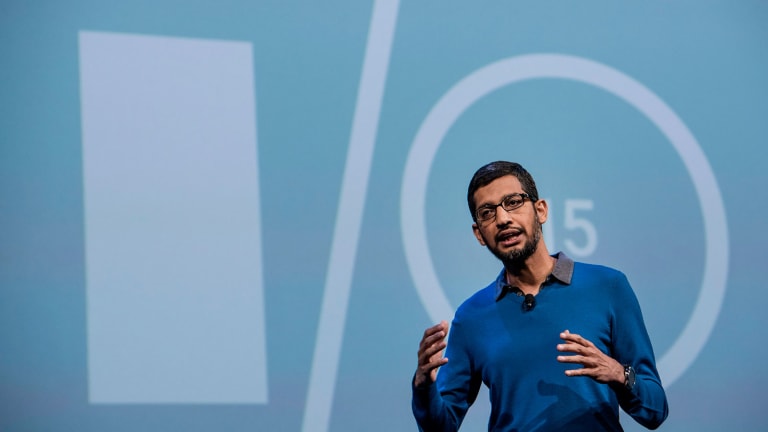 Google Becomes Alphabet: What Wall Street's Saying
Google announced that it would no longer exist as a corporation, becoming a division of holding company, Alphabet. Wall Street loves it.
Google announced that it would no longer exist as a corporation, becoming a division of holding company, Alphabet. Wall Street loves it.
NEW YORK (TheStreet) -- Google (GOOG) - Get Report (GOOGL) - Get Reportannounced that it would no longer exist as a corporation, instead becoming a division of holding company, Alphabet, sending shockwaves throughout the tech and investing community.
Under the new structure, Larry Page will become CEO of Alphabet, with Sergey Brin becoming President of Alphabet. Sundar Pichai (pictured above) will move from being Product Chief to becoming CEO of Google.
Google will continue to house the company's core search business, as well as YouTube, Chrome, Android, maps and advertising. Under Alphabet will be Calico, a biotech company focused on anti-aging and led by former Genentech CEO Arthur Levinson, Nest, the Internet-connected home devices company, Google Fiber, Google Ventures and Google X, the company's incubator which includes the company's self-driving car project as well as the newly announced Google, its drone delivery business.
News of the new reporting structure sent shares higher, with Alphabet's Class A shares (GOOGL) up 5.5% in early Tuesday trading to $699.50, while the Class C shares (GOOG) rose 5.9% to $671.20.
Wall Street analysts have been praising the move, noting it gives investors more clarity on what is driving revenue and gives a picture of the sense of the true profitability of Google's core business.
Here's what several of them had to say:
Deutsche Bank analyst Ross Sandler (Buy, $840 PT)
"Google has been our top pick in 2015 owing to: 1) its discounted valuation vs. peers, 2) prevailing negative sentiment, 3) our belief that innovation is alive and well, and that Google management cares about its stock price, and 4) these management change periods are historically very good signals toward unlocking shareholder value. These latter two factors are becoming clearer with two significant events playing out this year: A) operating margin turning from imploding to now up Y/Y, and B) the newly announced push toward cleaner financial disclosure and new operating structure.
It's hard for internet shareholders not to analogize this to AMZN and EXPE's recent moves, which drove the multiple up ~35% and 14% respectively. In summary, the GOOG story is just starting to hit its stride, there is significant upside from current levels and we want to be there for the whole ride. Buy."
MKM Partners analyst Rob Sanderson (Buy, $805 PT)
"We view this significant shift in strategy as both a move to preserve Google's culture to pursue revolutionary change and to create more transparency into the core business. This supports our view that GOOGL has entered a new era of shareholder friendliness. We believe there are many dials to turn to unlock value while maintaining mid-high teens growth in the core business for several years. We thought the hiring of a Wall Street veteran known for complex financial engineering as the next CFO was more than a token action, but this drastic separation was a positive surprise."
Cantor Fitzgerald analyst Youssef Squali (Buy, $720 PT)
"Google unveiled plans to create a new public holding company, Alphabet Inc., with Google Inc. (core search, ads, maps, apps, YouTube and Android) carved out as a wholly owned subsidiary. The stated goal here is to increase management's scale aspirations, and focus across its consolidated businesses. We view this move as a key step towards bringing much needed financial transparency to core Google in terms of growth, margin profile and capital intensity vs. its other ventures, and thus see it very positively for the stock short- and longer-term. While the timing of this announcement is earlier than we thought, it fits well with the overall direction management/board have undertaken with the appointment of Ruth Porat as new CFO."
Pacific Crest Securities analyst Evan Wilson (Overweight, $745 PT)
"We think the biggest change for investors will be an increase in disclosure as it will separate the core Google businesses (search, Android, YouTube, etc.) from the others, starting in Q4. We're guessing the timing of the increase in disclosure likely means  that  investors  will  see  that  the  core business is healthy. YouTube and Android are staying within Google, which likely indicates both will not be spun off soon."