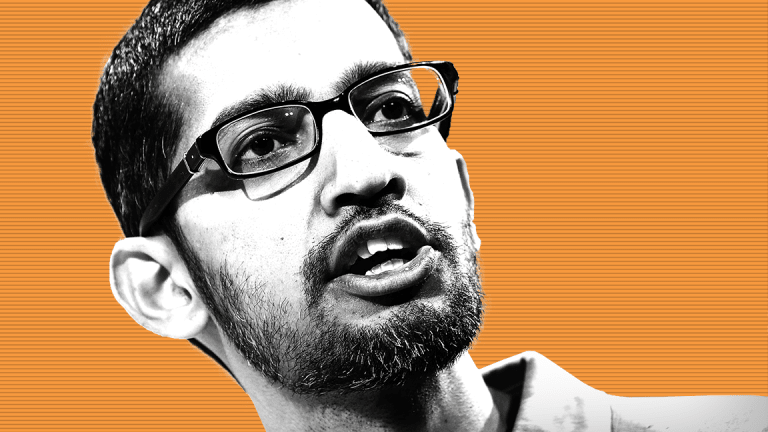 After Workers Revolt, Google Backs Off AI for Weapons
Google's 'Dont be Evil' credo comes back to haunt it as the company backs away from lucrative military deals
Once upon a time, a job at Google was the dream of every starry-eyed techie looking to make big bucks and not be evil in the process.
Not anymore. Some 17 years after minting its now-infamous 'Don't be evil' motto, some engineers are shunning the tech giant for its Maven project, a collaboration with the Department of Defense (DOD) to provide artificial intelligence for analyzing drone footage. Now, Google is backing away from military deals and alienating sought-after talent.
After details of the Maven project, more than 4,000 Googlers signed a letter demanding that CEO Sundar Pichai ditch warfare-related technology. "Amid growing fears of biased and weaponized AI, Google is already struggling to keep the public's trust," the letter read.
The uproar prompted Google, which is now operated under the Alphabet (GOOGL) - Get Alphabet Inc. Report holding company, to back off the Maven project, which expires in 2019. And this week, Pichai published a blog post clarifying Google's standards in the use of AI: It won't be used for "weapons or other technologies whose principal purpose or implementation is to cause or directly facilitate injury to people," he wrote, or for other practices violating accepted international norms.
"We want to be clear that while we are not developing AI for use in weapons, we will continue our work with governments and the military in many other areas," Pichai continued. "These collaborations are important and we'll actively look for more ways to augment the critical work of these organizations and keep service members and civilians safe."
For Pichai, the Maven controversy is much more than just a public relations headache.
Though the Maven project was believed to be worth less than $10 million, it could have expanded into far more lucrative ventures. Broader military contracts can bank billions: For example, the DOD is also shopping a cloud contract worth as much as $10 billion, with Amazon  (AMZN) - Get Amazon.com Inc. Report , Microsoft  (MSFT) - Get Microsoft Corporation Report  , Oracle   (ORCL) - Get Oracle Corporation Report and others jockeying fiercely for the deal.
It also aggravates the industry's other biggest headache - hiring.
In the red-hot AI sector, there are so few experts that some firms are offering seven-figure salaries to AI specialists just to get them in the door. One research firm, Element AI, estimates that there are only 22,000 specialists qualified for jobs at some of the world's most powerful tech firms.
"All of the power is on the supply side now. If you have AI expertise, you're in demand for every major employer in the world," says tech recruitment specialist Jeremy Schifeling. "That means it's not about compensation at this point. Engineers can go where the applications are the most appealing and the most palatable."
And for Google, once the top choice for the tech industry's best and brightest, the bar might be even higher.
"It's an Icarus problem for Google, where the higher you flly, the further you fall," Schifeling adds. "'Don't be Evil' has made things harder for them now. Microsoft or Amazon never claimed to be innocent and pure."
Amazon, Microsoft and Alphabet are holdings in Jim Cramer's Action Alerts PLUS member club. Want to be alerted before Jim Cramer buys or sells these stocks? Learn more now.
4 Top Experts Tell You How to Play the Market. TheStreet's Scott Gamm recent sat down with top market watchers from Bank of America, Fisher Investments, Invesco and Wells Fargo. Click here and register to watch a free roundtable in which they lay out their best advice.