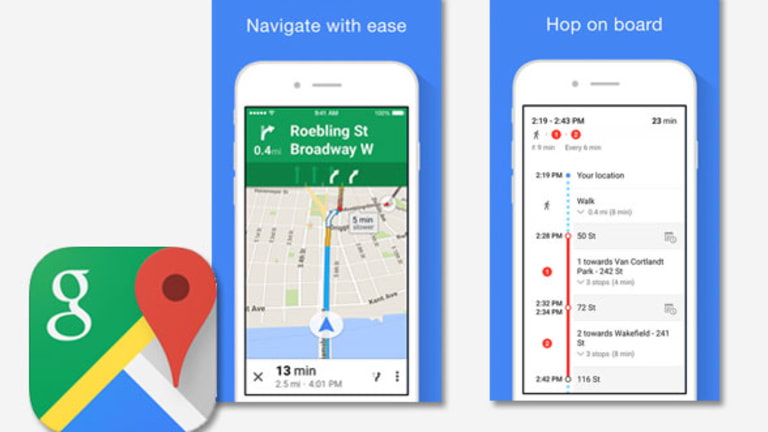 Google, 11 Years After IPO, Continues to Reshape the Future
Google went public as a search engine 11 years ago Wednesday, and in that time it has drastically changed the world, touching all facets of technology.
Google went public as a search engine 11 years ago Wednesday, and in that time it has drastically changed the world, touching all facets of technology.
NEW YORK (TheStreet) -- Google (GOOGL) - Get Report (GOOG) - Get Report went public as a search engine 11 years ago Wednesday, and in that time it has drastically changed the world, touching all facets of technology.
Founded in a Stanford University lab by Larry Page and Sergey Brin, Google was originally built to try to make sense of the Internet's links in a more cohesive structure. Page, the current CEO, dreamed up the project to take the backlink data the duo's Web crawler project had found and put into an order of importance, using what later became known as the PageRank algorithm.
From there, a search engine was built in 1996, and the domain google.com was registered on Sept. 15, 1997. Google (soon to be known as Alphabet), the company, would become incorporated in September 1998, with the look of the home page remaining the same throughout time because users like its simple design.
Fast forward to 2004, and after receiving millions of dollars in venture capital funding, Google was getting ready to go public, as it surpassed other search engines, such as including Yahoo!, Excite, Lycos and AskJeeves in popularity. 
Google offered stock at $85 a share, selling more than 14 million shares from the company itself, and more than 5 million from existing shareholders, raising $1.67 billion in the process. Shares went public in perhaps one of the most unusual ways -- in a modified Dutch auction, managed by investment banks Morgan Stanley (MS) - Get Report and Credit Suisse (CS) - Get Report. Though Wall Street was initially less than pleased, Google has been more than kind to investors, having generated more than a 1,000% return since going public.
From driverless cars to mobile search to trying (and failing) to make inroads into social networking, Google has done some incredible things over the years. Here's a look at just a few of the most important events and announcements of Google's life as a public company and how, in most cases, TheStreet covered them:
1. Google IPO (Aug. 19, 2004): Prior to the IPO, Wall Street thought Google wasn't the savior for technology everyone thought it would be.
2. Google's First Earnings Report (Oct. 21, 2004): When Google went public, Wall Street analysts had no idea what to expect from the company's earnings power. Google earned an adjusted 70 cents a share in the quarter on $503 million in revenue, excluding traffic acquisition costs. Analysts on Wall Street had expected 56 cents a share on $456 million in revenue.
3. Google Buys YouTube (Oct. 19, 2006): In October 2006, Google announced it would buy YouTube for $1.65 billion in stock, a deal that "would combine one of the largest and fastest-growing online-video entertainment communities with Google's expertise in organizing information and creating new models for advertising on the Internet."
4. Google Unveils Android: In August 2005, Google purchased Android, a company co-founded by Andy Rubin, that would later become the company's Trojan Horse into the smartphone and tablet markets. Google gave away the operating system for free to other handset makers, betting that users would search using Google.
The bet worked. Android now owns nearly 85% of the smartphone market, when measured by IDC.
5. CEO Eric Schmidt Retires, Larry Page Returns (Jan. 20, 2011): Google announced that the triumvirate of Eric Schmidt, Sergey Brin and Larry Page would be no more, with Schmidt stepping down as CEO, Page taking over, and Brin moving to other projects.
6. Motorola Mobility Acquisition (Aug. 15, 2011): Google announced it was buying Motorola Mobility, the handset maker, for $12.5 billion, making it Google's largest acquisition ever. With the acquisition, Google jumped into the handset game in addition to beefing up its patent portfolio.
Earlier this year, Google sold Motorola Mobility to Lenovo (LNVGY) for $2.91 billion, but kept the majority of the company's patents, confirming the initial speculation that the company wanted Motorola Mobility's patents all along.
7. Google+ Announcement (June, 28, 2011): Google unveiled its own social network (after trying with Google Buzz, Google Friend Connect and Orkut) to take on Twitter (TWTR) - Get Report and Facebook (FB) - Get Report The company sent out invitations for what became known as Google+, which was officially launched in September 2011. While the service has more than 540 million users (as of October 2013, the last time the company gave official statistics for it), consumers have never really taken a shine to it.
8. Google Unveils Project Glass (April 5, 2012): Google unveiled Project Glass (which later became Google Glass), marking the company's official move into wearable technology. Google Glass has had mixed success since being announced, with limited sales, a high price tag ($1,500), a partnership with Diane von Furstenberg to make them more appealing, but ultimately mixed consumer reaction.
9. Google Announces Move Into the Home, Buying Nest (Jan. 13, 2014): Google announced its intention to move into the "Internet of Things" market, with its $3.2 billion cash acquisition for Nest. Nest, co-founded by former Apple (AAPL) - Get Report employee Tony Fadell, makes the Nest Learning Thermostat and Nest Protect, a smart smoke alarm.
10. Google Gets Into Self-Driving Cars (May 28, 2014): Google unveiled its own self-driving car, with no steering wheel or pedal, as it continues to make inroads in the autonomous driving market.
11. Google Becomes Alphabet (Aug. 10, 2015): In a post changing the company's operating structure, CEO Larry Page announced the creation of a new entity, known as Alphabet.