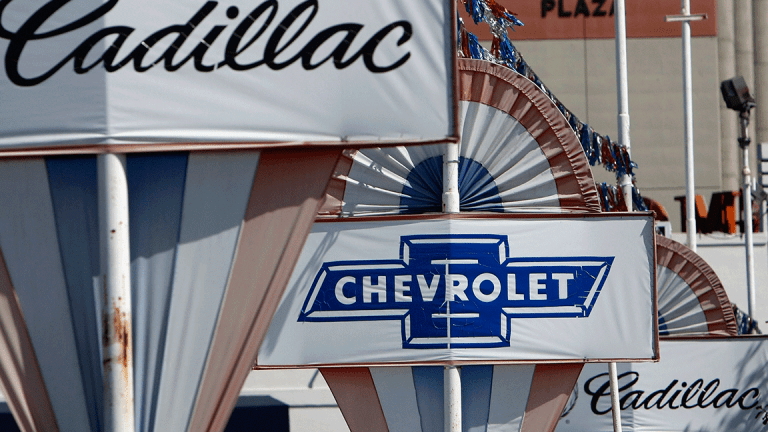 GM Plans to Roll Out Self-Driving Technology to All Cadillacs in 2020
By 2023, GM hopes to expand its hands-free, driver assistance technology to all its car brands.
By 2023, GM hopes to expand its hands-free, driver assistance technology to all its car brands.
General Motors Company  (GM) - Get Report is about to go all-in with semi-autonomous driving.
The auto giant announced on Wednesday, June 6 that it will expand its Super Cruise hands-free driver assistance feature to all Cadillac models in 2020 and then to other GM brands in 2023. GM will also offer vehicle-to-everything communication, better known as V2X, in Cadillac models starting in 2023.
Originally rolled out in April 2017, Super Cruise is currently available only in the 2018 Cadillac CT6. The technology uses a combination of infrared lights known as LiDAR mapping, in-car cameras, radar sensors and GPS to navigate the vehicle. However, Super Cruise only works on freeways while other semi-autonomous driving technology, such as the Tesla (TSLA) - Get Report Autopilot, can work on city streets although the company advises against it.
V2X communication is a wireless signal sent from the vehicle to other devices that use the same technology, including other vehicles, as a way to prevent collisions. This can also be used in construction or street lamps to warn vehicles of their proximity. 
A report from January 2018 by market research firm Navigant Research ranked GM as number one among 19 vehicle manufacturers in its strategy and execution of developing automated driving technology. Like all these other carmakers, GM's driverless car facility is located in Arizona. Lax policies regarding autonomous driving and good driving conditions make the state an ideal place to test  self-driving cars.
Last week, SoftBank invested $2.25 billion in GM's self-driving unit, Cruise Holdings LLC.
"These announcements demonstrate...our intention to lead in technical innovation," said Mark Reuss, GM executive vice president of global product development, at the Intelligent Transportation Society of America Annual Meeting in Detroit, Mich.