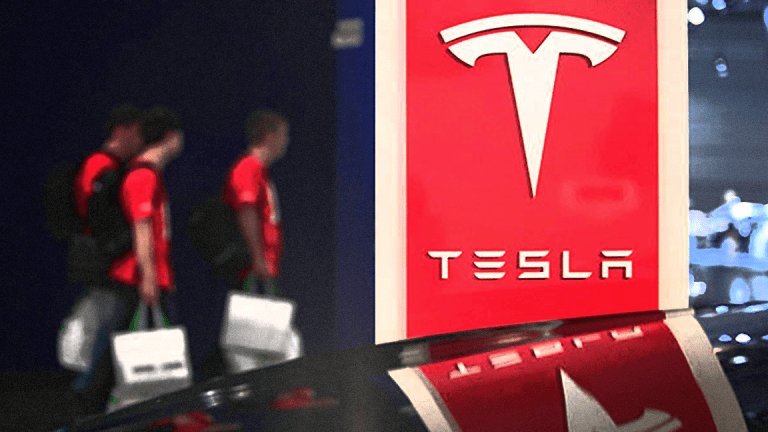 Are You Ready for a Tesla Pickup Truck? Elon Musk Is
Tesla CEO Elon Musk was on Twitter talking about the company's eventual pickup truck.
The folks in Dearborn, Mich., who work in the Ford Motor Co.  (F) - Get Ford Motor Company Report F-Series department, may be laughing at the thought of Tesla Inc.  (TSLA) - Get Tesla Inc Report entering their turf, but that doesn't mean CEO Elon Musk will shy away from the challenge.
On Tuesday, he asked the Twitterverse what "small, but important nuances" customers would like to see. Afterward, Musk told his followers some of the features the automaker already had planned:
"The Tesla Truck will have dual motor all-wheel drive [with] crazy torque [and] a suspension that dynamically adjusts for load. Those will be standard...Pickup truck will have power outlets allowing use of heavy-duty 240V, high-power tools in field all day. No generator needed."
Perhaps the most well-received suggestion for Musk's Tesla pickup truck is to have an option for a second battery, in or below the bed, that can aid in boosting the vehicle's range when towing.
While the tweets drew plenty of attention from big-time Tesla fans, it also drew the ire of critics. They ask, how can a CEO possibly put focus on a product that is undoubtedly several years out while still slogging through its own production woes?
The backlog for the Model 3 is still likely near 400,000, although most of the wait times for these vehicles have now fallen below 12 months. We'll soon find out if the automaker is able to produce 5,000 Model 3 units per week by early July, a goal the company has been trying to stick to for most of 2018.
Given Musk's tweets about the pickup truck, that may even suggest production of the Model 3 is going well. If it's not, it doesn't seem likely he would put any focus on this vehicle at the moment. Particularly given that production of the Model Y is 18 months or more away while the Tesla Semi and Roadster are next in line.
His two rounds of insider purchases since Tesla's May earnings report also suggests that Musk is confident in the company's more recent production and financial goals.
Tesla Pickup Market
Is there even a market for Tesla to fit into here?
As a matter of fact, the truck market is a huge market. There's a reason the F-Series has been America's best-selling vehicle for more than four decades. Ford is even cutting sedans out of its portfolio (save for the Mustang and Focus) and will pour its efforts into maximizing profits on its larger offerings, like trucks, SUVs, vans and commercial vehicles.
Other automakers, like Fiat Automobiles (FCAU) - Get Stellantis N.V. Report via its Ram truck and General Motors Co.  (GM) - Get General Motors Company Report with its multiple pickup truck options, have also seen strength.
With the economy humming along and construction crews hard at work, there's pent-up demand for pickups. The segment is ripe for innovation as well.
At the 2018 Detroit Auto Show, Ford told us that a diesel F-150 was ready for ordering and that a hybrid option is in the works for 2020. Some may scoff at the idea of a hybrid pickup, but the truth is, the technology is here. It enhances the vehicle's fuel economy and doesn't make massive sacrifices. It won't be for everyone necessarily, but the fact that it's a possibility shows just how far the auto industry is coming.
In that respect, Tesla has a window of opportunity and Ford's hybrid option sort of proves there's a market for a greener side of the pickup market. The tough part, though, will be clawing truck buyers away from other brands.
First-time truck buyers could be in the market for a Tesla pickup. But it will be tough to get an F-150 owner or a Silverado driver to switch to a Tesla pickup. And unlike Tesla having a big jump on a company like Mercedes in the electric car market, it won't be the same in the pickup segment where Mercedes-Benz will beat Tesla to the market (although it's not electric).
Will the Tesla pickup be a flop? No, not necessarily. Truck buyers love loyalty and they love productivity. If it's worth the switch, some but not all will do it. Assuming Tesla can nail down the production of its other vehicles, the biggest question will be when, not if, a Tesla pickup will come,.
This article is commentary by an independent contributor. At the time of publication, the author had no positions in the stocks mentioned.