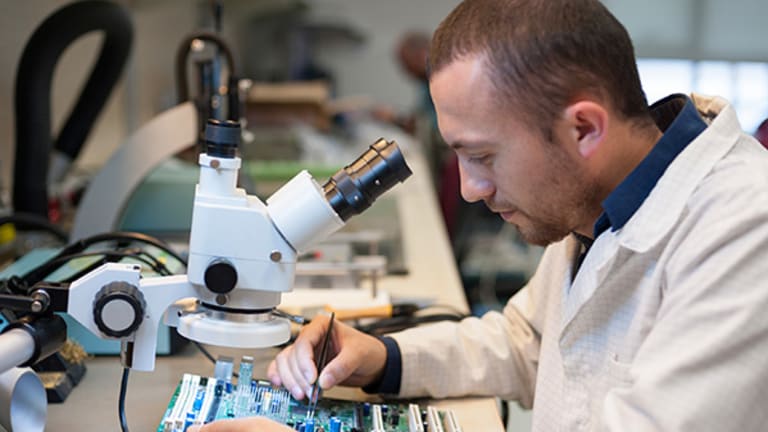 Publish date:
Germany Faces Tough Choices As China Funds Target Tech Sector
Germany's ability to protect its valuable tech sector faces stern challenge amid China's buying frenzy.
Germany's ability to protect its valuable tech sector faces stern challenge amid China's buying frenzy.
Germany's ability to protect its technology firms from China-led takeovers could face a severe test in the months ahead as the government balks at selling key sector assets even as its seeks closer trade ties with the world's second-largest economy.
Germany's Economy Ministry withdrew its approval for a pending takeover of chip equipment maker Aixtron SE (AIXG) Monday, citing security concerns, despite having given the €670 million ($729 million) deal with the Fujian Grand Chip Investment Fund the nod on September 8. Shares in the group plunged 13.3% in Frankfurt following the announcement.
The setback comes at an awkward moment for the German government, however, as it prepares to send a trade mission to China next week in an effort to establish greater ties following the United Kingdom's decision to leave the European Union. More than 5000 German companies currently operate in China and bilateral trade between the two countries topped $175 billion last year.
China, meanwhile, has been slowly transitioning its outward direct investment from energy and resources to technology companies. Just two years ago, its $9.5 billion in buyouts and stakebuilding represented less than 10% of its ODI. That figure has ballooned to $26.5 billion so far this year and represents nearly a quarter of China's $122.7 billion in ODI, according to the American Enterprise Institute's China Investment Tracker.
The issue is especially acute for Germany, which is looking to ensure that its export-led economy won't be limited with respect to access to deep and lucrative markets in China while at the same time preventing a hollowing-out of its technology sector by having intellectual property and innovation transferred abroad via foreign takeovers.
Germany's present angst is not unlike the national debate seen in Canada over the sale of energy companies to China-based firms in the early part of the decade, which culminated in the takeover of Nexen Inc (NXN) - Get Report by government-controlled CNOOC Ltd in 2012.
The $15.1 billion deal, alongside a smaller $6 billion approach for Progress Energy by Malaysia's Petronas, ultimately prompted Canada to change its approach to foreign state-owned enterprises buying domestic companies.
Controlling interest stakes, as well as outright takeovers, are now judged by the impact they have over the entire sector, not simply the acquisition target, with Canada retaining 'right of refusal' if it deems any deal is not in the national interest.
Germany is exploring a similar safeguard, although given its place at the heart of the EU, it's seeking to establish it via Brussels, not Berlin.
"We need to clarify whether we should not create the option to assess the interests of investors against the EU's industrial interests for sectors that can be of existential significance for the strategic future of the European economy," Germany's Industry Minister Sigmar Gabriel wrote in an op-ed in June.
At present, Germany can only stand in front of an overseas takeover if it risks financial stability, public order or, perhaps more ephemerally, 'word peace'.
Big ticket deals such as the €4.5 billion sale of robotics expert Kuka to China's appliance maker Midea earlier this year and the stated interest Sanan Optoelectronics expressed in lighting technology firm Osram  (OSAGY) , spun out of Siemens AG (SIEGY) in 2013 and now valued at €6 billion, have put the issue at the center of the country's industrial policy.
A more specific set of rules, or even new regulations that would give the term 'national interests' a broader and moving definition, as is the case in the United States, would certainly gift Germany policymakers with more control over the sale of key assets.
Balancing that against a need to maintain close - and growing - ties with the powerful Chinese economy may possibly more competitive.
Just as the UK began establishing its post-Brexit economic ambitions this fall, Prime Minister Theresa May approved a deal to build the country's first nuclear power plant in at least a generation - a $24 billion deal that will see China General Nuclear Power Corp working with France's EdF SA  (ECIFY) .
Previous security concerns, her critics charged, were set aside in order to maintain economic links with Beijing, particularly after China's UK Ambassador, Liu Xiaoming, wrote in the Financial Times that rejecting the deal could put the "mutual trust" between the two countries jeopardy.
Germany might find itself in a similar dilemma now that it's having a second look at Aixtron.