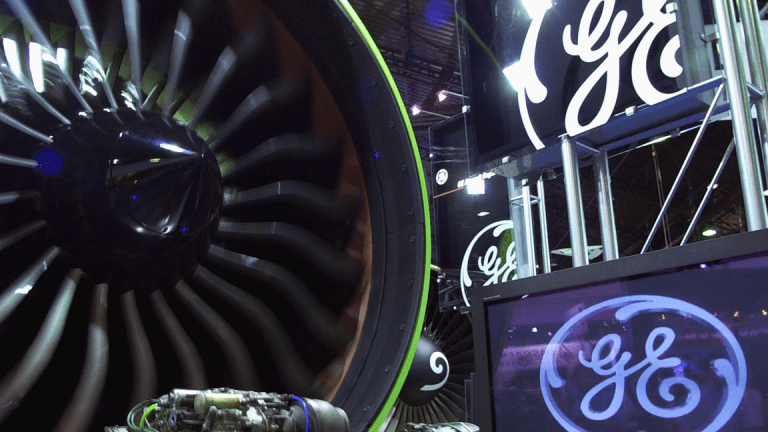 Publish date:
GE Aviation Gets Win as Rolls-Royce Dreamliner Engine Is Grounded
Aviation is one industry where GE is actually making money — though through no work of its own.
Aviation is one industry where GE is actually making money — though through no work of its own.
General Electric's (GE) - Get Report Aviation unit, one of the few businesses in which the troubled conglomerate is making money, is poised to take advantage of the engine problems suffered by a chief rival.
Rolls-Royce Holdings PLC, GE's biggest competitor in airplane engines, said Monday that all 166 of the engines it built for Boeing's fleet of 787 Dreamliners must be grounded pending inspection of a faulty part. The British manufacturer's misfortune provides a rare opportunity for a win for GE, who makes the only engine interchangeable with Rolls-Royce's Trent 1000.
"It's hard to make the direct connection to technical problems, but the Trent upgrades are intended to improve fuel burn, so there is a connection," GE spokesperson Rick Kennedy said in a statement to TheStreet. "The GEnx engine is also demonstrating better fuel burn on the 787, and as a result, GEnx-powered 787s are flying routes that would be challenging with the other engine."
Rolls-Royce didn't specify what effects the faulty engine part has on fuel burn.
Kennedy said GE has seen increased interest its GEnx engine since Rolls-Royce reported in April it was problems with its Trent 1000 model. Most recently, American Airlines ordered 47 Dreamliners from Boeing, all to be outfitted with GE engines. A GEnx now powers approximately 65 percent of 787 Dreamliners in the sky, Kennedy said. Boeing has built 678 Dreamliners.
Rolls-Royce, the world's second largest maker of aircraft engines behind GE, said the compressor in the Trent 1000 engines was wearing out faster than expected in April, when it grounded all 380 of the engine's Package C model. At the time, it reported that the repairs cost the company £370 million ($495 million). The latest round of engine issues comes amid reports that the company will announce plans to lay off almost ten percent of its global workforce on Friday, in part to compensate for the increased cost of repairs.
While all American airlines that fly the 787 Dreamliner have already opted for the GE's engine, Rolls-Royce's ongoing troubles could provide the American conglomerate's Aviation business with an unexpected opportunity to expand in Europe. British Airways, Virgin Atlantic Airways Limited and Norwegian Air Shuttle ASA all operate 787s with Rolls-Royce engines, and have incurred additional costs as a result.
"Like other airlines around the world, we are carrying out detailed precautionary inspections on Rolls-Royce Trent 1000 engines on some of our Boeing 787-9s to ensure we meet all the relevant regulatory requirements," a British Airways spokesperson said. "To facilitate the additional engine inspections and new regulatory requirements we have had to make some minor adjustments to our schedules. We are rebooking affected customers onto alternative services or offering them a refund."
A Virgin Atlantic spokesperson told TheStreet that it acquired four additional Airbus aircraft to avoid flight disruptions.
Although Boeing manufactures the Dreamliner, it leaves it up to each customer to decide which engine is installed. Boeing selected both GE and Rolls-Royce to build the plane's engine options to reduce the time and cost of engine changes after a runoff between several manufacturers. Boeing Commercial Airplanes spokesperson Paul Bergman declined to comment on whether the Trent 1000's ongoing issues will affect Rolls-Royce's standing in future competitions.
"We are aware of and fully support the action that Rolls-Royce is recommending to further understand an issue with the Rolls-Royce Trent 1000 Package B and C engines," Bergman said.
GE rose 0.32 percent in afternoon trading, while shares of Rolls-Royce dipped 0.31 percent.