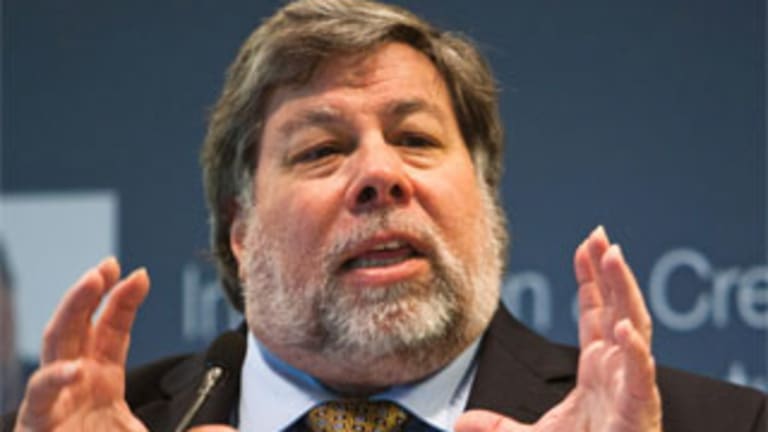 Fusion-io Q&A: Apple, Facebook, Merger Speculation
Fusion-io, the flash memory maker once famous for its association with Apple, Facebook and Steve Wozniak, has fallen on hard times in recent years, as the state of the flash storage industry is in flux and the company goes through a restructuring. As the share price continues to decline, the chatter of a takeout increases, though that may not take place any time soon.
NEW YORK (TheStreet) -- Fusion-io (FIO) , the flash memory maker once famous for its association with Apple (AAPL) - Get Apple Inc. Report, Facebook (FB) - Get Meta Platforms Inc. Class A Report and Steve Wozniak, has fallen on hard times in recent years, as the state of the flash storage industry is in flux and the company tries to save itself through a restructuring. As the share price continues to decline, the chatter of a takeout increases, though that may take place any time soon.
For the fiscal third quarter, Fusion-io lost 10 cents a share on $100.5 million in revenue, up 14.6% year over year andslightly better than the $96.7 million analysts were expecting. While the company managed to beat estimates, concerns about the company's guidance, as well continued concerns about declining gross margins, have continued to weigh on shares.
Gross margins for the fiscal third quarter were 52.4%, and the company expects fiscal fourth-quarter revenue to be flat sequentially to "slightly up," according to the company's press release. That's below what analysts surveyed by Thomson Reuters are expecting, as they model a net loss of 9 cents a share on $103.57 million in sales.
As the Salt Lake City-based Fusion-io company tries to right itself, it hasn't always been easy, with new leadership coming in and amid swirling rumors of takeout speculation, continued setbacks, and worries over the state of the NAND flash market, of which Fusion-io is a major player. Shares have fallen almost 5% year to date, and 39.2% over the past year, compared to a gain of 5.6% and 18.8%, respectively, for the S&P 500.
President and Chief Operating Lance Smith was kind enough to answer a series of questions as it relates to the health of the company, Fusion's relationship with Apple and Facebook, the company's recently announced partnerships with
Microsoft
(MSFT) - Get Microsoft Corporation Report
and
HP
, as well as continued takeover chatter surrounding the company.
Below is an interview touching on these topics, as well as several other issues, including the new Atomic Series, the company's newest flash memory platform that it hopes will allow it to continuing winning contracts for flash drives, as the technology industry increasingly needs reliable and safe storage, delivered at faster speeds.
Chris Ciaccia: What's the state of the flash industry right now? Given that we've seen see some slowing in the smartphone market, is this affecting Fusion at all?
Lance Smith: Fusion-io is focused on integrating flash for application acceleration in the enterprise market, and the dynamics are somewhat different than in the consumer market. Regarding the state of the industry, bit growth is expected to be in the low 40% range for 2014. About 10% is from an increase in industry wafer production, with the remaining supply growth coming from technology migration. We have NAND contracts and strategic agreements in place that position us well for the sourcing of NAND protecting us from market volatility. We believe we are still in the relatively early stages of the enterprise datacenter moving to flash-based solutions. Customers are increasingly seeing the efficiency advantages of flash over legacy solutions.
Ciaccia: The allure of Fusion when it went public was that Apple and Facebook accounted for an oversized majority of its revenue. Is that still the case, or has Fusion been able diversify a bit?
Smith: Our continued relationships with Facebook and Apple, though we no longer break them out specifically each quarter, are a strong validation of our ability to optimize flash in the datacenter -- they have had an opportunity to try every product on the market and they continue to see strong value in Fusion-io performance, reliability and capacity. As a company, Fusion-io is in the process of evolving from a primarily direct salesforce, to a partner first go-to-market approach, which we believe is the right strategy at this time in the development of the market for flash to scale the business.
Ciaccia: There's been a lot of chatter in the market about a potential buyout? Can you comment on this?
Smith: That chatter is certainly not new, and is driven because of the consolidation in the market and we are the leading provider of integrated flash-based application acceleration, and we are seeing a lot of the market validate our strategy and view of the opportunity.
Ciaccia: What can you tell investors about the Microsoft partnership that was recently announced?
Smith: Our recent announcement with Microsoft shows how our flash solution delivers 4x performance improvements to their innovative in-memory SQL Server 2014 database, and driving real-time insights for faster business decisions. This latest achievement illustrates how flash memory is the technology powering the evolution of the database.
Ciaccia: The new Atomic Series. Talk to me about this, and tell me what it means for the future of the company, as Fusion looks to get back on track, and continue to turn around its operations.
Smith: Atomic Series is our newest flash memory platform that achieves industry leading performance and proven reliability. With our partners, Fusion-io has been laser focused on helping customers solve their biggest data processing challenges with flash. Atomic Series ensures that data flows seamlessly and with greater speed, efficiency and reliability by accelerating data-driven applications for our customers.
To continue with our momentum, today at HP Discover we announced that HP (HPQ) - Get HP Inc. Report is our first OEM server partner to offer Atomic Series.
Ciaccia: Over the past year, investors have seen shares drop by over 40%. Why should they stick with you, even as rumors of M&A swirl? What are you doing to create shareholder value?
Smith: We are in the midst of a large and expanding global market driven by two major factors -- first the explosion of data, second the need for speed. We believe the movement to flash is inevitable and irrevocable. Fusion-io creates value for customers by accelerating their critical applications -- ours has a strong value proposition, and we believe we are just at the beginning of the development of this market.
--Written by Chris Ciaccia in San Francisco