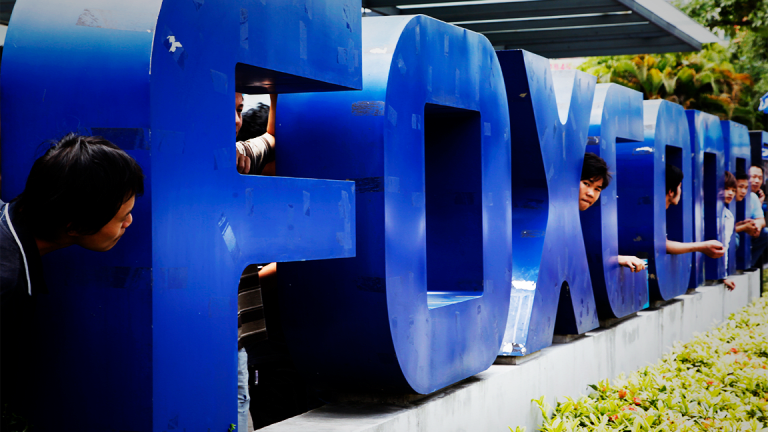 FoxConn Is Backtracking on Trump-Touted Wisconsin Facility
The liquid crystal display maker reportedly is reconsidering plans to create a manufacturing hub due to high U.S. labor costs.
The liquid crystal display maker reportedly is reconsidering plans to create a manufacturing hub due to high U.S. labor costs.
America may not be first for FoxConn (FXCOF) after all, at least when it comes to manufacturing jobs.
The Taiwanese technology company is reportedly reconsidering plans to make advanced liquid crystal display panels at a $10 billion Wisconsin factory complex, and said it intends to hire mostly engineers and researchers rather than the manufacturing workforce the project originally promised.
Earlier this month, Foxconn, a major supplier to Apple Inc. (AAPL) - Get Report , reiterated its intention to create 13,000 jobs in Wisconsin, but said it had slowed its pace of hiring. The company initially said it expected to employ about 5,200 people by the end of 2020; a company source told Reuters that figure now looks likely to be closer to 1,000 workers.
Now even those plans may be scaled back or shelved, Louis Woo, special assistant to Foxconn CEO Terry Gou, told Reuters on Wednesday.
He said the company was still evaluating options for Wisconsin but cited the steep cost of making advanced TV screens in the U.S., where labor expenses are higher than other regions. 
Announced amid major fanfare at a White House ceremony in 2017, the 20-million square foot campus was touted as the largest investment in U.S. history by a foreign-based company, and praised by President Donald Trump as proof of his ability to put "America First" in terms of jobs, particularly in manufacturing. 
Foxconn, which received controversial state and local incentives for the project, initially planned to produce advanced large-screen displays for TVs and other consumer and professional products at the facility, which is currently under construction. It later said it would build smaller LCD screens instead.
Now, it is reconsidering the focus of the effort.
"In terms of TV, we have no place in the U.S.," Woo told Reuters. "We can't compete."
To be sure, FoxConn still intends to move forward with the Wisconsin-based initiative.
Rather than a focus on LCD manufacturing, however, it now wants to create a "technology hub" in Wisconsin that would largely consist of research facilities along with packaging and assembly operations, Woo told Reuters.
It would also produce specialized tech products for industrial, healthcare, and professional applications, he added.
"In Wisconsin we're not building a factory," said Woo. "You can't use a factory to view our Wisconsin investment."