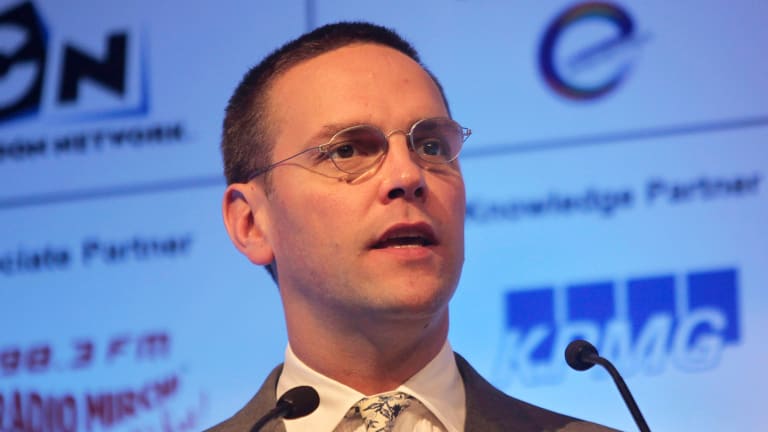 Fox Is Dropping Big Hints Its Relationship with Netflix May Change
As Netflix and other streaming platforms gain subscribers, content creators such Fox will reassess licensing their dramatic serials and movies, says CEO James Murdoch.
NEW YORK (TheStreet) -- The success of video platforms led by Netflix (NFLX) - Get Report is forcing companies like 21st Century Fox (FOXA) - Get Report to re-evaluate how they do business with them, now that they're as much competitors as they are partners, Fox CEO James Murdoch said on Wednesday at an investor conference in New York.
Fox's position on licensing its television shows and movies to Netflix and other streaming platforms is being reconsidered as viewers, especially younger viewers, elect to cut their pay-TV cord or choose not to subscribe to a cable and satellite-TV service, Murdoch said. The CEO, who took over the top spot for his father Rupert July 1, added that the U.S. pay-TV market has declined by about 1% over the past year, according to Nielsen.
"The business rules are changing and our thinking is evolving," Murdoch said at the Goldman Sachs Communacopia investor conference in New York.
A re-evaluation of its relationship with streaming platforms comes as Fox shares have fallen 31% in 2015 while Murdoch was elevated to the position of CEO in June, replacing his father Rupert Murdoch. While Netflix remains a "valuable partner," Murdoch said Fox is doing more business with Hulu, a competing platform that is jointly owned  not only by Fox, but by Disney (DIS) - Get Report and Comcast's (CMCSA) - Get Report NBCUniversal as well.
Hulu, he said, pays Fox on a subscriber basis for the company's television shows and movies, a licensing arrangement that is "attractive for us." Of course, Hulu's reach of about 10 million subscribers trails that of Netflix's 65 million subscribers around the world, giving Fox both a reason to remain with Netflix its while also seeking ways to bolster's Hulu's profile.
The increasing popularity of Netflix, Hulu, Time Warner's (TWX) HBO NOW, Amazon (AMZN) - Get Report Video, as well as and the impending introduction of an AppleTV (AAPL) - Get Report streaming platform, is forcing media companies to reassess how much content they license to companies that aggregate TV and movie offerings. As the overall number of pay-TV subscribers decline, ratings drop and by extension advertising sales. Traditional cable-TV channels are also losing ad revenue to digital platforms hosted by Google (GOOG) - Get Report (GOOGL) - Get Report, Facebook (FB) - Get Report and Twitter (TWTR) - Get Report .
While content companies such as Fox and Disney receive $3 billion to $4 billion a year in licensing fees, their willingness to give Netflix content for its platform is jeopardizing the $100 billion in subscription and advertising revenue it gets from pay-TV operators, said Steve Hasker and Glenn Enoch of Nielsen in a column Monday in The Wall Street Journal.
"The pricing needs to be revisited," wrote Hasker and Enoch.
That Netflix has forced major media companies to re-evaluate their business models is conspicuously reflected in stock prices that are down throughout the sector. In addition to Fox's issues, Time Warner shares have declined 17% and Viacom (VIAB) - Get Report has plummeted 40%. Disney has fared better in 2015 -- up 9.5% -- but its shares have lost 15% since Aug. 4 when CEO Bob Iger alluded to "modest sub[scriber] losses" at its sports juggernaut ESPN.
As online video platforms become more popular, pay-TV operators will need to offer small channel bundles in an effort to appeal to consumers who might otherwise cut the cord, Murdoch said, adding that pay-TV operators have been "slow to innovate."
"We're going to see a re-bundling happen," Murdoch said. "It's not a zero sum game. Expect many packages to emerge."