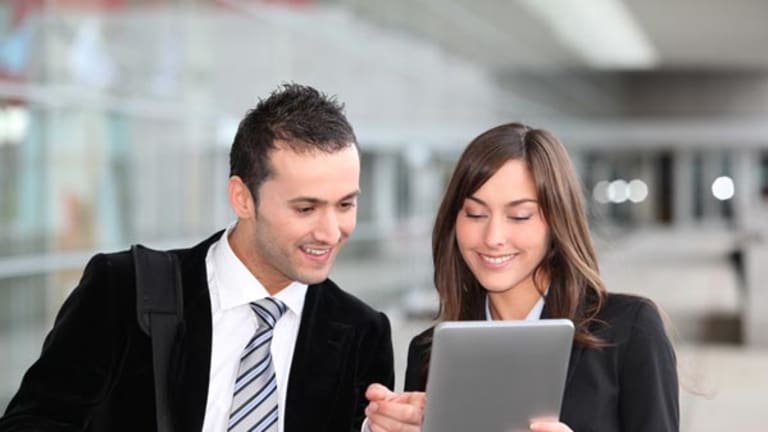 Four Ways Apple's iPad Beat Expectations
The unexpected elements of the iPad have me thinking the product will sell more units than anyone currently anticipates.
Jason Schwarz is the author of The Apple Revolution, an e-book.
Apple's
(AAPL) - Get Apple Inc. Report
hit all the marks as a reading device, as a gaming device, and even as a touch-screen iWork/media device. We expected Apple would transform the traditional e-reader into a multi-function device and it certainly did that. But it's the elements of the iPad that we didn't expect that have me thinking this product will sell more units than anyone currently anticipates.
Steve Jobs unveils the new Apple iPad
Here are four reasons why the iPad may sell more than 5 million units in 2010.
1.
The price points are lower than anybody expected.
Optimistically, we were hoping for $599 to $799. Realistically, we were thinking closer to $899.
We figured that Apple would do what it did with the iPhone and begin with a high price to establish the iPad as an elite product and give developers plenty of time to work out the kinks before lowering the prices for the masses. CEO Steve Jobs isn't getting enough credit for the $499 gift.
As Jobs mentioned in his keynote, there are 85 million owners of Apple mobile products along with 125 million iTunes/App Store credit card accounts. The iPad comes with built-in demand. The real question is how can Apple sell this iPad at $499 without a subsidy? The dirty little secret may be that Apple is subsidizing it itself.
Apple wants immediate market penetration and will allow
Quattro's
mobile advertising to generate a new source of profits. If Apple turns into the
Google
(GOOG) - Get Alphabet Inc. Class C Report
of its ecosystem (which is quite likely), it could give these things away for free. Tight-lipped Apple was surprisingly optimistic about Quattro earlier in the week on the earnings call; this low iPad price point speaks even more loudly.
2.
The ability to run the 140,000 App Store applications on the larger iPad screen is a huge surprise.
Many developers didn't think it would be possible. After the iPad event Wednesday, I had the opportunity to demo the iPad and I was amazed to see there was no compromise when enlarging graphic rich games. Whatever Apple did to make this possible was well worth it because it ensures that it maintains its huge lead on the competition with a loaded App Store. The gold rush continues for app developers.
3.
I didn't know how Apple was going to solve the connectivity issue.
Nobody did. We were all talking about it prior to the event and there were no good solutions. Consumers would have refused to enter another two-year data contract with a carrier to pay for their phones as well as the iPad. The solution is something we have never seen here in the U.S. -- a pay-as-you-go data plan that is inexpensive ($14.99) and can be canceled at any time.
Building an unlocked iPad was another brilliant move. This thing will have more potential buyers at its release than the iPhone has ever had. This was sorely needed until the real mode of connectivity (tethering) is ready for prime time.
4.
Apple built this thing with just enough differentiating features to separate it into its own category.
Consumers still need an iPhone and they still need a MacBook but they will soon realize that they also need the iPad.
When you hold one for the first time you will realize why you never read books or browse magazines on your laptop or phone. The iPad screen size is ideal. It's perfect for watching television and movies on the go. It's going to catch on like wildfire in the gaming community.
Those who are worried the iPad will cut into sales of the iPod Touch or the MacBook are the same people who worried that
McDonald's
(MCD) - Get McDonald's Corporation Report
chicken nuggets would cut into hamburger sales.
Successful expansion into new categories is always a good thing. Apple did it by creating a new category within the mobile Internet tsunami. Do you know what this means for investors? I'll let you decide.
To sum it up, the market has been in an unsure mood over the last few weeks as it tries to form a new identity for stage two of the market recovery. Don't let this short-term weakness fool you. The Apple iPad is for real and not one penny of it is priced into the stock. As analysts add iPad projections to the new accounting methods we are going to see some big upgrades that the stock will follow.
Excluding cash, this stock is trading under a 12 forward price-to-earnings ratio. That disconnect won't last very long. I predict you're going to hear about some very big name investors, who typically shy away from tech, establish large positions in Apple. This valuation has got a lot of people talking.
At the time of publication, Schwarz was long Apple.
Jason Schwarz is an option strategist for Lone Peak Asset Management in Westlake Village, Calif. He is also the founder of the popular investment newsletter available at www.economictiming.com. Over the past few years, Schwarz has gained acclaim for his market calls on the price of oil, Bank of America, Apple, E*Trade, and his precision investing in S&P 500 option LEAPS. His book, The Alpha Hunter, is set to be released by McGraw Hill in December 2009.