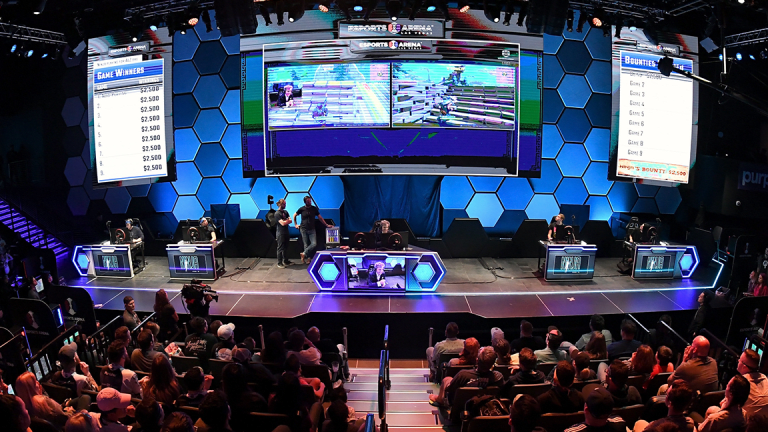 By 2022, Goldman Sachs Thinks eSports Will Have 300 Million Viewers Like the NFL
Goldman Sachs believes that eSports is on track to be as popular as the NFL in a couple of years.
eSports are the next big thing, Goldman Sachs thinks.
In a report published Tuesday, Goldman said it sees eSports surpassing Major League Baseball and National Hockey League viewership. According to data from NewZoo, an estimated 167 million people around the globe will watch eSports per month in 2018.
"The immense popularity of survival-based games like Fortnite, growing prize pools for eSports tournaments, the rise of live-streaming, and improving infrastructure for pro leagues have all paved the way for eSports to reach 300 million viewers by 2022, on par with NFL leadership today," said the note. 
Goldman analysts also stated that they "believe that eSports viewership is moving more into the mainstream, which should support a 14% audience growth for the next five years, Recently, Epic Games announced that it would set aside $100 million in prize pool for the first year of Fortnite eSports tournaments, nearly the size of an entire eSports prize pool in 2017."
The popularity of eSports is related to the increase of infrastructure within the world of eSports. "In 2017, Riot Games created the North American and EU League of Legends leagues, while in January of 2018, Blizzard launched the Overwatch League. We believe these leagues created the requisite infrastructure that will allow eSports to finally start to close the demonetization gap relative to other established sports leagues."
Activision Blizzard Inc. (ATVI) popular Overwatch league's playoffs attracted over five million viewers. The company signed a $90 million deal with Twitch for streaming.
In July, the Overwatch League Grand Finals will take place at the Barclays Center in Brooklyn, New York on July 27-28. The event is the largest eSports event to happen. Within two weeks, fans had sold-out the 20,000 person stadium.
Goldman analysts wrote, "we expect total eSports monetization will reach $3 billion by 2022."
Companies like Tencent Holdings Ltd. (TCEHY) have invested heavily in online video platforms. Goldman largely credits Tencent—which invested $630 million in Doyu and $461 million in Huya, both Chinese online video platforms—for the increase in funding for eSports. 
Tencent's contributions helped bump up the amount funneled into eSports in 2018. "since 2013, there has been $3.3 billion of venture capital investment in eSports related start-ups. In 2018 year to date, we have already seen $1.4 billion of investments, a nearly 90% year-over-year increase from the total fudning in 2017.
NewZoo data suggests that there's over 2.2 billion active gamers worldwide. So far, only 5% of the gamers are part of the audience of eSports, but the industry—as Goldman's data suggests—is growing rapidly.